---
The Adrian Dorn Blog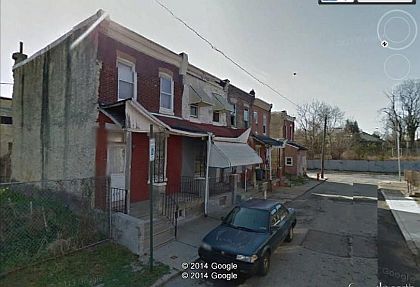 View from the Street
---
"Do not go gentle into that good night" | Dylan Thomas (1914-1953) | Poets.org
WAKANDA FOREVER!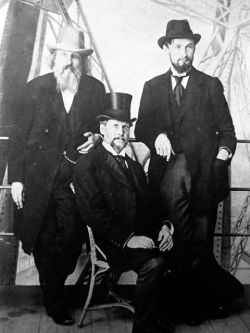 Who does this remind you of?
Patrick Hernandez-Born To Be Alive-Hollywood MashUp
Brainy Quote
"The Democrats are the party that says government will make you smarter, taller, richer, and remove the crabgrass on your lawn. The Republicans are the party that says government doesn't work and then they get elected and prove it."
P. J. O'Rourke
Because of the way I feel today with autumn coming on, I just had to post these pictures of one of my favorite heroines:
---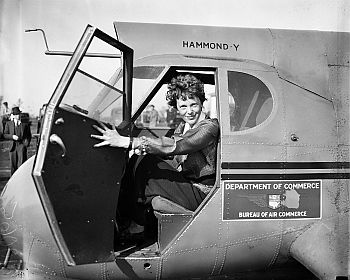 ||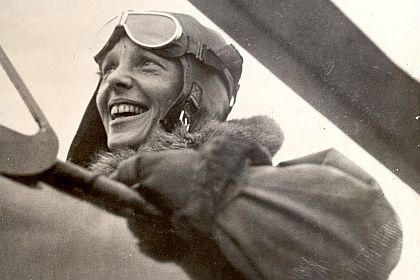 ||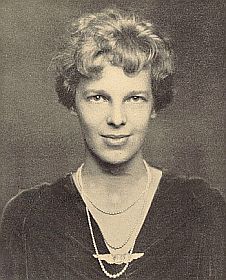 Amelia Earhart, 1897-1937 | PBS
Amelia Earhar, Queen of the Air | NASA
Amelia Earhart | Nationbal Geographic Kids
---
The EPA removes federal protections for most of the country's wetlands | August 29, 2023 - NPR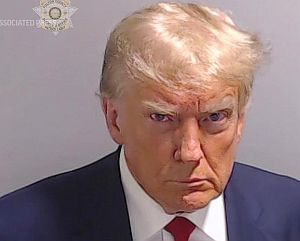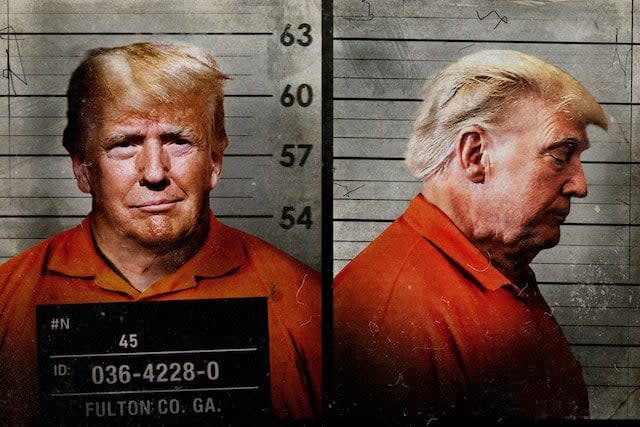 August 21, 2023

I have had two conflicting fantasies simultaneously vying for attention. It's difficult to choose but not impossible.

First we have Gal Gadot (Wonder Woman), Scarlet Johansson (Black Widow), and Halle Berry (Storm) coming over to my place to hang out for an indeterminate period of time. It was their wish.

And the second is Donald Trump going to prison for a likewise indeterminate period of time.

Which is the most desirable? And which the most likely?

God help me and please do what makes the most sense.

July 31, 2023

Letter To The Editor:

Estimates vary, but it's probably not outrageous to state that around 100 million animals per year are used in experiments worldwide. That number doesn't include invertebates, rats, mice, birds, fish, and frogs. It's conducted inside universities, medical schools, pharmaceutical companies, farms, defense establishments, and commercial facilities that provide animal-testing services to industry. Animal shelters and pounds are required by law to hold dogs and cats for five days before selling them to a dealer. That's all, five days. Four states in the U.S. — Minnesota, Utah, Oklahoma, and Iowa — require their shelters to provide animals to research facilities. Fourteen states explicitly prohibit the practice, while the remainder either allow it or have no relevant legislation. These animals are classified as "random source." Dealers obtain them any way they can, apparently, oftentimes under fraudulent circumstances, not only from shelters, but also from want ads and grabbed off the street. Stolen pets have been found in various university medical labs.

Besides subjecting chimpanzees to nerve-gas and blowing-up live pigs from the inside-out, just to see what happens to the internal organs, the military practices what they call "trauma training" for medics and special soldiers. This entails procedures like cutting off the legs of awake and non-anesthetized animals in order to toughen service personnel for possible combat.

Considering the degree to which this testing is defended, not only by the cosmetics and pharmaceutical industries, but also by the Department of Agriculture and the National Institutes of Health, I had to ask myself why I found it so objectionable. Don't I want drug companies to develop cures for diseases? Do I mind if they induce painful, debilitating illnesses in dogs in order to test experimental drugs, which may themselves cause serious illness? After they use them, they're euthanized anyway, so, what's the difference? Don't I want eyeliner and eyelash stuff tested for irritation by first placing it into the eyes of rabbits and cats? I've seen enough women applying eyelash stuff while driving their cars so many times that I can see where that could be a problem.

I'm a retired commercial fisherman with zero political clout or powerful connections. So, there's nothing I can do about it. My hope is that someone reads this who can and is outraged enough to want to. If you're interested in finding out more, I have a section on my website at: http://www.adriandorn.com/networks.htm#trauma. However, if you're the squeamish type, please don't bother.

Adrian Dorn

July 21, 2023
Born to be Alive | Patrick Hernandez
She saved the diary of a Ukrainian writer killed by Russia. Then she was killed, too | NPR
Some of the more worthless people on the face of the planet:
In the Post-Apocalyptic world, we have
E.L.O (Electric Light Orchestra) All Over The World and once again
Patrick Hernandez-Born To Be Alive-Hollywood MashUp"

It's time to get-it-up-on-step, as they say in the fishing world. Or, at least, as I say it.
Finally, an uplifting story:

4 Indigenous children lost in jungle for 40 days after plane crash are found alive in Colombia
June 10, 2023 - AP News
June 7, 2023

The society of Iran looks very similar to that portrayed in the movie Equilibrium starring Christian Bale. The banning of books and the education system being imposed upon by political ego-maniacs like Governor Desantis is also something to consider. I suggest viewing that movie. What I thought of afterwards was the case of the young couple dancing closely together in Iran. Naively, they had someone take a video of them and then posted it on some social media platform. The morality police discovered it and they were arrested. They were convicted of being "sense-offenders" and each given a prison sentence of five years, during which time they won't see or even talk to one another. Young lovers playing out in the open, what were they thinking? Others have been executed for profaning Muhammed. A truly dystopian world they have created for themselves. To believe in Islam is to believe in principles of anti-life and its enjoyment, and to completely suppress self-expression.
Salaries of members of the United States Congress | Wikipedia
Heroic 7th grader prevents disaster on school bus ride home
Dillon Reeves, a 13-year-old student at Carter Middle School, saved the day when he sprang into action during a bus ride home from school after the bus driver passed out behind the wheel. The entire school district of Warren Consolidated Schools in Michigan hosted a ceremony to honor Dillon's heroic act, where he was praised for his quick thinking and bravery.
Georgia grand jurors learned of yet another provocative Trump call | Rachle Maddow Video
Despite infighting, it's been a surprisingly productive 2 years for Democrats -- NPR
Winter Solstice 2022: The First Day of Winter | Almanac
Zelenskyy and the spirit of Ukraine are 'Time' magazine's 2022 Person of the Year

VIDEO - NPR

A UN biodiversity convention aims to slow humanity's 'war with nature'

- NPR
Republicans blame Democrats for rising crime. Here's the complicated truth
November 3, 2022 - NPR

Parents of second girl on 911 call as Uvalde gunman kept shooting want all responding officers to listen to the audio
Queen Elizabeth the II, 1926 - 2022
Webb Captures Stellar Gymnastics in The Cartwheel Galaxy | Aug. 2, 2022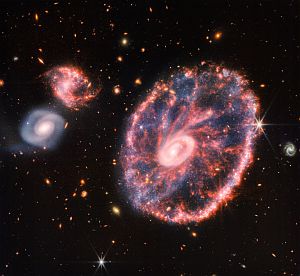 VOTE FOR SALE
RIGHT OUT FRONT, SHAMELESSLY
Senator Sinema of Arizona sabotaged a bill that the other 49 Democratic senators
were prepared to pass in exchange for bribes of almost a $million$ dollars.
Sinema took Wall Street money while killing tax on investors | AP News
Nichelle Nichols, trail-blazing 'Star Trek' actress, dies at 89 | CNN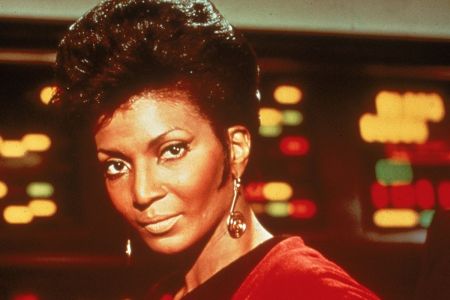 |||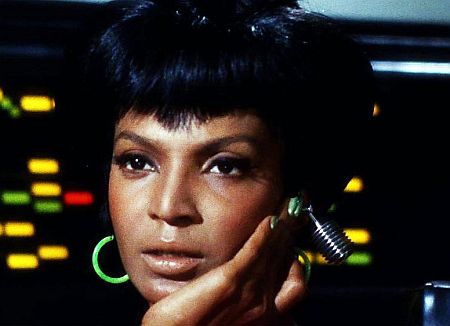 Biden awards Medal of Freedom to Denzel Washington, Simone Biles, John McCain and others
---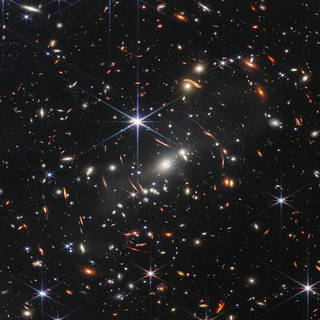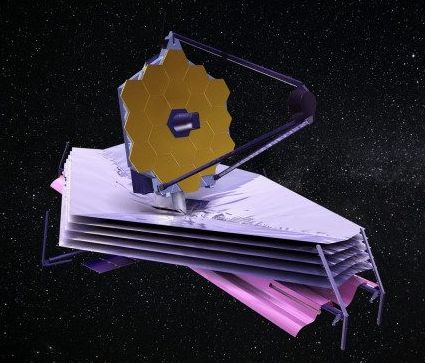 ---
The Insane Engineering of James Webb Telescope | VIDEO - YouTube 31 minutes
James Webb: Nasa space telescope delivers spectacular pictures | BBC
NASA's Webb Delivers Deepest Infrared Image of Universe Yet
Biden and NASA Share First Webb Space Telescope Image | The New York Times
First Images from the James Webb Space Telescope
---
Stephan's Quintet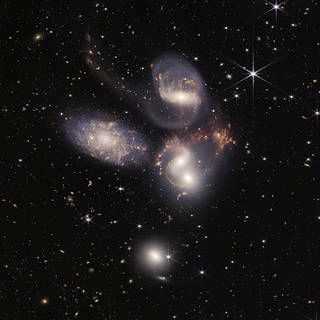 The new image of galaxy group "Stephan's Quintet" from NASA's James Webb Space Telescope shows in rare detail how interacting galaxies trigger star formation in each other and how gas in galaxies is being disturbed. The image also shows outflows driven by a black hole in Stephan's Quintet in a level of detail never seen before.
Uvalde mother who ran into school describes being handcuffed, saving kids during shooting: 'I'm going in there' | VIDEO
Ukraine has repelled Russia's attempt to cross Donbas river, UK confirms | May 13, 2022 - The Guardian
What Goes On Inside Putin's Head
USSR Established | History.com
In the decades after it was established, the Russian-dominated Soviet Union grew into one of the world's most powerful and influential states and eventually encompassed 15 republics—Russia, Ukraine, Georgia, Belorussia, Uzbekistan, Armenia, Azerbaijan, Kazakhstan, Kyrgyzstan, Moldova, Turkmenistan, Tajikistan, Latvia, Lithuania and Estonia. In 1991, the Soviet Union was dissolved following the collapse of its communist government.
Inside Ukraine's fight to take back Russia-controlled Kherson
Boy who blurted out 'Wow!' in concert, invited back as a special guest | October 15, 2019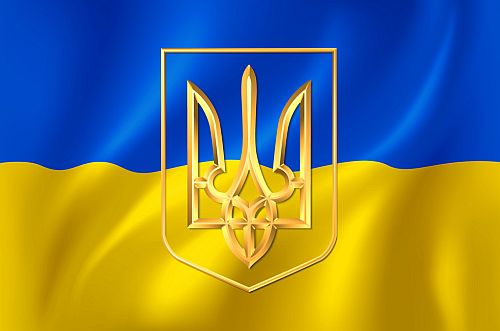 Voting Laws Roundup: December 2021 | Brennan Center for Justice
This year's tidal wave of restrictive voting legislation will continue in 2022.
Michael Waldman is president of the Brennan Center for Justice at NYU School of Law. A nonpartisan law and policy institute that focuses on improving systems of democracy and justice, the Brennan Center is a leading national voice on voting rights, money in politics, criminal justice reform, and constitutional law. Waldman, a constitutional lawyer and writer who is an expert on the presidency and American democracy, has led the Center since 2005.
Press Release: New Edition of Michael Waldman's The Fight to Vote
Puts Today's Attacks on Democracy in the Context of History
About The Book: Praised by the late John Lewis, this is the seminal book about the long and ongoing struggle to win voting rights for all citizens by the president of The Brennan Center, the leading organization on voter rights and election security, now newly revised to describe today's intense fights over voting.
Mitch McConnell's Klanian Slip | by Elie Mystal - Jan. 21, | the Nation
Arizona Democrats have censured Kyrsten Sinema over her pro-filibuster vote | NPR
The King Center
Senators Manchin and Sinema refuse to support Biden's Voting Rights Act that would supercede the restrictive laws passed by Republican Legislatures across the country. On this day, Doctor Martin Luther King, Jr. Day, they spit in his eye and those of all the people who, through sheer courage and moral conviction, died or suffered great hardships in their fight for Civil Rights and, in particular, Voting Rights for minority communities of people of color in the 60s. It will most likely lead to the Republicans taking over the House. And the first thing they'll do is suspend the current investigation into the January 6, 2020 insurrection.

I hope Manchin and his girlfriend Sinema will feel good about themselves for bringing back the Jim Crowe days; they're setting up the Democratic Party for a major loss in Congress. If the situation were reversed, the Republicans wouldn't hesitate to throw the filibuster rule under the bus to get their agenda passed and would be smiling like high school kids while doing it. They don't care about procedural rules of arbitrtay origin--a custom only--when it comes to getting their way. Manchin and Sinema don't seem to comprehend how much damage they'll do to our Democracy, undermining its principles and moral constraints. Their role in history will brand them forever as uncaring fools who once had the opportunity to add to the Reverend Martin Luther King, Jr.'s dream of a more equitable society and to show the same kind of courage--without risking their skins--those of the 60s did.

Republicans are openly rigging elections and Manchin and Sinema are standing by letting them do it with the excuse of upholding and maintaining the integrity of Senate procedure. I hope people of color keep their names in mind as instrumental in bringing back apartheid to the South and elsewhere where Republicans have taken over election functions.

History will remember them. Custom verses Reality. What's more important? Honoring the filibuster custom in the Senate or honoring the Right to Vote on the street?

"As advocates push for pro-democracy legislation, calls for eliminating the filibuster have grown louder. In his remarks at the funeral of civil rights hero and congressman John Lewis in July 2020, former President Barack Obama called the filibuster a "Jim Crow relic," arguing that the procedure should be eliminated if it is used to block voting reforms." filibuster

References:
1) cloture
2) cloture procedure
3) About Filibusters and Cloture | Senate.gov

4) Housing and Civil Rights: History and Law
5) Voting Rights Act of 1965 | Our Documents
6) The Civil Rights Act of 1964 and the Voting Rights Act of 1965
7) The Voting Rights Act of 1965: Background and Overview | PDF File
"The Voting Rights Act was enacted on August 6, 1965, and it prohibited states from imposing qualifications or practices to deny the right to vote on account of race; permitted direct federal intervention in the electoral process in certain places, based on a "coverage formula"; and required preclearance of new laws in covered states' jurisdictions to ensure that they did not have the purpose, nor would have the effect, of denying the right to vote on account of race, among other provisions."
8) How The Voting Rights Act Came To Be And How It's Changed | NPR
"The law put an end to literacy tests, which prevented many people from registering to vote, in a half-dozen states, granted the attorney general the power to send observers to witness elections and gave the federal government the authority to preapprove voting and election changes in places with a history of discrimination."
9) History of Federal Voting Rights Laws | Department of Justice

January 7, 2022
Sidney Poitier, Who Paved the Way for Black Actors in Film, Dies at 94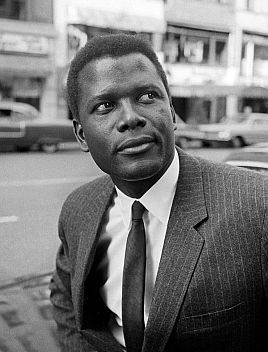 Manchin negotiated in bad faith to obstruct bill that would help his state Joy Reid says | MSNBC
December 22, 2021

News from the Northwest:

I was wearing just one glove. It's warm, incredibly soft, and infinitely pliable. Matilda, that's not her real name, I've forgotten it, couldn't help but ask about it. She can't leave anything alone. She lives on a hill nearby. A real hill. Every angle from her front porch looks down . First, she smiled that evil, isn't this ridiculous, bordering on the sardonic, smile she saves for special occasions and asks, "One glove? Are you a big fan of Michael Jackson?"

In fact, I am a big fan of Michael Jackson. The Disco era worked for me and he was the king. Turn the Beat Around was one of my favorite songs but I can't recall who sings it, it's not Michael, I don't think. But, I digress.

Matilda is wondering why I'm wearing only one glove. I tell her the other one is lost. I give full responsibility to the lostness of the glove to it and the vicissitudes of life. I don't say, "I lost it," as some might. It's somewhere in my cabin, and small as it is, I couldn't find it, cursory as my search was; although, its strategy and method were flawless. I say "were" because I decided I spent enough time of my life looking for it that I gave up. Another reason I didn't say I lost it is because if I had been involved with the losing of it; that is, if I had deliberately, even purposely, lost it, I would know where it might be. It's probably under something. Nonetheless, I surrendered to the current circumstances and at least felt free of guilt concerning the lossness of the other glove. Why would I want to lose it? Indeed.

Matilda, however, didn't care about any of that, she just wanted to make a comparison between her imgined belief in my presnt state of mind and a disco hero, despite his personal problems. Living on a hill gives you that perspective. Us valley dwellers are just trying to keep at least one hand warm if we can. We're a pragmatic people. Boring, perhaps, our references nonetheless transcend the easily recognizable, but that may have something to do with following the spirit of the odd and unthinkable when it comes to dressing. A very down to earth kind of spirit, you see.

---

I was listening to a radio program on invasive species. The end of it , anyway. I once got into an argument with a country road trimmer who was cutting down Scotch Bloom, a tiny yellow-flowered and beautiful bush, especially on a sunny day, that up here grows along the sides of the road and on clear-cuts in clusters. Has been for years. I told him I didn't want them cleared, I loved seeing them when driving down the road. His argument was that they were invasive and hence the enemy of the status quo. I said what status quo? The climate has changed and will continue to do so. Plants, trees, animals, birds, insects, everything that goes together that creates an ecosystem is on the move, migrating to a more compatible environment and adapting and changing along the way. Ecosystems are not rigid structures. Trying to maintain or bring back the one you like is a futile endeavor. Besides which such trying goes against the ways of Nature. Sometimes, however, it's necessary to protect what's here that we need, like bees, an important species. Some nests of those giant killer wasps that have been killing off whole hives of pollinators have been found here in the Norhtwest and eradictaed. That's a different story.

Make America Great Again was all about then. Bringing back a prior ecosystem by ridding it of what it is now is a pipedream for those who imagine life was somehow better then. But for who was it better and in what way? The impossibility of it, even if desired, is difficult for a surprisingly large number of people to grasp.

Physical, mental, social, demographical, and political ecosystems are constantly in a state of flux during calm, steady periods. Now, with global Covid-19, and its everchanging and more dangerous variants, co-exisitng with events, with weather, in particular, caused by a rapidly changing climate, changes that are having effects around the world in different and unforeseeable ways, unpredictable consequences emerging from the subtle complexity of the pattern, are causing ecosystem collapse on every level.

Fractures of social and political ecosystems once seen as flat, smooth, seamless, and cohesive states of order and commonality have revealed in relief the true nature of our current, shifitng map of the world and what's happening. What's to become is unknown and unknowable. Trying to act like everything will return to "Normal" as long as we continue to imagine that world, that economic and social ecology, as being real and maintainable denies the reality of what has become and what needs ot be foused on as being more important.
The Grinch Who Stole Christmas
Manchin says Build Back Better's climate measures are risky. That's not true
"West Virginia's economy has long relied on the coal industry, and there are jobs at stake
as coal use continues its long decline. Manchin's family also has a coal business that he helped found,
and he reported he made nearly half a million dollars from it last year.
That business could have been hurt by President Biden's climate plans,
which aimed to dramatically reduce coal-fired electricity."
Though Manchin proved to be a narrow-minded, shallow, self-centered nimrod, I thought the bill was too large and unwieldy, too many components vying for attention, attempting to be an interwoven whole, interconnected. I think it should've been broken up into separate entities for their own sake.

For instance, extending the child tax credit to help people get through these pandemic times has nothing to do with the effects of climate change and how to mitigate them. That should have been taken out and treated as a single unit, it's too complex and irrelevant to most of the rest.

Juggling a multitude of balls while running a gauntlet of differing priorities and unique perspectives was remarkable to behold. The media is always, and very smugly I might add, trying to portray the Democratic Party as a discombobulated group of disagreeing individuals incapable of acting collectively. But what they managed to put together, even with all the pandering to that horse's ass Manchin, was a truly astounding feat. Something the Republicans are not able to even imagine doing. All they know what to do is confirm judges and cut taxes for the filthy rich and companies who donate to their campaigns. A purely transactional Party fearful that if their constituents experienced the benefits the Demo-created Bill had to offer them, especially the working class and those living below the poverty line beset with the pandemic and caring for their families, their children, they might change the way they vote. Obstruction and refusal to support is the only game in town for them, they've lost the ability to legislate.

Sen. Manchin closed a window that may never be open again. He will go down in history as the ultimate moron. A man with a myopic perception of reality and what matters and whose allegiance to the coal industry and his own financial stake in it exceeds the welfare of millions of Americans, men, women, and especially children. Statues will be erected in West Virginia by small-town folks who this Bill could've helped. Thinking in terms of the past with all the dramatic changes occurring around the world and across this country can only hold back the need to adjust our strategies and be bold in our assessments of what can be done to alleviate the situation and get a handle on it. Manchin locked in the past can be on no help.
Colin Powell honored by presidents and dignitaries at memorial in Washington | Nov. 5, 2021 - The Guardian
Counting: How We Use Numbers to Decide What Matters Hardcover – by Deborah Stone | Amazon
Book Review: Is Math Too Tidy to Be Useful? | The New York Times
COUNTING: How We Use Numbers to Decide What Matters By Deborah Stone
Vaccinated seniors navigate life in mostly unvaccinated rural America | Oct. 29, 2021 - NPR
October 14, 2021

Hey, Taliban, Take your Shariah law and shove it where the sun don't shine. And while you're at it, check out what you're missing --- Life.
Patrick Hernandez: Born To Be Alive
And here's another one for you mudheads:
October 13, 2021

Cynicism 101:

Of all the messes, crises, and tragedies going on around the world and to the Earth right now, there's one to consider to bring solace and a perverse satisfaction to the heart:
October 9, 2021
A mountaineering group is aiming to be the 1st all-Black team to climb Mount Everest | NPR
International Consortium of Investigative Journalists
Pandora Papers: An offshore data tsunami | International Consortium of Investigative Journalists
The Pandora Papers's 11.9 million records arrived from 14 different offshore
services firms in a jumble of files and formats – even ink-on-paper –
presenting a massive data-management challenge
U.S. Special Envoy To Haiti Quits Over Deportations Of Haitian Refugees | NPR

U.S. Border Agents Chased Migrants On Horseback. A Photographer Explains What He Saw | NPR

DHS temporarily suspends use of horse patrol in Del Rio | CNN
Study: Pentagon Reliance On Contractors Hurt US In 9/11 Wars
September 13, 2021 - by Ellen Knickmeyer - Associated Press

Study: Pentagon reliance on contractors hurt US in 9/11 wars | The Washington Post
UNITED WE STAND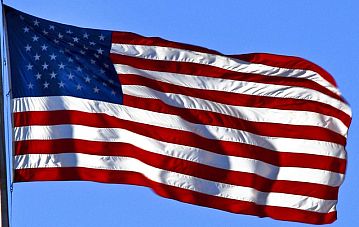 DIVIDED WE FALL
In pictures: A nation marks the 20th anniversary of the 9/11 terror attacks | CNBC
PHOTOS: Remembering 9/11 | ABC News
September 6, 2021

August 26, 2021

We have a lot of things on our minds these days: Afghanistan, Climate Change, wildfires, devastating storms, and, oh, let's not forget the pandemic racing across the country and the world, foreclosures and evictions, deaths of family members, friends and colleagues, worrying about our children with the politicians using them as footballs.

In spite of all that heavy load, I have a question that could use an answer: What in the name of God is the movie Terminator: Genisis, with Arnie performing at his best, about? What is the story? What are they doing and how does it wedge into the whole Terminator series? I've watched it three times; I think that's partly do to the attraction of 5'2'' Emilia Clarke. Nonetheless, I am at a loss to understand it. Granted, I am getting old and am gratefully secluded out here in the Olympic Peninsula woods with my cat, Mariah, the blessing of electricity and a DVD player, thanks to my sister and brother-in-law, so I don't have much opportunity to discuss such important matters.

And while you're at it, who copied whose ending? Red Planet or The Martian? I've watched the Magnificent 7 with Mister Washington and Chris Pratt, Ethan Hawke and the rest of them whenever I feel really good or really bad. I pick a scene like when they first come into town, Denzel riding his black horse and Billy Rocks walking beside him, his waist covered with knives, and run it from there.

And the movie Star Trek: Beyond doesn't really begin or take off until that beautiful, cool, athletic woman in chalk white with black lines running down her face like lightning bolts shows up. I've watched it a number of times and when she appears on the screen to rescue Scotty, it's like a gong goes off: Let's get the show on the road! And, having grown up in a red-brick row house with coal heat in West Philly, I punch in Four Brothers occasionally. There are others. Battleship I've watched again and again. What a cast of characters, and, of course, Liam Neeson has to be the Admiral. Who else?

And I've watched The Fifth Element and Serenity millions of times. And The Accountant with Ben Affleck. It's odd. The background music is infectious. Sometimes when I'm in the supermarket it pops into my head. And in Jurrasic World, what red-blooded male doesn't appreciate the sight of Bryce Howard, with a torch in her right hand like the Columbia Movie icon, in high-heel shoes, her skirt ripped up revealing her beautiful left leg, wearing a tank-top, her face, ample shoulders, and arms covered in sweat? And after introducing the T-Rex chasing her to the Indominus, she falls down on her right side, of course.

Movies, I watch lots of movies. But they're hard to come by in this little town. The Goodwill store is the only place and my sister and bro-in-law, who sent me the DVD player, sends me some occasionally. The Library is still closed, which leaves out the latest flick availablity.

---

I wear a mask when in any crowded space, like a supermarket, even though I'm fully vaccinated with Pfizer as of April fifth. I'm going to continue to do that until this whole thing is over, whenever that may be. Anyone who refuses a vaccination with a country-wide surge happening is an idiot. I had no idea there were that many genuinely stupid people calling themselves Americans. It's astonishing and disappointing. Polio and Smallpox were eradicated because everybody got in there and joined together. I don't get it. Common sense has been disrupted thanks to people like Donald Trump and "news" celebrities.

Think for Yourself was the mantra back in the 60s and 70s. We need to revisit that. Think for yourself and care about one another. That's the way out of this mess.

---

August 17, 2021

The bogeymen came to town and no one tried to stop them. They spread fear throughout the land, their reputation secure. Creatures spawned at a previous stage in human evolution, somehow managing to reemerge like a saber-tooth tiger intent on ruination. Their terribleness did not provoke an equal and opposite response in the souls of those whose job it was to defend against them. The bogeymen, ugly of soul themselves, were ignorant of life's true meaning and desire.

Long ago, these selfsame bogeymen, clothed in different garb, came to a city called Warsaw. The people who lived there knew what they intended, so they fought with tooth and nail to keep it from happening. They had grit and determination and chose not to go gently into that dark night.

But now, in a world far removed from that one in time and space and spirit, the bogeymen have come again with their loathing of all that's filled with love and caring, and no one tried to stop them.

They were rejected by Neanderthals and in their hurt swore vengeance. This promise was passed down through the ages in the form of a twisted understanding of what should be. They called it a religion, but God only shook his head in wonder.

July 31, 2021
The HARDEST SKILLS performed by SIMONE BILES
Simone Biles - Triple Twisting Double Back! - Floor - 2019 Nationals Day 2
Trump Pressed Justice Dept. to Declare Election Results Corrupt, Notes Show
July 30, 2021 - The New York Times
Pro Trump Mob Breaches Capital | Video - CNN
'Disgraceful!': Capitol officer confronts lawmakers downplaying riot | Video - CNN
'Meant to be graphic': New ad targeting Sydneysiders shows impact of COVID-19 | July 12, 2021 - nine.com.au
July 13, 2021

July 3, 2021
Trump ranks among the worst presidents in history, according to new survey | Video - MSNBC
Survey of Historians Ranks all U.S. Presidents
What Underlies the G.O.P. Commitment to Ignorance?
June 28, 2021 by Paul Krugman - The New York Times
The image on the left is of the cosmic web of galaxies, clusters, and filaments connecting it all. It's almost commonplace. This image in particular was taken from What is the Cosmic Web? | Big Think. The one on the right is an image of a part of the brain taken from This is your brain, in glorious color. It depicts "An image compiled by researchers shows nerve cells inside a woman's brain." The article was dated June 15, 2021.

The comparison should be easy to see. Curiously, while looking at other pictures of the cosmic web, I came across this article: The Strange Similarity of Neuron and Galaxy Networks by Franco Vazza & Alberto Feletti -- July 20, 2017 - Nautilus. Serendipity.

---

If we consider the universe as one very large, dynamic brain, we, of course, as living things would be the thoughts of that brain. Expressions and manifestations of consciousness.

The metaphor Big Bang focuses attention on the physical and not the mental aspect of the universe. From the unconscious mind emerges consciousness in a sudden act of self-actualization. It wants to know itself through both the inanimate and the animate. Life is born. An extraordinarily complex life. The psyche is deeply rooted in and pervades the fabric of the universe through all its layers and dimensions. If we could see that as fundamental, as the commonality of Nature and our basic identity, then the differences could be construed as elements of our perception and sensation, our perceptual reality, a filter or lens through which we see and understand the world arround us.

The enclosing background of reality forever tries to force its way through in order to reveal the recognition of objective thought. The realm of make-believe. We attach meaning and identity markers to separate actions and behaviors and evaluate based on a set of principles we are inculcated with. Ingrained from the get-go and, in some cases, burdened with knowledge, belief systems, framed by wordlviews of clan, tribe, family, and personal biases, we set out on a path convenient and accessible, one that evokes interest and curiosity, resonates with our soul. Doctor, lawyer, engineer, artist, gifts and talents and the desire to learn skills and crafts direct our lives.

This is all very idealistic, of course. Only a tiny percentage find such paths readily available with no obstructions or imposition of necessity. Social and natural events redirect our energies down avenues we may not have wanted or wished for, including the apparent accident of serendipitous discoveries of a life far more fullfilling and gratifying than anything we could have imagined.

We have to pursue our dreams, what it is we wish to be, how we fit into society, whether the one we grew up in or one we are drawn to and make our home, as an intentional act of will under our control, either a place to escape to or one that conforms to our nature more sympathetically in a definite spiritually liberating sense.

I hope you are at least satisfied and comfortable in your life and your self now during these trying times. Strive for it. One thing I learned when I reached adulthood, not too long ago it seems, was that a person can live his entire life, or a major portion of it, trying to be someone he's not, only to discover at the end how much time he's wasted. That's all we have is time, use it to make the world a better place. Be one with the universal brain, what else do you have to live for?

We are interdependently connected to all other living things, whether we like it or not, inextricably entangled for all time. Having believed internalized behavior patterns to be our true personality, once discovered to be artifiicial--a fantasmagoria--it's okay to abandon that identity without a trace of guilt or sense of disloyalty.

To be yourself was always Nature's intention, after all.

---

If you fail to pursue your dream or dreams, if you let someone undermine you with advice based on low expectations about your possibilities and potentialities you know in your heart and mind are not true, if the person you most depend on to give you moral support doesn't, if you give up on whatever it is and despair, it will haunt you the rest of your life.

Truth.

---

June 9, 2021
After 1st round fails, where do infrastructure talks stand? | June 9, 2021 - ABC News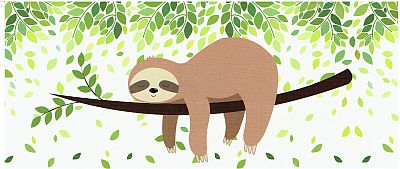 This is where my cat, Mariah, and I are about now.
In the Post-Apocalyptic world, we have
E.L.O (Electric Light Orchestra) All Over The World and
Patrick Hernandez-Born To Be Alive-Hollywood MashUp"
It's time to get-it-up-on-step, as they say in the fishing world. Or, at least, as I say it.
May 31, 2021

May 28, 2021

I lived in San Francisco from '73 to '76, a life as a long-haired, beret-wearing bohemian in Eureka Valley. It was the most wonderful time of my life; I was in my twenties, didn't have a car, took trolleys, cable cars, and buses, and walked up and down almost every hill. Yesterday I heard an old interview on NPR with Mister Ferlinghetti and it all came back to me. What an exhilarating time. I think I'll buy some pot this sunny morning up here in the wilds of Washington to reminisce. Me and my cat, Mariah.
Beat poet, publisher Lawrence Ferlinghetti dies at 101 | February 23, 2021 | ABC News
Poet, publisher and bookseller Lawrence Ferlinghetti has died in San Francisco at age 101.
Duck Tales: Man Uses Naval Skills To Get 11 Ducklings Down 9 Stories | NPR
---
Child says "Wow!" after Mozart's Masonic Funeral Music - Symphony Hall, Boston.
The 9-year-old boy who blurted out 'Wow!' at the end of a concert has been found
Boy who blurted out 'Wow!' in concert, invited back as a special guest
Street Gang - How We Got to Sesame Street Home Page
Street Gang - How We Got to Sesame Street Home Page | IMDb TV
If We Had No Moon | VIDEO - YouTube - 45 Minutes
Earth Day 2021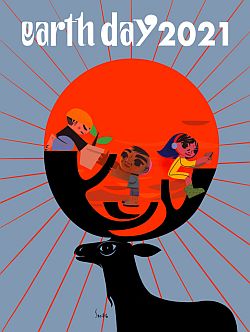 April 8, 2021

"But here's the thing about self-comparison: In addition to making you vacate your own experience, your own soul, your own life, in its extreme it breeds resignation. If we constantly feel that there is something more to be had — something that's available to those with a certain advantage in life, but which remains out of reach for us — we come to feel helpless. And the most toxic byproduct of this helpless resignation is cynicism — that terrible habit of mind and orientation of spirit in which, out of hopelessness for our own situation, we grow embittered about how things are and about what's possible in the world. Cynicism is a poverty of curiosity and imagination and ambition.

"In its passivity and resignation, cynicism is a hardening, a calcification of the soul. Hope is a stretching of its ligaments, a limber reach for something greater.

"Whatever your specific vocation, your role as a creator of culture will be to help people discern what matters in the world and why by steering them away from the meaningless and toward the meaningful. E.B. White said that the role of the writer is to lift people up, not to lower them down, and I believe that's the role of every journalist and artist and creator of culture.

"Strive to be uncynical, to be a hope-giving force, to be a steward of substance. Choose to lift people up, not to lower them down — because it is a choice, always, and because in doing so you lift yourself up.

by Maria Popova -- Annenberg Commencement

March 8, 2021
Senate Passes $1.9 Trillion COVID-19 Relief Bil | HuffPost
Rep. Sherrill Leads Members in Requesting Investigation Into Suspicious Activity in Capitol Complex on January 5, 2021
Dems demand details of 'suspicious' Capitol visitors day before attack | Politico
Did 'suspicious' groups case the Capitol before the attack? Democrats want answers. | The Washington Post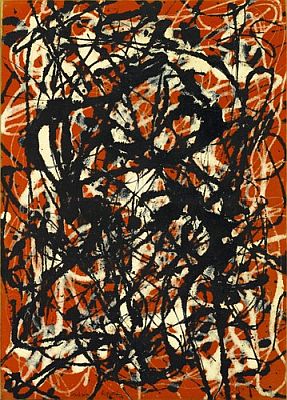 Free Form
by Jackson Pollock
Battleground states issue blistering rebukes to Texas' lawsuit to invalidate millions of votes | KCCI Des Moines
Under Trump, New Anti-Abortion Rules Shook Fragile Health Systems Around the World | NPR
DHS cyber chief out after debunking Trump's election claims | Politico
Trump fires election security official who contradicted him | BBC
#Protect 2020 | Cybersecurity & Infrasrtucture Security Agency
#Protect 2020 Rumor vs. Reality
Head Of DOJ's Election Crimes Unit Steps Down After Barr OKs Election Inquiries | NPR

US election: Justice lawyer quits after attorney general orders 'vote fraud' inquiries | BBC
Trump White House surrenders to the coronavirus | Morning Joe Video
As coronavirus cases continue to rise across the country, White House chief of staff Mark Meadows said
in a Sunday interview that the Trump administration won't be able to 'control the pandemic.'
Face of Muhammed
Okay Democrats sitting on your bar stools back in 2016 not bothering
to vote because you ASSUMED Hillary was gong to win.
Celebrating, watching the voting results on TV.

Recall the pain and agony, the disbelief?

Remember?

Well don't let that happen again, ever again.

Get up off your asses and

VOTE!
---
If you're a Washingtonian, you can check the status of your vote at:
Trump's law-and-order mantra goes missing in wake of domestic terror plot against Democratic governor
October 9, 2020 - CNN

Michigan Gov Gretchen Whitmer was 'moved around' as FBI tracked militia 'plot' | BBC
September 20, 2020

Humanity will never be able to visit another star system as long as we're confined to traveling through material spacetime. And here's why:

The Oort Cloud. A collection of objects left over from the creation of the solar system, a major source of comets. Due to gravitational and tidal effects, passing stars and particle storms, it has taken a spherical shape enveloping the system. The inner edge of the Oort Cloud can be said to begin at around 10,000 AUs (an AU is an Astronomical Unit equal to the average distance from the sun to the Earth: 93 million miles). The outer edge is, again these are purely guesstimates, around 100,000 AUs. Now, here are some more numbers: light travels approximately six trillion miles in a year. At 10,000 AUs--almost a trillion miles--it would take two months to get there if we could travel at near-light speed. Then, to get through the Oort Cloud--8.4 trillion miles thick--it would take a year and four months at light speed. So all together it would take a year and a half to get outside the enveloping shroud and into what we can call empty interstellar space. And here is where we stop.

I can't imagine steering a ship through trillions of misshapened rocks from car size to planet-size--Pluto--as they crash into one another, rebounding in unknowable directions, dealing with the gravitational and magnetic forces, on and on for a year and four months. Could a computer be able to do that? Eight point four trillion miles? That's trillion.

No, I don't believe we'll ever reach true outer space as long as we are enclosed in and limited by a material spacetime.

September 18, 2020

Report from the Northwest

Smoke. Lots of smoke graying an otherwise cloudy day. Temperature is 55 degrees Fahrenheit. Cool and damp. My cat, Mariah, will have none of it and spends most of the day in her room. I've watched Jurassic World both One and Two on my DVD player the last two days, a gift from my sister along with a bunch of movies, science fiction mostly. I sat outside and smoked a cigarette with a cup of coffee. It was quiet. No wind yet. The tops of the trees were still as the smoke drifted through them. They felt indignant, repulsed, anxious. An eeriness pervades everything as though another wave of something was on the horizon.

Layer after layer: 1) The strands of the social fabric unraveling and revealing what's been suppressed and unobserved, ignored and maintained by the keepers of the status quo, for their sake alone. Most, however, are innocent, just oblivious and self-absorbed, distracted by baubles and oversized everything. A perceptual reality that's been passed on from generation to generation, accepted as the the way things are and that's that. Inculcated and ingrained, not to be questioned as possibly an imaginary construct. 2) The pandemic filling the air with invisible worms of deadly infection wiggling about looking for prey; now, 3) particles of wood and all the chemicals and gases from thousands of homes. Benzene, polycarbons, microplastics and micrometals, using the wood smoke as vehicle. 4) Hurricanes and unprecedented amounts of rain falling down south and southeast. The Atlantic and the Gulf are warmer. You hear that word a lot these days: unprecedented, but not unpredictable.

We have created this situation ourselves, folks. We need new definitions, new words to describe things yet unpracticed and even unseen. The Earth must take precedence. Economics must adapt to the model of a healthy earth, not one that can be treated as a garbage dump, flooding the seas with toxins--notrous oxide--from agricutural runoff, poisons, plastics of all sizes and as a source of unlimited natural resources and wild living things. We're dismantling our support systems, in contempt, arrogance, and ignorance.

The Earth is in a state of rebellion. Pay attention, morons, it's shouting.

September 12, 2020
Alan Watts on the Antidote to the Loneliness of the Divided Mind,
Our Integration with the Universe,
and How We Wrest Meaning from Reality
The World Lost Two-Thirds Of Its Wildlife In 50 Years. We Are to Blame | NPR
How America Lost Its Mind | by Kurt Andersen - Updated: December 28, 2017 | The Atlantic
Postal Delays, Errors In Swing States Loom Over Election | NPR
Pelosi Calls Lawmakers Back To Block Postal Service Changes | NPR
New Postmaster Hasn't Yet Met Election Officials About Mail-In Ballot Concerns | NPR
Trump wielding presidency like an autocrat: to preserve his power | Rachel Maddow
Rachel Maddow looks at how Donald Trump is following a pattern common to dictators and autocrats,
using the power of the government he leads to preserve his own power, with elections being mere window dressing.

Trump weaponizes postal service to hurt Americans voting by mail | Rachel Maddow
Marc Elias, founder of Democracy Docket, talks with Rachel Maddow about how Donald Trump is trying
to sabotage the U.S. Postal Service in order to undermine the ability of Americans to vote
by mail during the coronavirus pandemic Trump's administration has failed to contain.
August 8, 2020

There's a difference between "surfacing" and "emerging." Emergence has to do with something appearing from a complex system that exceeds a certain critical value--a pattern--that was not predictable or even expected from consideration of the interrelationships of the parts, either individually or in sets, components. Surfacing, on the other hand, happens when a known pattern, a known identity that has been lying somewhere within a deeper layer of consciousness is brought forth through action at the interface with the outside world, specifically, for human identity and actualization when we encounter and engage in communication, on some level, with another person. Our personality comes to the fore.

Existence is not purely and wholly a subjective experience: "I think therefore I am" -- Descarte. It comes into being upon interaction with the "outside," the objective. Self-realization in the act of action.

Born To Be Alive | Music Video

I learned this when I was a fisherman over many years and in many circumstances. But now, with this epidemic forcing a great many people to be alone, this surfacing is seldom possible. I talk for a mintute or two with a well-known worker in my favorite grocery store. We both have back problems occasionally and cats. We talk about how unreal evrything is with everybody wearing masks. She painted a face on hers, very becoming. We're on a planet somewhere being terraformed and so have to wear these masks to breathe our native air, and so forth.

Our selves, our personalities come into being when we engage with others, especially friendly others. It lets us come out into the world as we were meant to be. It's relaxing, eliminating stress and anxiety. These are anxious times. Unsure in many ways. We need to hold onto common sense and pay attention to nature, our surroundings, not withdraw into thoughts unkind and memories or things we could've done, etcetera.

We need to get out of our own heads. Become curious about something new. Learn something, how to do something we never had before, concentrate for the hell of it. Get into graphic novels, comic books, whatever.

Stay in touch.

July 28, 2020
Trump shatters his own show of responsibility on the pandemic | CNN
Welcome To Chaos America
While the plague surges in almost every state in the Union, President Donald Trump et al are unable to get their collective heads around what to do. There is no national strategy. Protests abound in every major city in the country but Trump lacks the perspicuity and empathy--that is to say, the intellectual and emotional depth--to deal with the root, systemic causes of those protests, what triggered them, the sense of being finally fed-up and wanting something positive to actually happen, not just a bunch of words of future hope from politicians unwilling to change the status quo. A major cultural paradigm shift. Both nationwide crises are happening simultaneously. And what does ineffectual and incompetent numbnuts try to distract us with? A sideways attack against democrats by sending troops into cities whose mayors are democrats. Law & Order will solve everything. Once the anarchists and criminal protesters are suppressed and intimidated, everything else will seem trivial by comparison and I--your great leader and protector--will accept your gracious thanks at the polls.

The entire rest of the world, those who give a damn, must be in a state of astonished wonder, incredulity, and dismay at the unimaginable unraveling of America, the leader of the free world both morally and in scientific expertise. If only we had someone who could focus on the real problems that beset us and expend efforts to find solutions, instead of turning his back and throwing up his hands at recognition of his own inadequacy and helplessness. Fear and loathing is the selling point, force and dismissal the cure.

Pushing my cart, I passed a woman at the supermarket who was talking to a friend. We all had masks, but I heard what she said, "I'd vote for a paper bag if it meant getting Trump out of the White House."

Amen.

July 22, 2020
Facebook: Trump posts misleading ad using Ukraine photo | BBC
A riot police officer is thrown to the ground during clashes in Kiev. | Wikipedia
In pictures: 'Wall of Moms' joins Portland's anti-racism protests | BBC
Federal Officers Use Unmarked Vehicles To Grab People In Portland, DHS Confirms | NPR
How Trump is Helping Tycoons Exploit the Pandemic | by Jane Mayer - July 13, 2020 - The New Yorker
Depressed? Bored? Don't know what to do with yourself?

Watch this...
U.N. Predicts Rise In Diseases That Jump From Animals To Humans Due To Habitat Loss | NPR
Preventing the next pandemic - Zoonotic diseases and how to break the chain of transmission | UNEP
Mary Trump's Book Accuses the President of Embracing 'Cheating as a Way of Life' | The New York Times
Mary Trump's "Cheating As a Way of Life" Published on July 14th | Daily Mail
Asked for his second-term priorities, Trump comes up empty | MSNBC
"Forty-one years later, Donald Trump -- with no vision, no interest in governing, no platform, no policy
agenda, no ideas, and little meaningful understanding of events unfolding around him
-- was asked about his priorities for the next four years."
Bolton: Trump And China's Xi Talked 'Frequently' About Trump's Reelection | Interview on Morning Edition of NPR
'Like Poking a Beehive': The Worrisome Link Between Deforestation And Disease | June 22 - NPR
---
Voice of America to Become Voice of Trump | by David Hutt - JUNE 18, 2020 - Asia Times
Trump appoints right-winger to Congress-funded broadcaster whose views
may not resonate with related outlets' 117 million audience in Asia

How Trump's obsessions with media and loyalty coalesced in a battle for Voice of America
By Sarah Ellison - June 19, 2020 - the Washington Post
Supreme Court Rules Against Trump Administration In DACA Case | Nina Totenberg - NPR
---
Where Jaguars Are Killed, New Common Factor Emerges: Chinese Investment
June 11, 2020 - The New York Times
---
China's Yulin dog meat festival | Humane Society International
Doris Lessing: A Retrospective | CDC Radio
The 1985 Massey Lectures | Prisons We Choose to Live Inside -- Doris Lessing | CBC Radio
The 1985 CBC Massey Lectures, "Prisons We Choose to Live Inside" | CBC Ideas
Doris Lessing - Nobel Lecture
June 16, 2020

News from the Northwest

It rained almost continuosly for the past four days. Yesterday was the worst. It began in the early afternoon with light showers, then gradually increased in intensity until it was thundering down. Then it would abruptly slow and stop. Quiet, a reprieve. Then drops, drippings into everything in the yard, could be heard, here and there. More drops, faster, harder, as big as Jupiter. My cat, Mariah, doesn't mind rain, she walks in it sometimes, but the pounding thunder on the metal roof is too much for her, She leaves the warmth and comfort of the abode to go under it. So I was up all night, drinking coffee and waiting for the rain to stop.

This morning, around eight, I awoke to no sounds. Quiet, peaceful, calm. I poked my head outside. It was chilly and the entire world was dripping wet. I made coffee and petted Mariah. I had to go to the bank drive-thru and then to the convenience store for a cup of their good coffee. I then went down to the harbor and the short beach where the railroad tracks used to pass just beyond many years ago. You can still see the posts sticking out of the water at low tide that held up the bed for the tracks. That's how they loaded ships back then.

I sat on a log on the beach with my coffee. The clouds had broken up, scattered, shaped every which way, white and puffy. The blue sky was taking over. The sun felt good. Except for work sounds coming from the shipyard, which I didn't mind at all, it was calm, quiet. There were only a few people on the beach down at the other end. One throwing sticks for a small dog and a family with a little kid. I watched a heron fishing near the water's edge; the tide was out. After a while, I let myself go, imploding and opening up to my surroundings. I could see the Olympics off to the southwest, and before me, the bay. The memory of the previous night's downfall faded away. A new world lay before me.

"This too shall pass," popped into my head as I touched my mask now hanging down around my neck. The storm will be over and the sun and soft clouds will emerge. Hold your own and gather strength from one another. This too shall pass.

June 15, 2020
A War Against Climate Science, Waged by Washington's Rank and File
by Lisa Friedman | June 15, 2020 - The New York Times
Efforts to block research on climate change don't just come from the Trump
political appointees on top. Lower managers in government are
taking their cues, and running with them.

National Security, the Assault on Science, and Academic Freedom
AAUP: American Association of University Professors
The following report, prepared by a subcommittee of the Association's
Committee A on Academic Freedom and Tenure, was approved in October 2017
by Committee A and adopted in November 2017 by the Council.
Trump ends Obama-era ban on 'barbaric' hunting practices | MSNBC
The Story Behind Bill Barr's Unmarked Federal Agents | Politico
'I was horrified': Democrats seek to outlaw unmarked police as they patrol D.C. protests | NBC NEWS
---
'Footloose' -- Dancing in the Movies | YouTube
Patrick Hernandez-Born To Be Alive-Hollywood MashUp | YouTube
June 6, 2020

As the pandemic rages across the country, putting us over the 100,000 dead mark (we are winning!), protests spread across every major city and beyond against systemic and inherent racism and unwarranted brutality in the culture of the police establishment, forty million people out of work and miles of lines of cars at food banks, our fearless President cowers in a bunker surrounded by his Praetorian Guard tweeting insults and threatening military domination on his own people for the sake of law and order.

We are in a real pickle with a raving lunatic at the wheel. How did this happen? Are we bearing witness to the end of an empire? The end of the American dream? Have the mass of us forgotten what that is or put it aside for the sake of imagined security?

Seventy six years ago today brave men landed on the beaches of Normandy. Many of those were Americans. There were lots of casualties, but they pushed on to defeat a true enemy of the people, an evil force no one could tolerate. What would they say about how their sacrifices were being used if they could see America now? The plague can't be helped, but the rest of it didn't have to be as dire as it's become. And what would they say of the man at the helm, apparently at odds with the desires and needs of the people?

We can only guess.

June 5, 2020
History Will Judge the Complicit | by Anne Applebaum - The Atlantic
Why have Republican leaders abandoned their principles in support of an immoral and dangerous president?

History Will Judge Trump's Enablers Harshly
In The Atlantic's July/August issue, Anne Applebaum reports on why Republican
leaders abandoned their principles in support of an immoral president
THE BUCK PASSES HERE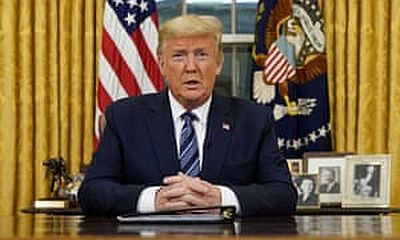 ---
OSHA
WHERE ARE YOU?
---
This is what's been going on behind the pandemic:
10 Years Old, Tearful and Confused After a Sudden Deportation | The New York Times
Since the coronavirus broke out, the Trump administration has deported hundreds
of migrant children alone — in some cases, without notifying their families.
How Today's Immigration Enforcement Policies Impact Children, Families, and Communities
Center for American Progress
---
Trump Environmental Rollbacks Roll On Despite Pandemic. Opponents Cry Foul | NPR
Recently finalized rules include scaling back regulations for fuel efficiency in cars and trucks,
air pollution coming from power plants and water pollution in streams and wetlands.
The administration is also pushing ahead with a string of more localized policies,
such as expanded logging and oil drilling in Alaska.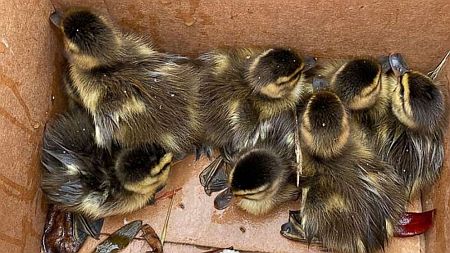 Officer rescues 8 ducklings from storm drain as worried mother looks on | ABC NEWS
You need to watch this...
E.L.O. (Electric Light ORCHESTRA) ALL OVER THE WORLD | Video - YouTube
Obama reminds us what a US president should sound like | May 17, 2020 - CNN
Answering Your Coronavirus Questions: Remdesivir, Sleep Issues And Social Shaming | NPR
34 days of pandemic: Inside Trump's desperate attempts to reopen America | May 2 - The Washington Post
-- America -- A Horse With No Name | YouTube
Coronavirus and South Korea: How lives changed to beat the virus | BBC News
Months into coronavirus crisis, federal response has not improved | Rachel Maddow
April 23, 2020

April 12, 2020

A lot has happened in the past six weeks. A surge of dire misfortune is spreading around the entire globe in the form of a tiny fragment of semi-life. We need a larger picture.

Karma. The duration between each viral episode has decreased exponentially and probably will continue to do so. What is causing them?

I listen to radio and read the newspaper--The New York Times. All the information about the pandemic, and specific events too numerous to count, as well as the absurdities of confusion, ignorance, and plain stupidity, like FEMA confiscating medical supplies and authorizing manufactureres to sell to their regular customers instead of to hospitals and health-care workers who need them.

It comes in from all directions and by every professional avenue capable of involvement. Statistics, observations, current state of knowledge about the nature of this creature, and on and on. The ear becomes numb to the sameness of it all. But then your hear something or read something that stands out. Something said once by some unknown expert, a professional, you can tell, not a politician. You hear it that one time and by no one else again. It strikes deeply as the underlying story. I've heard two such observations with obvious implications.

One: It was yet another interview on NPR one evening. I just caught the tail end of it when I turned on the radio. Here's the gist of it: Due to gradually increasing deforestation and habitat loss--mining, logging, agriculture--all working to confine and compress wildlife populations through hunting, poaching trafficking, has brought most species to the brink of extinction (IUCN Red List | Wikipedia). Islands of habitat disconnected from other islands by the elimination of any possible escape corridors. This set of circumstances and conditions promote a propensity for viruses to transmit to humans. We are the situation.

We, ourselves, are doing this to ourselves. Greed, selfishness, complete disregard for the welfare of the planet through its wildness, flora and fauna, polluting the air and the oceans without regard for the consequences, this is the state of affairs that has put us on the logic train and has created the current situation.

Pressure on wildlife, up to and including eradification, has engendered, provoked, allowed for a counter assault. This is not some half-baked hippie philosophy; I'm not talking about Gaia here; although, functionally, it fits. This is a natural system of checks and balances. We don't seem to be recognizing it for what it's trying to tell us. We're not looking at the forest for the trees.

Two: Something to add to this I heard the other night spoken by someone who sounded like he knew what he was talking about. Names and qualificationes recede into the background, generally. He spoke with unrestrained candor; common sense seemed his motivation. Paraphrased, he said, there's no reason to consider June First, July First, or any other First as distinguishable from March First. The same conditions apply. The virus will still be there, or here, looking for victims, candidate vehicles for self-replication.

Until all people who are asymptomic carriers are discovered through tests and confined, the virus will continue to spread. For those who do have symptoms, it still takes four or five days for them to show up. During which time others can be infected. We need to act as though we are carriers, that's what the self-reclusion is about.

We brought this on ourselves. And even though we have total confidence we can end the epidemic and derive a vaccine eventually, we can't ignore the fact that earth is telling us something. The virus is not the Andromeda Strain, it didn't come here on a meteor; the earth, through its living systems, produced it. How does a virus produce itself? We limit the answer to a biomechanical reaction. But to what? A virus is not a semi-lifeform evolving out of thin air. Some random, accidental assemblage of proteins strung together. Why would that happen?

February 24, 2020
News Literacy Project
Our mission: The News Literacy Project empowers educators to teach students the skills
they need to become smart, active consumers of news and other information and engaged,
informed participants in civic life.
PDF File

The News Literacy Project takes on 'fake' news — and business is better than ever | The Washington Post
February 18, 2020

I have a lot of dreams living the way I do now. My cat, Mariah, and I living in the woods of the Northwest. It's quiet and peaceful. The other night I had two dreams that I remembered. In one, there's a knock on the door. It's late at night and I hardly get any visitors even in the daytime, so I hesitated. But, of course, I had no choice; I answered it.

Standing before me were Kate Beckinsale, Milla Jovovich, Scarlett Johansson and standing behind them, Jennifer Garner. They inform me that their rental car broke down. None had a cell phone as they wished to drive around the woods of the Northwest cut-off from the world, to get away from it all, as it were. They wanted to know if they could come in to use my phone.

Another brief dream I had was Donald Trump being escorted in handcuffs from the White House by U.S. Marshalls.

I can't decide which I liked the most.

February 15, 2020
This Is How Scandinavia Got Great | by David Brooks - Opinion | The New York Times
Trump administration to deploy Border Patrol officers to sanctuary cities | NBC News
Trump says he has the 'legal right' to involve A.G. Barr in criminal cases
Trump's assertion, which he made on Twitter, comes a day after Barr said the president's tweets
"make it impossible for me to do my job."
Federal court strikes down Trump administration's Medicaid work requirements
Forty Percent of the World's Bird Populations Are in Decline, New Study Finds | April 23, 2018 - Yale
North America Has Lost More Than 1 in 4 Birds in Last 50 Years, New Study Says | The Audubon Society
"But while birds remain everywhere, people are actually seeing far fewer of them than just 50 years ago,
according to a new study. It estimates that North America is home to nearly three billion fewer birds
today compared to 1970—that's more than 1 in 4 birds that have disappeared from the landscape in a
mere half a century." --- "Grasslands in particular posted the biggest losses, with more
than 700 million breeding individuals lost across 31 species since 1970. "
Thirty Percent of North American Bird Species Face Decline Across Seasons | The Audubon Society
---
A Trump Policy 'Clarification' All but Ends Punishment for Bird Deaths December 24, 2019 - The New York Times
A New Bill Aims to Counter the Rollback of a Bedrock Bird Law | The Audubon Society
NYT: Trump administration policy change limits penalties for bird deaths | Dec. 24, 2019 - CNN
---
Migratory Bird Treaty Act | FWS
The Migratory Bird Treaty Act, Explained | The Audubon Society
Don't know what the MBTA even is? Here's your comprehensive guide to the Act—including why it's at risk.
A running list of how President Trump is changing environmental policy | National Geographic
Pesticides that are toxic to birds can harm them directly through contact, or if they eat contaminated seeds or prey.
Pesticides can also harm birds indirectly by reducing the number of insects that birds need to survive.
How The Senate Impeachment Trial Works | NPR
Russians Hacked Ukrainian Firm At The Center Of Impeachment | January 14, 2020 - NPR
Looks like Trump's buddy is doing what he can.
Do relationships have to have labels in order to exist and have meaning?

Border Wall Threatens National Wildlife Refuge That's Been 40 Years In The Making | January 14, 2020 - NPR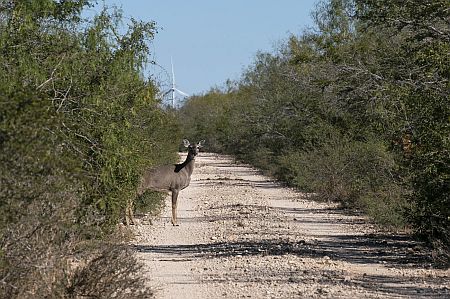 A white-tailed deer emerges from the brush.
The Lower Rio Grande Valley National Wildlife Refuge has some of the richest biological diversity
in North America--with 1,200 plants, 300 butterflies, and 700 vertebrates, of which 520 are birds.
Mystery of Weird Hum Heard Around the World Solved | LiveScience
Science under attack: How Trump is sidelining researchers and their work | Dec. 30, 2019 - The Economic Times
The Cruelty of a Trump Christmas | by Paul Krugman - The New York Times
'Not Mere Misers, But Actively Cruel':
Trump's GOP Denounced as Worse Than Scrooge on Christmas Eve | by John Queally - Common Dreams
President Trump Impeached By The House In Historic Rebuke | NPR
December 12, 2019

Let's jump ahead here: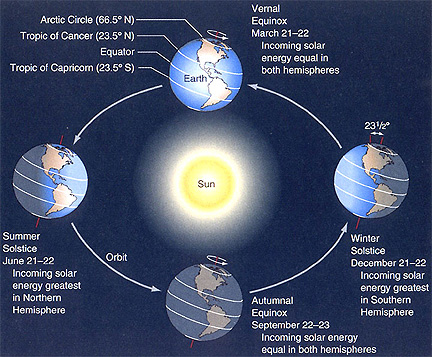 GOP Intelligence Committee Chairman Refuses to Knock Down Ukraine Conspiracy Theory | Huff Post
November 15, 2019

I listened to the first proceedings of the impeachment inquiry on NPR from beginning to end, 7:00 AM to 12:45PM. Far more interesting than I thought it was going to be. Republican Representative Jm Jordan, a man who clearly needs a rabies' shot, ironically, was trying, or is trying, to assert that Trump is innocent of any wrongdoing because lots of people know about it. The word wrong, a vague and arbitrary judgement call where it is not defined, came up quite frequently. 'Wrong,' in the present context, has meaning not only against what is traditionally and rationally considered 'right' and 'proper,' but also, most significantly, coincides with and frames what emphatically does not support and reinforce both national and international security.

As a street kid I couldn't help but notice something that no one bothered to bring up. The episode where Ambassador Sondland was in the restaurant with membres of Ambassador Taylor's staff. It was one of his aides who told him what he overheard in the conversation with Trump. Three things had to come together: Sondland had permission to call the president; he had this particular phone number; and, most peculiarly, the president just happened to be near the phone when it rang. He could've been anywhere at the time. At a ceremony, having a meeting in another part of the country, playing golf at one of his many courses. But no. He was right next to the phone at that time of the day waiting for Sondland's call.

I find that most interesting.
November 7, 2019
Who the hell is Lindsey Graham and why does anybody care what he has to say? For Christ sake. I can't read an article in the New York Times without eventually stumbling into a couple of paragraphs about what Lindsey Graham thinks about it, whatever it is. We all know he's an ass-kissing suck so we already know what he has to say; why does the Times want to tell everybody? Here's what Senator Lindsey Graham had to say... Jeese Louise. Who the hell cares?
Fourty-four more days of ever-increasing darkness until it turns around. Fourty-four. We who live on the shores of the Strait of Juan de Fuca are not afraid. We have means of coping.
October 31, 2019
Trump impeachment: House votes to formalise inquiry | BBC
Kurdish General Slams U.S.-Syria Policy; Gen. Petraeus Calls Withdrawal 'A Betrayal' | October 19, 2019 - NPR
Pullback Leaves Green Berets Feeling 'Ashamed,' and Kurdish Allies Describing 'Betrayal' | The New York Times
'Some of the Most Noble People I'd Ever Met' | Foreign Policy
U.S. military officers who fought in Syria say they are devastated
and ashamed by Trump's decision to abandon Kurdish-led forces.
Trump Syria Deal: 'A Colossal Mistake At Every Possible Level' | The Last Word | MSNBC - YouTube
Dickey: Syria Crisis Only Worsens Europe's Frustration With Trump | The 11th Hour | MSNBC - YouTube
Our Republic Is Under Attack From the President | by William H. McRaven - The New York Times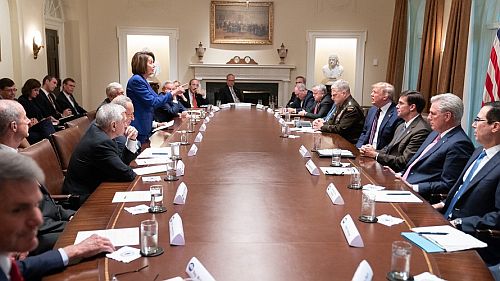 Pelosi to Trump: 'All roads with you lead to Putin'
---
Worst-Case Scenarios Come True In Syria | Morning Joe | MSNBC | YouTube
Exclusive: Turf War Blocked CFPB From Helping Fix Student Loan Forgiveness Program | NPR
This is the kind of shit the Trump administration is up to while distracting the media with other more superficial stuff. Ruining peoples' credit, undermining their health insurance, making them wary of being deported -- creating uncertainty and fear all over the country. He's a loose cannon who needs to go.

October 15, 2019
You need to read this. It's not long.
Making America Worse | The New York Times
As impeachment commands the spotlight, the Trump administration continues to gut the rule book to hurt millions.
The Right Stuff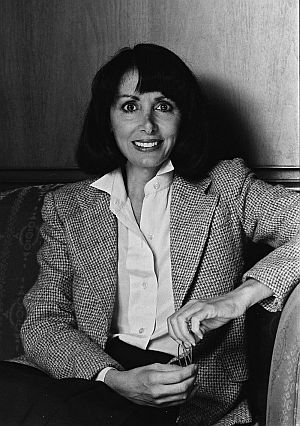 Speaker of the House: Nancy Pelosi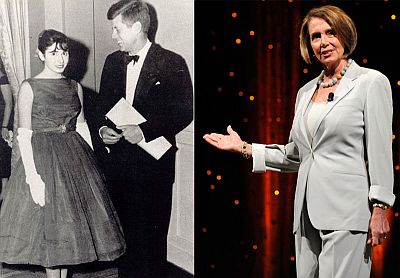 September 11, 2019

Falling Into The Category of: Why do this in the first place?


Why, in God's name, when we have the National Oceanic and Atmospheric Administration and the National Weather Service, with a category 5 hurricane bearing down on the Bahamas and the Florida seaboard, would anyone tune into the Oval Office to get a weather forecast? And why would our esteemed overlord want to bother presenting a weather report, another thing he knows nothing about? Another political stunt that worked out the way all the others have. Where's the man with the hook?

---
Scientists flee USDA as research agencies move to Kansas City area | The Hill
Critics Of Relocating USDA Research Agencies Point To Brain Drain | NPR
USDA science agencies' relocation may have violated law, inspector general report says | The Washington Post
---
Trump's housing finance plan will make mortgages more expensive,
especially for black borrowers, housing groups say | The Washington Post
Trump administration seeks major mortgage finance overhaul | Politico
Headlines You Might See Soon...
Trump Hires Leader of Taliban as New Chief Security Adviser
Angry at Being Misinformed Concerning the Whereabouts of Alabama,
Trump Threatens to Send All Its Residents "Back to Where They Came From"
Trump Promises to Show Putin His Nifty New Military-Grade Satellite Camera
Bureau of Land Management Sends Immigrant Children to Work in Mines on Federal Land
The Real Donald Trump is a Character on TV | By James Poniewozik - The New York Times
The Real Donald Trump is a Character on TV | By James Poniewozik - MSN News
Audience of One: Donald Trump, Television, and the Fracturing of America | by James Poniewozik - Amazon
Hurricane Dorian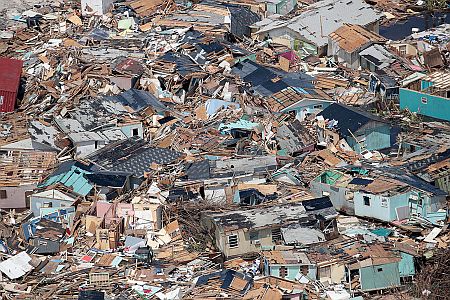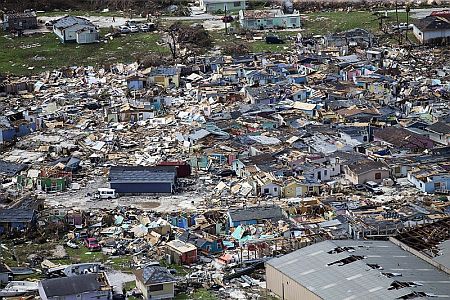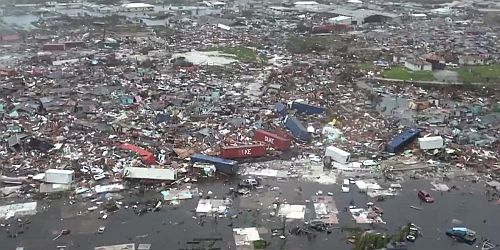 September 3, 2019

Sick to death of all the bullshit going on in the world and in our country especially, I wanted to put something up that makes a person feel good that courageous decent people are doing wonderful things in spite of it all.
'I'm Just For Animals': The Veterinarian Who Rescues Animals From Conflict Zones | NPR
George Takei has talked about his family's internment before. But never quite like this. | Review - Washington Post
George Takei Recalls Time In An American Internment Camp In 'They Called Us Enemy' | NPR
George Takei's New Graphic Novel Explores His Young Life Inside American Internment Camps | NPR
Note: This interview was edited for clarity and length.
Listen to the entire interview with Takei and McEnroe, which aired on August 21, 2019.
---
Fast Food Nation: The Dark Side Of The All-American Meal | by Eric Schlosser - Amazon
Fast Food Nation: The Dark Side Of The All-American Meal | by Eric Schlosser - Review - The Guardian
The Secret Life of Trees: The Astonishing Science of What Trees Feel and How They Communicate | Brain Pickings
Trump's Paradigm of the Personal | by Charles M. Blow - The New York Times
He confuses the way he thinks he is treated with the well-being of the country.

"Everything in Trump's view is about whether someone is nice or nasty to him.
It's not about the country at all. It's not about historical precedent or value of continuity."
August 25, 2019

I just read this and I must say I'm in serious shock. Electoral College Members Can Defy Voters' Wishes, Court Rules | The New York Times and Faithless elector: A court ruling just changed how we pick our president | NBC News.
"A federal appeals court ruled late Tuesday that presidential electors who cast the actual ballots for president and vice president are free to vote as they wish and cannot be required to follow the results of the popular vote in their states."

If this becomes the law of the land held by all the states, then what is the point of voting? Why bother? If 100 percent of the voters vote for a Democratic candidate, say, but the electoral college members decide to vote Republican, according to this recent ruling, there's nothing to stop them. If this is the way it's going to be, I'm not going to bother to vote. What difference does it make? Gerrymandering, voter suppression, hacking voting machinery, none of that matters if the vote itself is meaningless.

The situation is ridiculous, placing the power to elect the president into the hands of a few hundred people. But that's how it's been. By popular vote, Hillary Clinton should be president. The Electoral College no longer has any meaning and needs to be eliminated; its origins are tied up with slavery days. We need to do away with it for common sense sake and for the sake of democracy.

August 24, 2019
THE CHOSEN ONE
God, in his inexplicable and sometimes seriously questionable wisdom,
has delivered unto us a Savior the likes of which no one has seen before,
and hopefully, with his inevitable passing into the dustbin of history,
no one will see again.
JUXTAPOSITION
If we really want to imagine a time in the past when eagles and passenger pigeons were plentiful and bison ruled the plains, America may have conceivably been great. Perhaps if we reason that to render the Endangered Species Act meaningless or ineffective, we can pretend that those times, as well as when American manufacturing was preeminent, can be brought back by simply acting like they are. But I don'think so.
Why the Passenger Pigeon Went Extinct | Audubon Magazine
Excerpt: "In 1900, even before Martha's death in the Cincinnati Zoo, Republican Congressman John F. Lacey of Iowa introduced the nation's first wildlife-protection law, which banned the interstate shipping of unlawfully killed game. "The wild pigeon, formerly in flocks of millions, has entirely disappeared from the face of the earth," Lacey said on the House floor. "We have given an awful exhibition of slaughter and destruction, which may serve as a warning to all mankind. Let us now give an example of wise conservation of what remains of the gifts of nature." That year Congress passed the Lacey Act, followed by the tougher Weeks-McLean Act in 1913 and, five years later, the Migratory Bird Treaty Act, which protected not just birds but also their eggs, nests, and feathers."
IPBES: Nature's dangerous decline 'unprecedented,' species extinction rates 'accelerating' | Eurekalert
Current global response insufficient; 'transformative changes' needed to restore and protect nature;
opposition from vested interests can be overcome for public good; most comprehensive assessment of its kind;
1 million species threatened with extinction.

One million species threatened with extinction because of humans | CNN

IPBES: Intergovernmental Science-Policy Platform on Biodiversity and Ecosystem Services
Science and Policy for People and Nature
---
U.S. Significantly Weakens Endangered Species Act | August 12, 2019 - The New York Times
Trump admin moves to weaken endangered species protections | Video - CNN
August 19, 2019
The End of the Myth: From the Frontier to the Border Wall in the Mind of America | by Greg Grandin - Amazon
When the Frontier Becomes the Wall | The New Yorker
What the border fight means for one of the nation's most potent, and most violent, myths. | By Francisco Cantú
Infinite Frontier - The eternal return of American expansionism. | by Jedediah Britton-Purdy | The Nation
Peter Fonda, Star of 'Easy Rider,' Dies at 79 | Variety
Peter Fonda, Star of 'Easy Rider,' Dead at 79 | Huffpost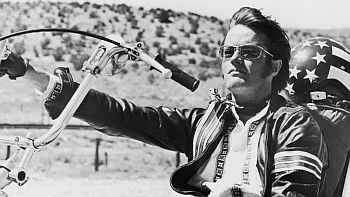 Easy Rider Intro - Born to be Wild!
---
Bernie Sanders To Israel: Ban Our Lawmakers? Then Don't Take Our Money | Huffington Post
Trump Lies | NRDC
Trump defends environmental record that critics call disastrous | July 8 | The Washington Post
Fact Check: Trump's environmental rhetoric versus his record | Aug. 8 - Politico
Why Donald Trump Suddenly Decided to Talk About the Environment | July 8 - The New Yorker
Environmental policy of the Donald Trump administration | Wikipedia
Tracking deregulation in the Trump era | August 2, 2019 - Brookings
Regulatory Rollbacks - Environmental Protections on the Chopping Block | EIP: Environmental Integrity Project
A running list of how President Trump is changing environmental policy | National Geographic
Regulatory Rollback Tracker | Harvard Law
U.S. Significantly Weakens Endangered Species Act | August 12, 2019 - The New York Times
Trump admin moves to weaken endangered species protections | Video - CNN
Immigration Chief: 'Give Me Your Tired, Your Poor Who Can Stand On Their Own 2 Feet' | August 13, 2019 - NPR
Trump Administration To Deny Green Cards To Immigrants Who Use Public Benefits | August 12, 2019 - NPR
The New Collosus - Statue of Liberty | National Park Service
"Keep, ancient lands, your storied pomp!" cries she
With silent lips. "Give me your tired, your poor,
Your huddled masses yearning to breathe free,
The wretched refuse of your teeming shore.
Send these, the homeless, tempest-tost to me,
I lift my lamp beside the golden door!"
The Story Behind the Poem on the Statue of Liberty | The Atlantic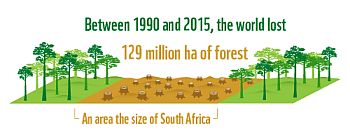 10 Deforestation Facts | Video - YouTube
Deforestation Effects on Climate | Video - YouTube
A History of Earth's Climate | Video - YouTube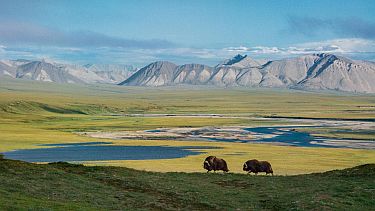 Trump distorts, ignores science in rush to drill Alaska refuge | MSNBC
Adam Federman, reporting fellow with Type Investigations, talks about how the Trump administration
is forcing a rushed schedule for drilling in the Arctic National Wildlife Refuge and
railroading scientific and environmental concerns in the process.
Don't Have Your Lunch Money? 1 Pennsylvania School District Threatens Foster Care | NPR
Perhaps the tactic of forcibly separating children from their parents or guardians will become standard practice and the accepted norm? A person with overdue library books will have their children taken away, regardless of age, and held in an undisclosed location awaiting adoption until the books are returned and the fine paid. Or how about you stop by day-care on your way home from work only to be told that a representative from the Department of Involuntary Collections came by and took your little darling and are prepared to give her up for adoption unless those parking tickets are straightened out. To hell with compassion and understanding. Meanness for its own sake. What we can do to correct any and all undesirable situations is to take it out on the children. Put them through hell. Damage their nervous systems and destabilize their sense of security, instill fear of abandonment and aloneness in order to achieve an end as though they were just things to be bartered with. The new norm, compliments of Trump and his gang of cutthroats.

July 21, 2019
Attacks On Rep. Ilhan Omar Are Attacks On Our Nation's Soul ?- And On Our Economic Security. | Forbes
'Welcome home!' Ilhan Omar returns to Minnesota amid Trump smear | The Guardian
July 19, 2019

If a person overstays his visa, he can be considered to have broken the law. Or, if, for whatever reason, an immigrant misses his court date, that too is a law. Neither one automatically demands deportation. But, that's all irrelvant to what's going on at the border. It is NOT illegal anywhere in the civilized world to enter a country seeking asylum, that's domestic law as well as international. Those people at the southern border living in detention camps under squalid, cramped, and traumatizing conditions have NOT broken the law. They are not criminals. They don't deserve to be in a worse-than-prison state of confinement.

For Pence to say he "couldn't be more proud of the CBP agents at the facility, and that every American would be proud." [Pence Visits Border] is a moment in the continuous stream of events where we should just stop. If what is going on with our government was a dramatic comedy, he would be the perfect satirist [Satire: applies to writing that exposes or ridicules conduct, doctrines, or institutions either by direct criticism or more often through irony, parody, or caricature. -- Merriam-Webster] or, if you like: [Satire: The use of humour, irony, exaggeration, or ridicule to expose and criticize people's stupidity or vices, particularly in the context of contemporary politics and other topical issues. - Oxford Dictionary].

The only way an American or anyone else could be PROUD of how children, innocent of any crime, by the way, are being treated and have been is if you start from a base akin to a Victorian Era prsion atmosphere as being the norm and suitable. Then from there, of course, anything is an improvement. So Pence is assuming that the Americans he wishes to pander to--Trumps cult followers--are of that mindset and so might just feel proud, or, at least, that feeling that these less-than-humans, as Trump depicts them, don't deserve any better. Even though, I point out again, none of them have broken any laws and are not guilty of any crime.

July 16, 2019
"I felt the great scream throughout nature." Edvard Munch
"Tell Me We Haven't Blown It": Peter Fonda Reflects on 'Easy Rider' and Its Unanswered Question
MIGRANT DETENTION CENTER ON SOUTHERN BORDER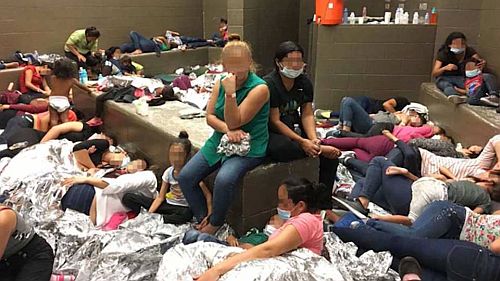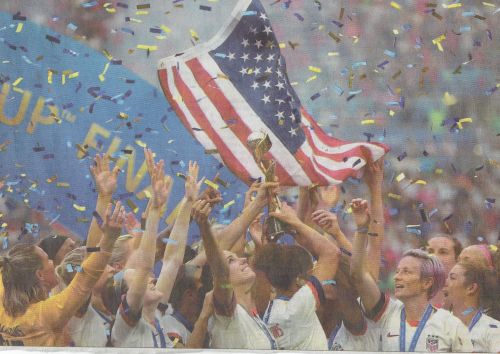 U.S. Women's Soccer Team Wins World Cup Title For A 4th Time | NPR
July 6, 2019

Report from the Northwest

Rain. Mostly cloudy with a good chance of RAIN, then later on in the week, an intermittent yet seemingly continuous threat and actuality of RAIN. No sun to speak of. We know it's there, just hiding. And the temperature is in the fifties where I am in the bush. During a sun experience, my cat, Mariah, had a confrontation with a long-legged deer early this morning in the driveway. I came upon it while wandering around with coffee in hand at around 7:00 AM. She was sitting about 10 feet away from the deer, 30 feet from me towards the forest. I had the distinct impression I had just interrupted a private conversation. The deer saw me and stared for a few moments until he realized that despite my upbringing and experiences on the open sea, I am harmless. That's what happens when you get old, you no longer look dangerous, not that I wanted to. He ate some grass in the middle of the driveway, said, "So long, later," to Mariah, then walked to the four-foot high wire fence enclosing a grass field where a dog used to live and jumped over like it was nothin' and proceeded to munch his way through, ignoring me, of course. Mariah has a lot of friends around here.
July 4, 2019
The Declaration of Independence | America's Founding Documents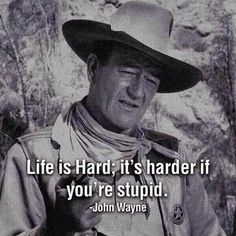 ---
U.S. defeats England 2-1 to advance to Women's World Cup final | CBS NEWS
Flirting With Fascism: America's New Path | Full Episode: 54 minutes - CBC Radio
This episode was originally published on November 29, 2018.
"We've heard it so much that it's almost become a cliché: America is on the road to fascism. The debate over that claim continues, but renowned scholar Henry Giroux argues that "Donald Trump is not just some impulsive rich guy who marketed his way into politics through empty Kardashian-style consumer culture." Trump needed followers. And he got them. Now what?"

---

You ever notice how things pop into your head that have nothing to do with what you're doing or thinking about? Why is that? I mean, remember the scene in the movie Pulp Fiction where Travolta is waiting for Bruce Willis to come home so he can kill him, but while he's waiting he needs to go to the bathroom. What exactly he did or needed to do is irrelevant. But here's what gets me. He's waiting for Willis, decides to use the bathroom, leaves his Ouzi or whatever in clear view on the kitchen counter, and closes the door of the bathroom even though nobody's there and his weapon is right outside the door for anyone to see? I don't know, it just seemed very thoughtless, to say the least--uncircumspect?--for a professional hit-man to do.

June 28, 2019
Megan Rapinoe stands tall as U.S. beats France in World Cup battle worthy of the hype | The Washington Post
How Megan Rapinoe and the U.S. Beat France at the World Cup | The New York Times
---
Trump Wants To Withdraw Deportation Protections For Families Of Active Troops | June 27, 2019 - NPR
Scenes Of Tearful, Flu-Stricken And Underfed Migrant Kids Emerge In New Accounts | June 27, 2019 - NPR
G20 summit: Trump jokes to Putin about Russian election meddling | June 28, 2019 - BBC
Trump gives Putin light-hearted warning: 'Don't meddle in the election' | June 28, 2019 - CNN
June 16, 2019

I'm hearing Colin Powell trying to convince the American people that Iraq has Weapons of Mass Destruction (WMDs) and we need to do something about it whenever Mike "Baby Face" Pompeo opens his mouth about Iran. Tankers were attacked in the Gulf of Oman. By someone, nobody knows who for sure or why. Oh my. Call your mom, tell her. Whose tankers? Well, one belongs to Japan and the other to Norway. So I'd say the problem was all theirs. I'll bet you won't find one American in ten thousand who gives a damn about somebody else's tankers or the oil that may be in them. I sure as hell don't. Pompeo says that because of these tankers getting scratched by some gang or other, Iran is a threat to international security. International security, no less. If Iran really wanted to make a statement of defiance, they could blow the shit out of those tankers and the port they sit next to and be done with it.

Our interests Pompeo and Trump keep saying. What the hell does that translate as? The Iranian government probably doesn't have a lid on all the haywire gangs inhabiting that sand heap they call a country. Our interests seem to coincide with that of Saudi Arabia. Now there's a rogue country if there ever was one, and we back them, or rather, President Trump does. Waging war on Yemen killing untold numbers of civilians, dropping bombs on school buses killing children; people, mostly children, literally starving to death because they can't get food into the one and only port. And we supply the munitions and support. But attacking a tanker, now there's something to get upset about. Screw those Yemeni children, what about that oil? We're talking money here.

I heard this morning a military drone was shot at by a missile from Iran. Is that so? What was the drone doing? Well, the government says it was inspecting the damage of the tankers. But they have people onboard and in boats alongside who can do that much better and more thoroughly than some drone. If I was surveying one of those ships and saw a drone coming at me, I'd think we were under attack. Maybe the drone wasn't really doing that. Maybe it was over Iranian air space doing some other inspecting and got shot at.

We're being talked into something, just like Colin Powell and Bush did. The pattern of speculation and distinct lack of credible evidence sounds the same. And besides, our interests, vague and undefined as that is, are in no way being threatened. Sending more and more military personnel into harm's way, almost like they--Trump, Bolton, and Pompeo--want to see something go wrong. What you want to do is scale back, not scale up. Neither Trump nor Pompeo understand who they're dealing with. You just can't keep pushing somebody under threat of serious violence without expecting an eventual confrontation. And what is it that we want them to do for us to cool our jets? Nobody knows. There's no rational, definable strategy involved. It's just arm twisting for its own sake. What does Trump expect them to do? Let him build a Trump Tower in Tehran? Hand over the keys to the kingdom? What?

I grew up on the streets of Philadelphia. If somebody in the neighborhood kept threatening to punch you in the mouth, eventually you'd have to do something about it if you wanted to hold your head up in the neighborhood. That's one of the many problems with Trump. He never had to live that way so he doesn't understand it. When he was running casinos he wanted to be like the mafia guys in Las Vegas. That's how he imagined himself. I remember when I was a teenager he built his first casino in Atlantic City. He went bankrupt. There's more to operating a casino than acting tough, you have to understand the business.

June 15, 2019
Fear Of Foreign Interference In U.S. Elections Dates From Nation's Founding | June 14, 2019 - NPR
Noam Chomsky: Trump's "Economic Boom" Is a Sham | May 30, 2019 - Interview | Truthout
If you're down, depressed, having a hard time finding a reason to drag your ass out of bed,
or just trying to remember the good times when life was all you lived for,
crank up your speakers and watch this video:

E.L.O (Electric Light Orchestra) All Over The World

Take care.
Global 5G wireless networks threaten weather forecasts | April 26, 2019 - Nature
FCC to auction off wireless spectrum that could interfere with vital weather data,
rejecting requests from U.S. House and science agencies
Letter to FCC from Committee on Science, Space, and Technology | PDF File
The Guarded Gate | by Daniel Okrent - Simon & Schuster
The Guarded Gate: Bigotry, Eugenics and the Law That Kept Two Generations of Jews,
Italians, and Other European Immigrants Out of America | Review - Publisher's Weekly
Eugenics, Anti-Immigration Laws of the Past Still Resonate Today | Interview Transcript - Fresh Air - NPR
Former Navy rear admiral: Ilhan Omar has a point | April 18, 2019 - CNN
Read and search the full Mueller report | Updated 1:01 PM ET, Thu April 18, 2019 | CNN
April 13, 2019

What is an Illegal Immigrant? Specifically, what does the term mean, its significance, and, most importantly, its connotation of criminality? How does that work against an asylim seeker?
Immigration & Migrants' Rights | International Justice Resource Center
Asylum & The Rights of Refugees | International Justice Resource Center
International Convention on the Protection of the Rights of All Migrant Workers and Members of Their Families
United Nations Human Rights - Office of the High Commissioner
Overstaying a visa is a civil violation handled by immigration court, while entering (including re-entering) the US without approval from an immigration officer is a crime: specifically a misdemeanor on the first offense. Illegal reentry after deportation is a federal offense. This is the distinction between the larger group referred to as unauthorized immigrants and the smaller subgroup referred to as criminal immigrants. April 9, 2019
Suspected Rhino Poacher Killed By Elephant, Eaten By Pride Of Lions In South Africa | April 7, 2019 - NPR
Finally, some good news.
March 28, 2019

Our government is in a state of disarray, to put it mildly. Everybody argues, people are angry, nobody wants to cooperate with one another, the Executive and Legislative branches are working at cross-purposes and talking past one another with no compromises forthcoming, and transparency is denied to the public, leading to all manner of speculation and further confusion and uncertainty and side-choosing.

It's sadly pathetic to believe, as I do, that the vast majority of Americans wanted our president to be found undeniably guilty of knowingly and willingly accepting help from the Russians to rig his election. The majority of decent Americans anticipated that a person of his mean-spirited, disparaging character and track record for lies, deceit, and ripping people off would naturally be guilty. But we don't really know yet, do we? All anybody's heard is a summary of Mueller's investigation interpreted in an extraordinarily brief handful of lines by one of Trump's people. All hope is not lost.

But that's not the point. Trump through his actions and antagonistic personality does not make us feel good, that is to say, proud that our country is one of respected leadership, not only here but around the world, and that all branches and arms of the government are working together, steadfastly and single-mindedly, to create and maintain what is best for we the people, for our society with its many diverse cultures and ways of life. Americans can do wonderful things for all the people, but not if we're at odds with one another. The cracks were there, dormant, pushed to the back burner for the sake of the ideal of democracy. But Trump has brought them out in stark relief by his attacks on everything and everybody under the sun. Nothing is sacred or worthy of respect. Not our institutions, our traditions, our system of governance, our rule of law, and especially the dignity of those who warrant it. It's okay to hate, to treat certain groups with contempt, to express any latent axes to grind. We can't let this continue lest America lose everything it's fought so hard for.

President John Kennedy made us feel good about ourselves, and later, Reverend Martin Luther King, Jr.. Compare them to Donald Trump. A tantrum-ridden, low class proselytizer of the worst feelings and attitudes a person can experience. I think we deserve better.

March 27, 2019
That Word "Collusion?" I Don't Think It Means What You Think It Means | DailyKos
March 26, 2019

Attorney General William Barr must be some kind of genius. Truly. He takes the Mueller report (supposedly, over 300 pages), a compilation of twenty-two months of intensive investigation, analyses, indictments, the combined work of many attorneys on Mueller's staff, details, details, details, and in less time than it takes to make a bologna sandwich, reads it, digests it, distills it, and is able to summarize the entire mammoth collection of disparate, logically assembled and no doubt hierarchically arranged procedures into four pages, probably double-spaced. Pure unadulterated genius. I have this feeling that he had his summation already written well before he received the report. I'm kind of a cynical guy. And still, we the people have no idea what's in it.

Why do we have to have such an asshole for a president? Why is that? Today's New York Times has as one of its headlines: Trump Turns Wrath on Critics. Wrath. Why do we have to have a guy who's always angry and belligerent and who deals strictly on the personal level? His job is to be the President of the United States of America. And yet, he's so petty and lowbrow, he'd rather spend his time fighting and attacking everybody. I'm old; I don't expect to live a whole lot longer. I would hate to die while this jerk is president. Really.

A vote for Trump is a vote for a hostile environment. How can anything worthwhile and helpful, compassionate and conducive to a general milieu of feeling good about life fill the space between we the people with a sick, twisted, sociopath like him at the wheel?

---

I don't know about you, but I have no desire to turn control of my car over to the car. But it's coming. I had a 1970 Ford Country Sedan Galaxie 500. I could pop the hood and look at everything and know exactly what it all did. Over the years, I replaced almost everything. The alternator, the voltage regulator, the heater coil (3 times), sparkplugs, almost the whole shebang. But now, I have a more modern vehicle. I love it, it runs nice, has power steering and power brakes, and, something I never had before, power windows. It gets down the road smooth as glass and is good on gas, twice as good as the Ford. But when I open the hood, I stand in awe. It's jammed with all manner of obscure stuff. The only things I recognize are where the oil goes and where the dipstick is. Everything else, I've not a clue what it is or what it does. I want to have control of my car.

Imagine getting into an accident, possibly fatal, because a car driven by no one has a sudden sensor malfunction or an electron fluctuates causing a software glich or--something goes wrong--and drives right into you. Remember that woman who was killed walking across the street with her bicycle. The beta release. Up to feedback from the public to uncover any faults so a patch can be created. I suppose a death counts as feedback.

A computer glitch or oversight, a condition not considered or predictable, not found in the algorithm. So how many sensor-software glitches become possible as we increase the number of computer-controlled machines? Autonomous vehicles. A science-fiction fantasy rushed into with lots of money to be made as an incentive. But what about those robots that landed on the back side of the moon and those tiny asteroids? Or the unmanned cargo ship that safely, and accurately, docked with the Space Station? Successes to be proud of, but orchestrated under the direct command of humans. The software ran the machine which performed as planned, but rehearsed on simulators. Quite a different situation, actually. They weren't open-ended, exploring, searching the cosmos. There was a beginning and an end. Not so driving a car through busy streets, filled with pedestrians and humans driving haphazardly, sometimes stopping for signs, sometimes not, sometimes driving above the speed limit, sometimes doing whatever a vehicle is capable of doing. A dense forest of decision making which, we humans, are somehow used to. It's what we do. We're getting way ahead of ourselves, I think, trusting and relying on computers too much. Witness the tragedies of the two recent airplane crashes. We need to slow down with all this stuff running our lives.

March 21, 2019
World Happiness Report
Netanyahu-Trump Partnership Is Stronger Than Ever. Are These Its Final Days?
March 10, 2019 - The New York Times


"While other presidents and prime ministers have been close, the Trump-Netanyahu relationship
has no precedent in their countries' history, veteran diplomats say, encompassing deep parallels
in their politics, similar struggles with scandals and outright copycatting in how they denigrate opponents.
And the relationship has also benefited Mr. Trump, with Mr. Netanyahu's policies alienating Jewish Democrats
and helping Mr. Trump depict the Republicans as Israel's only reliable source of unconditional American support."

Netanyahu, Under Fire at Home, Seeks a Warm Embrace in U.S. | March 3, 2019 - The New York Times

Rep. Omar fires back after Trump calls for her resignation: 'You have trafficked in hate your whole life'
March 7, 2019 - NPR
I was trying to listen to an NPR program where a handful of arrogant, self-righteous people were bashing Congresswoman IIhan Omar. But, it was making me ill, so I turned it off. The close bond between Netanyahu and Trump (and the Republicans in Congress) is what should be zeroed in on, not the insinuation that she was voicing a cliched anti-semitic allegation of a global conspiracy by Jews. What nonsense. She was talking about the flood of lobbying money pouring into Congress.

As far as I am concerned, she did not make an anti-semitic remark. What she did was try to point out how lobbying money, in particular, from the pro-Israeli group AIPAC, is controlling Congress, mostly Republicans. It was deliberately redirected to infer an anti-semitic comment--the third rail. They hold up this invisible shield to protect themselves from exposure to bribery, basically. Apparently, nobody in Congress can say anything critical about the nation of Israel, our official policy towards them, or against the dangerously close relationship of our two chief politicians without the risk of being labeled anti-semitic. The lever she used to unpop that rock is the fact that millions are being funneled into Republican hands, for the most part, in order to maintain the status quo. She shined a light on them, and like cockroaches, they scurried to hide, not in the shadows but behind moral indignation. The very idea! If Trump had been forthright about "draining the swamp," the Israeli-AIPAC-Congress-White House-USA support-gravy train would have been near the top of his list. And furthermore, what could be more ludicrous than Donald Trump chastising another human being for racist and hate-filled sentiments? The hypocracy of the leader of the free world knows no bounds. I can almost hear his laughter after tweeting such nonsense.

Netanyahu is leaning seriously to the right and is mimicking in every way the feelings and attitudes of our right-wing president. And Trump is leading us down the road to act on behalf of Israel, that is to say, Netanyahu, in order to keep him in power. The United States, as a consequence, is in danger of being drawn into a confrontation with Iran. Representative Omar unearthed this possibility; it deserves to be examined in detail and not pushed aside and buried in a maelstrom of phony, superficial moral outrage.
March 10, 2019
Report from the Northwest
I would like to announce that I will not be running for President or for any other office at this time. I would like to also thank my many enthusiastic supporters and especially those who pleaded with me to the point of offering large sums of money and gifts, but, alas, I have other priorities. I promise to refund all donations, minus catering expenses and other organizational fees, you understand. Advertising, marketing, printing posters, stuff like that ain't cheap. Plus, gas for my car. I learned a lot and hope that all my followers will choose another who best fits the template of true leadership. My cat and I appreciate it.

Take care and,..., keep the faith.

The weather is still unseasonably cold, but there are indications that might change abruptly, as it sometimes does. This morning around dawn I heard and then saw a flock of geese heading north. And some of the tougher bushes are starting to bud. The crocuses, that'll be the sign.

I injured my lower back last week and so avoided sitting. I therefore was out of touch with the daily turmoil in Washington DC., with pictures, through the internet. After a few days of working myself back to health, I began to relax. Strange. I had actually allowed the goings-on there to stress me. Me. Is that the intent or do I just not have enough to do?

I had a dream where I was in my favorite place on earth, besides my home, the supermarket. It was fairly busy and quiet. Not much chatter when you're looking for stuff. Suddenly, the intercom crackled to life. One word repeated over and over several times: TRUMP, Trump, Trump,.... I looked around my aisle, there was about seven or eight people in it. Three of them were standing straight and stiff, arms at their sides, eyes glazed over. The refrain ended as abruptly as it had began. The zombie-like appearance of those affected vanished as they returned to shopping. What the hell is going on? I thought. I put the jar of marmalade in my cart and hurried to a checkout. On the wall facing the checkouts was a giant poster of Trump with his usual phony grimace twisting his features, his downturned mouth and beady eyes glaring out at everyone. I noticed that those leaving bowed ever so slightly as they passed it. I drove home, my nerves as tight as could be. What the hell is happening? Where am I?

I woke to the winter sun flooding through my window; my cat, Mariah, curled up at my side. Where are we heading? I wondered. When will the nightmare end?
March 8, 2019
U.S. Reportedly Compiled Database Of Journalists Working Along Southwest Border | March 7, 2019 - NPR
---
The Making of the Fox News White House | by Jane Mayer - The New Yorker
Jane Mayer on the Revolving Door Between Fox News and the White House
March 5, 2019 - The New Yorker Radio Hour
The White House And Its 'Shadow Cabinet' Of Fox News TV Hosts | March 7, 2019 - NPR
Trump's 'domestic gag rule' is un-American | Feb. 25, 2019 - CNN
Fact Sheet: Final Title X Rule Detailing Family Planning Grant Program | February 22, 2019 - HHS
On February 22, 2019, the Department of Health and Human Services issued
a final rule to revise the regulations governing the Title X family planning program.
February 25, 2019

I was standing in front of the magazine rack at Safeway the other day when I overheard two young men at the other end talking. One said he'd been thinking about joining the Space Force. He'd read on Facebook that the people on Mars were planning to launch an attack and that Space Force was going to act preemptively and attack them first. The other one laughed and said there wasn't any Space Force, not yet anyway. His friend replied that he read the military had been working on it secretly for over a year at some base in the Mohaje desert. The other guy said he'd read about the Martians but didn't know they were getting ready to attack. But how would we get there? he scoffed. It takes years; I don't think I could stand the trip. Oh no, his buddy replied. An article on Facebook described a newly discovered method of space travel that has to do with a dimensional shifting of spacetime. I didn't understand it completely, he confessed, it was rather complicated, written by a physicist from Bulgaria. Now the trip should only take about a week or so. They walked off, serious as hell, discussing the ins and outs.

I stood there holding a Time magazine, the cover depicting our esteemed President gleefully kicking a puppy. I was stunned. Not because of the cover, one would expect that, but at my ignorance of what was going on in the world, not being a participant in the universe of digital social media, cut off from the clamor of civilization. I don't Facebook or Instagram or Twitter or anything else that may be out there. I get my news from mainstream news outlets on the Internet, on the radio through NPR, BBC, and CBC (I live near the Canadian border), and from the New York Times, the only out-of-state newspaper that comes to this little town. I also hear about stuff from my friend, Fritz and, of course, my cat, Mariah. But I had no idea. The Martians? What do they have against us? They saw the Rovers as a preliminary exploration, perhaps, looking for suitable landing sites?

I drove home, occasionally glancing up through the windshield, wondering what to do. Because of my stubborness about refusing to enter the toxic, incoherent, jumbly world of social media and, in particular, Facebook, I'd missed out on a lot of important stuff. How things, phenomena, are interpreted is at least as important as whatever truth might lie in the bigger picture. Picking out certain facts and then reassembling them to support an argument towards a conclusion, like picking out the integers in the number line and declaring them to be the center of significance and the meaning of it all, is an art form looking for an audience.

I thought Don Trump's Space Force was just an idea, barely on the drawingboard. But he lies all the time and deliberately misleads, so you never know what exactly is happening in the country, and beyond. I've been in the dark all this time. Thank God for Facebook and the other platforms of communal discourse, the social milieu, more like a porridge than a fabric; otherwise, we wouldn't know fact from fiction, the wheat from the chaff, the alternate reality from the one we're experiencing-- the real world.

February 24, 2019
First Amendment - U.S. Constitution | Legal Information Institute - Cornel Law School
Botswana Weighs Lifting Hunting Ban, With Eye On Reducing Elephant Population | Feb. 22, 2019 - NPR
February 21, 2019

Identifying someone as an autocrat or dictator or tyrant--a right-wing ruler--is misleading in a sense. It directs our perception to conceive of a person as a politician who behaves like a gangster. Egomania is an essential element and the driving force, but it can appear as sincere conviction to a set of principles. That in itself has the effect of mitigating extremes of behavior. They're seen as mere eccentricities of personality, something to be accepted with the belief that underneath the bluster, the harangues, the denunciations and accusations, the fits of temper, the boisterous rhetoric, good deeds are being done, for the sake of the whole.

Shifting the basic presumption is not simply a relabeling of a certain personality type, it brings with it markers of a particular set of relationships and ways of doing business. It pulls back the veil of any pretense to respectability, belief and, most especially, trust in the role that's being played. It represents the default identity. The wizard of Oz.

One of the things I've encountered over the years of dealing with all sorts of people is that they usually know more, see more, and are able to do more than they think, and oftentimes that's because they've been taught to see themselves as limited in their degree of perspicuity. Someone who has a billion dollars must be smarter, wiser, more worldy, possessed of a profound common sense, and more capable of seeing what is the true state of affairs and what isn't than I. The model or structure he projects and imposes onto the world--his worldview--must be more substantive and fit more congruently than mine. And so forth. But while in the midst of that daydream fantasy, something in the back of our minds is telling us something different. Ethics, principles of behavior and relationships, whether from a religious source or discovered by experiencing the travails and vicissitudes of life, form the essential ingredients of an identity, a self among others. Discord and a feeling of unease develop as the contrast between the illusions being played out before us and the reality beyond clash, some more harshly than others.

The gangster, be it Al Capone or Caligula, possesses an aura that makes him seem larger than life. Where I grew up in Philadelphia there are a lot of wannabe gangsters, the real ones intermingle but sparingly, and you can't always tell them by their shoes. There's something romantic, glamorous even, empowering--to use a modern term--and will-strengthening with such an identity belief. It acts like a drug and can become addictive. It draws like a center of mass. At the apex, or near it, the lure and sense of power is overwhelming and once realized will be held onto with all one's strength and ingenuity and ruthlessness. Nothing else and no one else matters. Principles and people are all thrown under the bus. And importantly, there's no sharesies.

So we have gangsters around the world running countries. North Korea was once busted by the Australian Navy many years ago for dropping off drugs on Australia's southern coast by a freighter. It was the government's shipment. That was the father of the present dictator, but I'm sure he inherited the business.
Heroin Trail Leads to North Korea | May 12, 2003 - The Washington Post
U.S. officials say the capture is proof of their long-standing charge that the North Korean government has for years operated
as a crime syndicate, smuggling drugs and counterfeit money around the world to generate income to keep itself alive.
North Korea: A Government-Sponsored Drug Trafficking Network | PDF File (38 pages)
Pong Su Incident | Wikipedia
No point in listing who they are, the usual suspects, we all know them. We know the profile, the markers. Gangsters playing politics imposing their own rules based on their own personal feelings. Whims and retribution are tools to prove dominance. Division is important; there's us and there's them. This shores up popular support, even in hard times. National security is the big bugaboo and the all-purpose justification for doing anything that might otherwise be challenged. All is forgiven in its name.

February 20, 2019
Buffalo Springfield For What It's Worth 1967 | YouTube
He almost had me goin', ole Trumpy. He almost had me believing that he gave a damn about the people of Venezuela. Empathy and compassion are not in his tool bag. An actual humanitarian crisis is occurring. They need food and medicine and an end to chaos. And except for the macho threats and brinkmanship he likes to play, like it's all just a boardgame, I was supporting what he said, or rather, what somebody was advising him to say. But then, he ruined it by letting me see through it.

It's all just an opportunity to curry favor with the Venezuelan-American community in Florida, and by extension, wherever else they may happen to be. A purely political opportunity, nothing more. However, if he imagines by doing so he's going to entice the Latino population to his way of thinking, or not-thinking, after how he's characterized them, persecuted them, and his continuous attempt to deny the masses at the border sanctuary, he's got another thing coming.
Hispanic and Latino Americans | Wikipedia
Article 1, Section 7 of the United States Constitution | Annenberg Classroom
February 18, 2019

The Oxford dictionary has several definitions for honor - honour. The one I'm interested in, with sentence example, is: The quality of knowing and doing what is morally right ("I must as a matter of honour avoid any taint of dishonesty."). SYNONYMS: integrity, honourableness, honesty, uprightness, ethics, morals, morality, principle, principles, high principles, righteousness, rectitude, nobility, high-mindedness, right-mindedness, noble-mindedness. Trump, it can be said without doubt, is unencumbered by any allegiance to honorable behavior. His goal is to get what he wants, period, by any means. It's how he's been his whole life, how he was taught to be. He asserts his will, belligerently if necessary, with the power of the presidency behind it, instead of the other way around.

Meritocracy ("In a government based on meritocracy, the leaders are chosen because they are the smartest and have best judgment. They can come from the poorest, most humble background just as long as they are the most noble and fit to rule." - Vocabulary.com) filters and influences our perception of our leaders. It's woven into the social fabric and ingrained during our formative years growing up in this society. If his wealth and place in society weren't earned by his self-propelled efforts--see the New York Times article--then he has no claim to being more capable than the average person to perform the job of president. And, in fact, as we've seen, he is totally incompetent and unwilling to learn.

The problem with the National Emergencies Act that permits the President, any president, to declare a "national emergency" is not that the quintessential word emergency is not defined or conditioned by a string of requisite circumstances, but rather that the writers made the assumption that the person declaring a state of affairs sufficiently extreme to be considered an emergency possessed not only common sense, but the quality of honor. Everybody on the planet knows that Trump doesn't truly believe what's going on at the southern border qualifies as a real emergency. He sees it merely as a loophole in a contract between him and the constitution and, in particluar, the Act.

The fundamental assumption of the Act is that the person shares the awareness with the writers and ratifiers of what constitutes an emergency. They took it for granted, the honor system. Comparing definitions of the word emergency, three key ideas underlie it: unexpected or unforeseen, dangerous, and requiring immediate action. What's happening at the border can hardly be considered unforeseen. Masses of people seeking asylum meet manufactured bureaucratic logjam. Taking children away from parents with no accounting of where they are or a procedure already in hand on how to eventually reunite them. Even if a wall were to be built, it's futuristic with regard to effects. The crisis is now.

I don't accept that Trump is delusional. He is, however, unable to tell the truth, lying and misleading with bogus facts and statistics in order to manipulate, living in a parallel universe, trying to impose his version of events, his narrative, onto the rest of the country. He has contempt for such effete notions as honor and honesty. His will be done, else he loses all legitimacy in his eyes and, he believes, in the eyes of his followers.

The paradox of democracy is that it supplies the tools to create a system that is undemocratic. To dismantle it and reshape it into a system that is authoritarian, not only by all appearances, but in fact. The gist of Godel's Incompleteness Theorems is that any consistent body of knowledge--in his case, arithmetic--contains within it the means to generate questions or problems for which the system has no answers or solutions, as is. The Founding Fathers foresaw this possibility; what is required to thwart it is for the institution of Congress to live up to its mandate and responsibilities, for the sake of the nation.

February 17, 2019

In the background, as it were, much like climate change, a global epidemic of journalist suppression and censorship is taking place. News reporters have become targets. I wonder what's going on? A realignment?
Reporters Without Borders
Reveal: Center for Investigative Reporting
Trump's case for a national emergency at the border: Fact Check | Feb. 15, 2019 - ABC
---
The Solution to the Border Problem

It's quite simple, really. I saw in a moment of clarity at dawn this morning when my cat, Mariah, jumped down from her sleeping quarters to land next to me. Always kind of a jolt. She wanted pets and rubs and settled in against me. I looked out the window at the now dirty, frozen snow and the dark grey glare of cold light. Inside, we were warm and dry, Mariah lay quietly purring, then it hit me. The obvious and sensible often happen that way with me.

When I was a commerical fisherman in Alaska, down the Aleutian Chain, I remember the crisp starkness of the rocky formations (there's no trees or bushes), the jagged outcroppings and twisted peaks of snowy granite, an unforgiving landscape. There is no filter between it and you, no buffer insulating your mind and emotions. No room for pretense, or holding onto a place or relationship in your head for a feeling of safety and security. For that to be the case and the norm, you must fully engage and immerse yourself into the surrounds.

So, as I lay there, it occurred to me, something most everyone else already knows, I'm sure. But, we've been distracted from bringing it out to full awareness and giving it the impetus it should have. We've been diverted by the show in Washington DC. There wouldn't be any problem at the border, wouldn't be any chaos and threats of violence by our side if we were to accelerate the asylum process.

We need more legal points of entry. We need a hundred or perhaps a thousand more asylim interviewers. How hard can they be to find? You ask questions, you check out answers, you do background checks where possible and where it makes sense. Children should not need that and, to my mind, they are the most important. The young ones don't understand what's going on, a lot of the adults don't either. They're disoriented. Confusion is all part of the congestion problem and probably intended. It makes it that much more difficult to explain coherently and clearly why you're there. Also, and most importantly, we need about a thousand or five thousand more immigration judges. Supposedly, there's about 700,000 immigration cases backlogged, waitng, those people hanging in limbo, unable to plan ahead in their lives with certainty and security because of it.

Bottomline: Eliminate Bottlenecks

1) More legal points of entry, if possible; 2) More asylum interviewers; 3) More immigration judges; 4) More health and human services; 5) Less intimidation; 6) Less incarceration and detention, especially for the young (locking them in cages is pretty sick and mean-spirited); 6) More actual helping and facilitating. These are people who, for the most part, don't speak english, you know.

Then, we won't need a wall. Instead of throwing up roadblocks and trying to discourage people by deliberately, and by dint of stupidity, making things, the process, more difficult to navigate, do just the opposite. How to end the White House-manufactured "crisis"? How to make it go away? Streamline the asylim-seeking process. Make it professional and well-organized--it can be done-instead of the clumsy, erratic, frustrating bullcrap that it certainly seems to be. It shows disrespect and indifference, which may be the intention. They're not animals, they're people in need of help who've probably already been through enough. You try walking from Central America to the U.S. border and then be greeted with Trumpian rejection and hatred. I'm sure we can do better than we're doing. This is America. We should be showing the world how it's done by a civilized, compassionate people, instead of like a bunch of uncaring barbarians afraid of an invasion by an army of refugees.

February 15, 2019

Every autocrat, dictator, and tyrant in the world has used "national security" as the preeminent excuse for suppressing individual rights and freedoms and for scapegoating people deemed outside the national identity. The United States of America has the most powerful military in the world. Think about it. We have the Army, Navy, Air Force, Marines, Special Operations people, the Navy Seals, Delta Force, and specialized units of the sixteen intelligence agencies. Not to mention National Guard from every state, State Police, County Sheriffs, and local police. Then we have the Border Patrol and the infamous and somewhat clandestine Information and Customs Enforcement heavies with the apt acronym--ICE.

Therefore, I personally don't believe that a handful of desperate, exhaused, hungry, scared parents, women and children trying to escape the violence and poverty of their home countries, seeking asylum and refuge for themselves and their children to represent a threat to our nation. If they are in reality, then we're in big trouble.

Everybody in the country with half a brain, that obviously excludes the dumbshits of the cult that supports the President, knows the real reason for the wall. He told that small knot of ignorance and self-centered fear, bigotry, and mistrust, that if they voted for him and backed him up, he'd build them an actual wall. The possibility that The Wall could be or was only meant to be a metaphor, an idea and not a factual concrete, steel, or brick wall the entire length of the border never occurred to them and apparently still hasn't. It has little to nothing to do with national security or even border security. They're children with childish needs and they are running America through Trump.

Every person in this country is either an immigrant or the descendant of immigrants. Even the Indians. Russel Means, co-founder of the American Indian Movement (AIM), considered all people born here to be native Americans, and so preferred to be called an Indian. Their ancestors, by historical accounts, migrated across the Bering Bridge thousands of years ago. Before then, there were only animals.

America is an idea, a microcosm of worldwide civilization. To turn our backs on our heritage, on the courage of migrant peoples, our history, is to renounce how we got to be what we are and to discredit the oftentimes painful effort and sacrifices to realize this idea. It is as yet unfulfilled, but we keep trying. It's like a beacon guiding us towards a healthy and morally proper way of living and perceiveing how life should, and could, be. America, the most culturally rich and diverse country in the world, based on democracy and the rule of law.

That's our true identity, our national identity, which, I believe, is stronger and more resilient than the temporary manifestation of forces determined to undermine it.

What about the Canadian border? Long ago, I was visiting a friend on his 600-acre farm outside Williston, North Dakota one year in late winter. We drove out past its edge down dirt roads with no signs, berms of dirt on either side, potholes here and there. We rounded a curve, topped a hill and stopped, turned off the engine and lit up a joint. He gestured at the country before us, short, brown, rough grass and mounds of dirt. At the bottom of the hill was a sign that read: United States-Canadian Border. There was no one in sight, why would there be? It was early March and still quite cold, but I could see it in the summer. High grass fields as far as the horizon. What about that, huh? Oh, yeah. Canadians, for the most part, are white. And they're not trying to escape from a terrbile, horrific environment, an untenable situation.

Imagine if the conversation (that's how people talk nowadays I've noticed, everything's a conversation) focused on helping these migrants, these asylum seekers. Imagine instead of casting them in the most degrading and negative terms, making life as hard for them as possible, they were seen as ordinary people, children, in desperate need of help, compassion, and empathy? Oh, but wait, that would entail having leadership that saw things that way. A leadership that had integrity to a set of moral principles that lifted them above tribal loyalties and fear of not being elected again. Unfortunately, that is not the case at present.

February 11, 2019

Report from the Northwest

Climate change. We've had more snow so far this year, and more is on the way tonight, than we usually get all winter. Coldest February on record and we're not even half way through. Suppose, in say twenty or fifteen years from now we have snow here from mid October until May. The longevity of severe weather conditions approaches a critical point where a phase transition occurs. A new species is born, a new biome, a new norm. And also suppose that the summers don't retract to what is happening now, but instead they become intolerably hot, the other end of the pendulum. Little to no rain.

These are things that need to be addressed by our government, along with infrastructure, buying prescription drugs from the lowest country, cybersecurity, the homeless crisis, preventing wildfires. There's a host of problems that have to be dealt with. But instead, our leaders are immersed in a battle of wills over Donald's Wall. Who the hell gives a damn about a stupid wall? Let the people who live in those areas decide what to do and then supply it. And if they prefer the status quo, let them have it. It's an embrrassment to the world.

The melodramatic soap opera that passes for our federal government has to cease. They have jobs to do, that's why they got elected. The animosity, the tit for tat, has to stop, and harming people as collateral damage--800,000 federal employees, for starters--is a black mark on all of them; most notably, Trump.
Hecklers Attack Howard Schultz At Event After He Teases Presidential Bid | Huffington Post
"Don't help elect Trump, you egotistical billionaire asshole!" one heckler shouted
at the possible presidential candidate. "Go back to getting ratioed on Twitter!"
That's just what we need, another egotistical billionaire business man who thinks he knows how to fix everything and has no experience in government or knowledge of how it works. We've already been seeing what happens when a person who has no knowledge of his job and is completely incompetent is tasked with the duties and responsibilities of that job. Forget it, Schultz.

Also, if people and corporations pay taxes and those taxes go towards universal health care, then it's not free, you moron.

January 21, 2019

Of all the psychoanalysis and historical and demographic frame-setting I've heard and read describing the character, morality, and identity of what's called Donlad Trump's base, one factoid, which I can't help but believe, stands out: Fifty percent of this knot of people have never been more than fifty miles from home.

Curiosity and the desire to explore in order to discover what lay beyond the horizon does not seem to be part of their makeup. The desire to know how other people live, what they care about, their lifestyles and how they see the world. And beneath that, the humanity that connects us all. With each invasion of an alien cultural milieu, those beliefs, stereotypes, and inculcated perceptions and conventions with which we understand and evaluate what is going on around us are stripped away a little at a time and abandoned, once seen for the arbitrary fabrications they are. Filters and lenses of interpretation separating us from the world. In the process, our true identity is revealed and all the socio-cultural attributes that previously defined it come up against the desire to know the truth.

However, the safety and familiarity of the nest, the home, coupled with fear and emotional insecurity create an imaginary wall, a barrier around us. We must keep out anything and anyone who is a perceived threat to its stability, to its very existence, projected from our mind as it is. To disapprove so strongly of another for no more valid justification than as an almost animal response to a stimulus is to be abysmally stupid. Tolerance of others is arrived at by recognizing and accepting differences, those differences that add to the richness of life.

Another dysfunction that rears its ugly head with Trump's devotees is an unfounded arrogance. If somebody is better than you at something and holds it over you, that's just juvenile ego. It's when people presume superiority based on nothing other than in some invisible way that lies at the root of hatred and suspicion. I am superior because I say I am, because my nature and characteristics are more preferred by God, by the powers that be, or by the guy down the street whose lawnmower I borrow.

To be open to the outside world, to have the courage and the confidence to deal with it, to want to know it, its diversity and how the whole complicated affair interacts, increases our personal sense of largeness and therefore our real and actual capacity to control our lives through participation. It's an illusion to imagine such control can be achieved otherwise. Then, finally, our emotional intelligence might realize, might lock-in, to a level of certainty that requires empathy and compassion and respectful consideration.

Trump's base shares a strength of refusal to know the outside world. And he, not being the brightest bulb in the shop, is trying to force the rest of the country through that narrow aperture. To compress it in every possible way down to this kernel of ignorance and myopic worldview. If he was a larger person, he'd free himself from his unfortunate promise. But, alas, in his mind, at least, it has become the quintessential condition for his base's continued support.

January 19, 2019
This is what the US-Mexico border looks like
Photographs by John Moore/Getty Images; Story by Kyle Almond, CNN
Between the tariff wars and the federal shutdown, farmers--you remember them, the folks who feed us all?--are seriously up against it. That's generally true of the entire food industry, growing, harvesting, procuring. Now, if a semi-bright person doesn't see that as a national security issue far more important than some imaginary wall, then that semi-bright person may just be the President. There are security issues abounding because of the shutdown. Air-traffic controllers, for instance. I don't know if I'd be interested in flying right now. All the paper work, email, everything that connects all agencies, administrations, and departments are what keep the economy--and people's lives--going. But now they're on hold. Frozen in time as the future barrels down.

I could say a lot of disparaging things about Trump, but others have said it all better. As far as I'm concerned, there are no words. For someone to cause so much suffering and hardship, anxiety, uncertainty, and insecurity--which is rippling through the rest of the country--for the sake of appeasing a small xenophibic, insecure group of Billy Bobs and Mary Beths--neanderthals of the finest caliber--by fulfilling his promise, a solemn oath underscoring his entire existence as president, to build a wall, a solid, real wall, all the way across the Mexican border, from sea to shining sea, to protect them from the hordes of invading women and children running away from tragedy and chaos seeking refuge, there are no words. If he fails, he'll put himself at the mercy of the entire rest of the country. He must believe he can't hold power without their unwavering support. What a pity, a sad man.

January 12, 2019
77 (and counting) very real direct effects of the partial government shutdown| January 12, 2019 -CNN
I can watch Alexandria Ocasio-Cortez dance all day long...

Alexandria Ocasio-Cortez Dancing Video Was Meant as a Smear, but It Backfired | The New York Times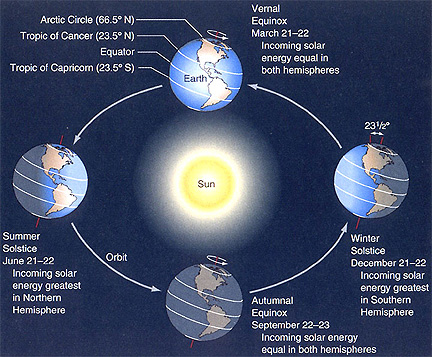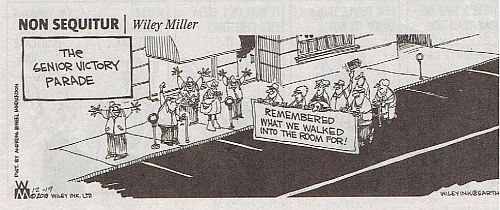 American Nightmare | by Douglas Kellner - Springer
American Nightmare: Facing the Challenge of Fascism | by Henry A. Giroux
"a highly articulate demolition of the Trump agenda, which comprehensively and briskly covers
the many high crimes and propaganda tactics of an avowedly plutocratic, authoritarian administration."
Review by William Hawes
Flirting with Fascism: America's New Path? | Interview with Henry Giroux - CBC Radio
Full episode: 53 minutes
How Did the Nazis Gain Power in Germany? | June 14, 2018 - The New York Times
"THE DEATH OF DEMOCRACY"
Hitler's Rise to Power and the Downfall of the Weimar Republic By Benjamin Carter Hett
Veterans slam Trump for border 'stunt' | October 31, 2018 - CNN
Rick Steves' Europe Preview: The Story of Fascism in Europe
In this one-hour special, Rick travels back a century to learn how fascism
rose and then fell in Europe — taking millions of people with it.
"The Story of Fascism in Europe" — while chillingly engaging and thrilling to watch — also has a practical purpose: to help us learn from Europe's experience and to show how, even today, would-be autocrats follow the same playbook in their attempts to derail democracies. It's a case study in how fear and angry nationalism can be channeled into evil, and how our freedoms and democracies are not indestructible…in fact, they are fragile.
Rick Steves' Europe Preview: The Story of Fascism in Europe | One hour - YouTube
The Story of Fascism in Europe | Rick Steves Documentary (57 minutes) - PBS
Trump critics and CNN receive explosive devices | October 25, 2018 - CNN
American Constitution Society
---
"The Aprentice" book excerpt: At CIA 'Russia House' growing alarm about 2016 election interference
By Greg Miller - The Washington Post
A comprehensive account of Russia's scheming in the 2016 election
September 26 - The Washington Post
Author Of 'The Apprentice' Talks Of Getting Trolled And Sourcing Stories - NPR
The Apprentice: Trump, Russia and the Subversion of American Democracy - Hardcover | by Greg Miller - Amazon
From two-time Pulitzer Prize–winning Washington Post national security reporter Greg Miller, the truth about Vladimir Putin's covert attempt to destroy Hillary Clinton and help Donald Trump win the presidency, its possible connections to the Trump campaign, Robert Mueller's ensuing investigation of the president and those close to him, and the mystery of Trump's steadfast allegiance to Putin.
---
'The Fifth Risk' Paints A Portrait Of A Government Led By The Uninterested | NPR
'A Kind Of Vague Hostility': Michael Lewis On How Trump Loyalists Run Agencies
Heard on All Things Considered - NPR
Michael Lewis, best-selling author of "The Blind Side" and "Moneyball," is out with his latest book, "The Fifth Risk." It examines the transition from the Obama to the Trump administration, and what he says went wrong with the handover. Lewis joins "CBS This Morning" to discuss why many of the planned briefings never happened.
"The Fifth Risk" by Michael Lewis | Amazon
Trump Engaged in Suspect Tax Schemes as He Reaped Riches From His Father | The New York Times
11 Takeaways From The Times's Investigation Into Trump's Wealth | The New York Times
Fraud of Trump's self-made persona exposed in father's financials | Video - Rachel Maddow
Rachel Maddow shares highlights from extensive New York Times reporting
showing that contrary to Donald Trump's efforts to portray himself as the
product of his own work, much of his money is the result of his father feeding money to him.
Trump administration abruptly ends key law enforcement program at wildlife refuges | October 2, 2018 - The Hill
Radio Atlantic: Is Democracy Dying? | The Atlantic
Jeffrey Rosen and Anne Applebaum--scholars of America's past and Europe's present--
discuss our precarious moment in history and what could come next.

Journalist: Poland's Shift Toward Authoritarianism Is A 'Red Flag' For Democracy
Interview with Anne Applebaum on NPR
Atlantic journalist Anne Applebaum says the changes taking place in Poland--including a rise of
conspiracy theories and attacks on the free press--mirror similar shifts happening in the U.S.
Trump's Spech at the U.N. Triggers Laughter -- and Disbelief | The New Yorker
'People actually laughed at a president': At U.N. speech, Trump suffered the fate he always feared | The Washington Post
September 24, 2018

And the war on immigrants goes on unabated. Nothing can stop the Trump juggernaut.
How Trump Can Use Welfare To Stymie Immigration -- And Vice Versa | September 24, 2018 - HuffPost
"Cervantes said the proposal as written would affect several million people if you count a program beneficiary's family members. More than 40 percent of the nearly 40 million food stamp recipients in the U.S., for instance, are children whose parents receive the benefits on their behalf."
Trump Administration Will Seek To Limit Green Cards For Immigrants Needing Public Aid- NPR
Trump's traiffs putting the squeezes on the Midwest | BBC
Document shows DHS transferring $29M from Coast Guard to ICE | Video - Rachel Maddow Show
Rachel Maddow reports on a DHS document from Senator Merkley that shows nearly $10 million dollars being transferred from FEMA's budget to fund ICE detentions, and $29 million being taken from the Coast Guard, ahead of the 2018 hurricane season. Moira Whelan, a former DHS official, joins to discuss how FEMA budgets its money.
September 4, 2018
An excerpt from Wendy Sherman's Not for the Faint of Heart | September 4, 2018 - MSNBC
Not for the Faint of Heart: Lessons in Courage, Power, and Persistence
Hardcover – September 4, 2018 | by Wendy R. Sherman (Author) | Amazon.com
September 3, 2018

ICE, that warm-hearted, carefree, fun-loving gang we've all come to know and love, are up to their old shenanigans again, deporting Mauritanians back to that country where slavery is legal. They've lived here in the United States as productive citizens raising families and paying taxes for years. But that's not ICE's business. Theirs is to clean Trump's house of anyone who doesn't look like him. Robots without conscience they diligently go about their work, taking babies away from their parents and tricking asylum seekers, or threatening them with fear of never seeing their children again, into signing deportation agreements. If there are any African-Americans in the ICE club, I wonder how they feel about sending black people back into an atmosphere of slavery where they are bought and sold? No skin off their nose, I suppose.

If only we had more we might eventually make America great again. Great at what, however, has never been defined, but we'll know it when we 1) feel it in our chest; 2) see it in the faces of our fellow citizens; 3) are told it's here.
Fear and Anxiety at Refugee Road | August 6, 2018 - Atlantic Documentaries
Even Trump's EPA Admits His Power Plan Will Kill Thousands of Americans
Stephen Miller's uncle calls Trump aide an 'immigration hypocrite' | MSNBC
Stephen Miller Is an Immigration Hypocrite. I Know Because I'm His Uncle. | Politico Magazine
Lawrence: 'They are all Omarosa… including Donald Trump' | MSNBC
War on Immigrants Intensifies: Part II
Now the Trump administration wants to limit citizenship for legal immigrants | Aug. 7, 2018
The most significant change to legal immigration in decades
could affect millions of would-be citizens, say lawyers and advocates.
Trump administration reportedly plans to limit citizenship for millions of legal immigrants, outraging advocates
Aug. 7, 2018 | by Chris Sommerfeldt - New York Daily News
The Trump administration may plan to limit citizenship for millions of legal immigrants
Aug. 7, 2018 - Pittsburgh Post-Gazette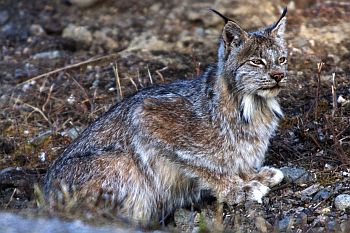 11 Photos To Have You Feline Fine on International Cat Day | Department of Interior
July 31, 2018

So now we're adopting the Arab/Evangelical model of governance with the introduction of the Ministry of Virtue and Vice. With time, a police force will be established with the official, government-approved, mandate to impose a state morality onto the social behavior of the citizentry. Further down this slippery slope, a collective of religious/ theological overseers--a supreme religious council-- will be appointed for life with the power and authority to supercede civil or secular authority, including that of the top civil authority--the president, the executive branch, very similar to the Iranian model with its clerics and fatwas, Sharia law superceding secular law.

Oh, wait! Isn't that what the Supreme Court's role is? And if the judges allow their personal beliefs to trump (no pun intended) their legalistic interpretation of the Constitution, are we not in danger of losing our American way?

To my mind the most brilliant and ingenious substrate, foundation, of the Constitution and foreward thinking principle is the Separation of Church and State. This is not a Muslim country or a Hebrew country or even a Christian country when it comes right down to it. It's a country free from the necessity of choosing a religious identity, yet allowing any and all to do so, and where no particular religious belief system is uplifted as a preference to be forcibly applied and imposed and backed up by the Justice Department. Separation of Church and State means no government-sanctioned morality "above the law" overseeing American life. People need to mind their own business, that's how we all survive and what makes us who and what we are--Free Americans.

All laws governing society and social interactions embody the fundamental government-supported morality, the collective will of the people. The purpose of the law comes down to protecting freedoms, freedoms not to be treated with disregard, not to be granted with prejudice between selective favoritism and contempt. It's not explicitly and intentionally to promote order and compliance. Law is not foremost to punish for violations, for wrongdoing, it's to offer safeguards for freedom of expression, freedom to feel safe and secure and to maximize potential.

The intention of law is for positive ends, in other words, not as a threat to those who might transgress. Authoritarian nations take that stance. It's not the American one.

"Don't Tread On Me." Let's not forget that, especially you folks who think of yourselves as true conservatives.

---
Jeff Sessions' 'religious liberty task force' part of a dangerous Christian nationalist campaign of discrimination
July 31, 2018 - Jonathan Wilson-Hartgrove - NBC News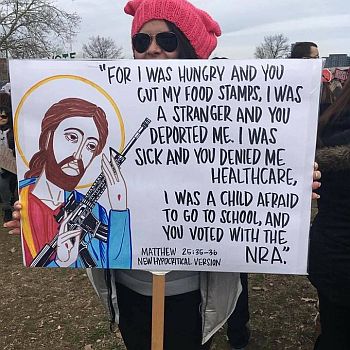 Sessions announces new 'religious liberty task force' | July 31, 2018 - CNN
Official Video: Seattle Police Department Lip Sync Challenge
In Dog-Eat-Dog World Of Congress, 2 GOP Lawmakers Spar Over Canine Training Facility
July 26, 2018 - NPR

This is the kind of bullshit our representatives spend their time with
instead of concentrating on more serious issues. God help us.
Trump is taking US down the path to tyranny | CNN
July 23, 2018

We base distance in the cosmos on the speed of light: how much time it takes Earth to orbit the sun--light years. Why is that? And what does it mean? How would people on some other planet on the opposite side of the galaxy, say, define cosmic distance? In what terms? Would they also base it on how long it takes their planet to orbit their star once? Would it be the same distance: approximately six trillion miles. But then, what's a mile to them?

The speed of light is a universal constant. Nothing can travel faster. But what about its role with regard to time? The time dimension? For a photon, a 'particle' of light, at the limit of its velocity, time stands still. Is that even possible? In order to call it a limit, we'd have to, at least intuitively, conceive of time stillness, a state of timelessness, if you will. The aliens would also have to be able to do that. Light speed is all caught up in this notion of a universe without time. That's where photons live. But suppose, because without motion there is no universe, time never stands still. So we have two very different-in-character universes co-existing and intermingling through the intersection of the time dimension.

I don't know why I wrote that or am even thinking about it. The news is not only depressing but is following a very boring pattern. Trump is obviously trying to hide something with all these bullshit distractions. I remember growing up on the streets of Philadelphia. There were punks who were scared and insecure. They worried that if they were just themselves, people would pick on them and take their lunch money. So they learned to wear a gruff, mean-looking face, trying to be perceived as someone you didn't want to mess with, like Trump does. Punks and bullies. But the real tough guys, and I'm talking for real, never acted that way, didn't have to. Trying to enjoy life and get the most out of it as well as family and friends was what life was about. Being tough when you had to be was just a side thing, included but not the main thing.

Bobby D., for instance, was a great guy, smart, a sense of humor, joked around playfully, a person who made you smile on the inside when you saw him, you know what I mean. You knew he wasn't going to mess with you and try to make you feel bad for the pleasure of it. But, if you hassled Bobby D., you could very well end up going to the emergency room. So I'm sick to death with watching the country torn apart, children separated from their parents and guardians, threats and bullying to our most treasured and important allies while kissing the asses of all the tyrants and dictators of the world, especially Putin's, the judo master. The constant lying and fabrication of a false reality over what we can see. All becasue we have a punk running the country, unaware and uncaring of what damage he's causing.

Light lives in a timeless zone. A place of stillness and peace. Above the fray but a major participant all the same. Without light, there would be no life. We need to get back to that, back to doing the right thing for its own sake.

July 21, 2018
Amid Migrant Crises, Nations Flout International Law On Refugees | July 20, 2018 - NPR
International law scholars say the Trump Administration's most recent migration
policies violate all three of the Refugee Convention's central tenets.
July 20, 2018

Of the many things that need to happen now, those who back Trump religiously, those who care only for a single issue, like denying seekers of refuge for themselves and their children a safe haven or those whose only interest in life is the soybean market, those opposed to abortion, the closing of pristine wilderness reserves to recreational vehicles and trophy hunting, all those people in the country who support Trump for their own self-serving reasons, coal miners, steel workers, gun manufacturers, no matter what else he does are going to have to get their head out of their ass and feel the ground under their self-centered feet begin to tremble.

This is for real, folks. Our country, America, is in trouble.

Donald Trump has no understanding of the significance of the office of the President of the United States.

I heard on BBC radio this morning that Theresa May, Prime Minister of the United Kingdom, said that they could no longer "rely on the United States to impose order in the world."

That's pretty heavy to me. To abdicate our responsibility and turn our backs on those who long for a decent life and need our help for moral support if nothing else. The Land of the Free and the Home of the Brave. The cowards in Congress afraid to lose their jobs if they stand up to Trump and his so-called base have already compromised their integrity beyond the limit of what is acceptable as a patriot and as true representatives of America's core values. Our course needs to be reset. The man at the tiller is heading his own way for his own reasons, lost in the darkness of total ignorance. We could very easily end up on the rocks.

July 18, 2018
Trump's Helsinki Bow To Putin Leaves World Wondering: Why? | July 17, 2018 - NPR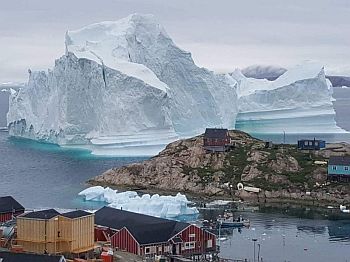 Massive Iceberg Looms Over A Village In Greenland | July 14, 2018 - NPR
Judge blasts HHS official's warning of endangering children as 'cover' to Trump admin in key immigration case
July 15, 2018 - CNN
As Trump resumes attacks on press in Europe, critics warn of ripple effect of 'fake news' label | July 14, 2018 - ABCNews
Border measures part of Trump's bigger immigration crackdown | July 14, 2018 - ABCNews
---
12 Russian Agents Indicted in Mueller Investigation | July 13, 2018 - The New York Times
12 Russian Intelligence Officers Indicted In Mueller Investigation | July 13, 2018 - HuffPost
Includes 29-page indictment
A grand jury convened by special counsel Robert Mueller brought the charges
in connection to the DNC hack during the 2016 campaign.
Mueller probe indicts 12 Russians with hacking of Democrats in 2016 | July 13, 2018 - The Washington Post
Read Mueller's full indictment against 12 Russian officers for election interference | July 13, 2018 - PBS
Trump administration reunites 57 immigrant children with parents after missing court-imposed deadline
July 12, 2018 - USAToday

'I Want Her Back': Some Migrant Families Reunite, but Other Parents Grow Desperate
July 12, 2018 - The New York Times
Trump administration to turn away far more asylum seekers at the border under new guidance
July 12, 2018 - CNN
July 10, 2018

Thinking about the family separations at the border, the children, especially the very young, being taken from their parents without telling them where they're being taken and when they'll see them again, that scene from the movie Sophie's Choice when her daughter is taken away pops into my head. That movie haunted me for a long time; I never saw it again, but that's the scene that stands out. We're not far from that.

A week or so ago, I forgot when exactly, there were protests against the treatment of asylum-seekers and the separations in most major cities. In Washington D.C. a few to several thousand congregated in front of the White House. But what if? WHAT IF? Instead of several thousand, whatever the number was, there had been a million? Or at least 500,000?

Imagine the headlines in The New York Times and The Washington Post in giant, bold letters:
---
500,000 Protesting Separations Surround White House
Police and Secret Service rendered completely ineffective
---
I would've liked to have seen that.

What is happening to our country? Are we sufficiently awake to it? Do we see the government's behavior as an aberration only, the result of a misunderstanding of the principles of democracy embodied in the constitution? Something..., transitory? Or, do we see the actions taken by our government as a deliberate, conscious dismissal of these principles?

If we allow authoritarian rule to dictate our values and way of life, what we're willing to settle for and accept as America's new identity, then we have to scrap the self-respect that comes from trying, at least, to live up to the fundamental ideas of what it means to be an American, the dream of the Founding Fathers.

If Sophie had been living in a world where a legal system was in place to which she had recourse to challenge being forced to make such an outrageous and heartbreaking choice, she no doubt would have. And if it had been one that put the very idea of arbitrarily removing a child from its parents as something against its most sacred values, against the collective morality supported by a constitution, something sancrosanct, inviolable, then it would not have happened.

So why, I ask, did something very similar, or at least structurally congruent, happen here down by the border? Can it be that there is no legal system in place to intervene, oversee, and regulate such extreme measures? Apparently, there isn't. There isn't any governmental organization that automatically steps in to blanket these people with protections.

What about the constitution? Due process? How did this occur? Is there a major loophole that the powers that be saw and exploited, or did they just do it, using the authorities of several different agencies working separately, not communicating with or contradicting one another? Obviously, they had no coherent, organized plan going into it. They callously and with mean-spirited, cruel intention took children away from their parents without any regard for tracking their respective whereabouts. And excuses don't work. Bring them together first, then determine whether or not they should be. In fact, such determination should've been accomplished before separation. Or does that make too much sense? So, chaos ensued and continues to be the case.

Tracking could have been set in a most simplistic way. For instance, give both parent and child hospital-like bracelets with names and numbers on them. And records kept at each randomly-chosen facility, collected at a central clearinghouse computer. Amazon does it thousands of times a day. Now they're having to go through the ridiculous method of matching genetic blueprints. Suppose the adult who brought the child isn't related, a person who has taken on the responsibility of raising and safeguarding the child after the parents were killed or were abusive? Who suffers here? The children.

Donald Trump's lackeys carried out his orders. Who are these people? How did they get into the positions they're in? For that matter, how did Trump get into the position he's in?

It Can't Happen Here is the title of a 1935 novel by Sinclair Lewis. A few years later it was actualized by the rise of Hitler and the Nazi state. And if we don't start paying attention, what we believe can't happen here very well might.
---
"It Can't Happen Here" | Video (94 mins.) - Top Documentary Films
It really can happen here: The novel that foreshadowed Donald Trump's authoritarian appeal | Salon
Reading the Classic Novel That Predicted Trump | Essay - The New York Times
Getting Close to Facism with Sinclar Lewis's "It Can't Happen Here" | The New Yorker
The 1935 novel that predicted the rise of Donald Trump | The Guardian
Sinclair Lewis's It Can't Happen Here features an antihero who whips up support among
angry voters on the back of firebrand rhetoric, fearmongering populism and anti-Mexican sentiment. Sound familiar?
---
Check out Today's Comic from Non Sequitur
The Times finally gets to the bottom of Trump supporters: It turns out they're garbage human beings
July 4, 2018 - Hunter - DailyKos

Trump administration takes another swipe at 'Obamacare' | July 8, 2018 - ABCNews

Trump administration freezes billions in Obamacare payments, outraging advocates | July 8, 2018 - Politico

Donald Trump's Obamacare Sabotage Continues Apace | July 7, 2018 - MotherJones
---
Some good news for a change:
Poachers were hunting rhinos. They were attacked by lions instead | July 6, 2018 - The Washington Post
Lions Eat Men Suspected of Poaching Rhinos. Some Saw 'Karma.' | July 6, 2018 - The New York Times
War on Immigrants Intensifies
ICE has turned into 'runaway train,' says congressman | Video - July 6, 2018 - MSNBC
Rep. Adriano Espaillat, D-NY, discusses the Trump administration's border policy and the impact
it has on families entering the U.S., including the challenges of reuniting families after separation.
Rep. Espaillat also says that ICE has become a 'runaway train.'

Stories of indecent cruelty comprise lawsuit against Trump policy | Video - July 5, 2018 - MSNBC
Bob Ferguson, Washington State Attorney General, who leads a multi-state lawsuit against
the Trump adiministration over its family separation policy, talks about the cruelty he has heard
in stories from asylum-seeking parents whose kids were taken away from them at the border.

How ICE Works to Strip Citizenship from Naturalized Americans | Feb., 2018
The denaturalization handbook shows how the federal government pursues
denaturalization against naturalized citizens and has instructions on
how to prosecute cases efficiently to strip citizenship as quickly as possible.
---
USCIS: U.S. Citizenship and Immigration Services
USCIS Policy Manual
The USCIS Policy Manual is the agency's centralized online repository for USCIS' immigration policies.
Volume 12: Citizenship & Naturalization
U.S. Citizenship and Immigration Services' Policy Manual Citizenship and Naturalization Guidance
---
Surely the Trump Administration Will Follow All the Rules When Stripping People of Citizenship
July 5, 2018 - Esquire Magazine
The new denaturalization task force was last seen during the Red Scare.
"And most precisely, Immigrations and Customs Enforcement (ICE) has a pattern of arresting people without warrants,
denying them due process, and even accusing people of having gang affiliations without evidence in order to detain them."
Justice Department Announces Court Order Revoking Naturalized Citizenship, Citing Fingerprint Issue
January 9, 2018 - Rewire News
Operation Janus may revoke the citizenship of thousands of people,
according to the Department of Homeland Security,
some of whom have been U.S. citizens for decades.
"The Department of Justice (DOJ) announced Tuesday that a judge from the U.S. District Court
for the District of New Jersey "entered an order" canceling a person's naturalization certificate,
revoking his citizenship and reverting him to a lawful permanent resident.
The move potentially makes him subject to deportation.
A 'McCarthy-Like Witch Hunt':
Legal Experts Weigh in on Operation Targeting Immigrants for Denaturalization
Jan 12, 2018 - by Tina Vasquez
White House Launches Effort To Take Citizenship From Those Who Lied To Get It | July 4, 2018 - NPR
When an immigrant becomes a naturalized U.S. citizen, there's a sense of permanence.
But a Trump administration effort is seeking those who cheated to get citizenship,
and plans to take it from them.
Immigrants: Can the Government Revoke Your Citizenship? | July 5, 2018 - Bipartisan Policy Center
---
We the people...
UNITED STATES CONSTITUTION | LII | Legal Information Institute at Cornell Law School
Founders Online | National Archives
Correspondence and Other Writings of Six Major Shapers of the United States:
George Washington, Benjamin Franklin, John Adams (and family), Thomas Jefferson, Alexander Hamilton, and James Madison.
Over 181,000 searchable documents, fully annotated, from the authoritative Founding Fathers Papers projects.
The American Founders Online: An Annotated Guide to Their Papers and Publications
Library of Congress Web Guide
July 3, 2018

The Immigration and Criminal Enforcement agency (ICE), a rogue outfit which, if actual events on the ground are any indication, acts independently without any congressional oversight control. A shadowy group of 20,000 roughnecks--20,000--most of whom would probably be in prison somewhere if they weren't working a gig, has placed itself in the strategic position of imprisoning individuals, including very young children (toddlers), without constitutionally guaranteed due process. Witness the following newspaper articles:
---
Federal Judge Orders Administration To End Arbitrary Detention Of Asylum-Seekers
July 2, 2018 - NPR
U.S. judge orders release reviews for asylum seekers | July 2, 2018 - Reuters
Under the 2009 directive, undocumented migrants who can establish they
may be persecuted in their home countries may be released from detention.
"Faced with the current record, the reasonable conclusion is that the five ICE field offices
are not in fact putting this language into effect on the ground," Boasberg wrote.
U.S. judge blocks Trump crackdown on asylum seekers, bars blanket detentions of those with persecution claims
July 2, 2018 - The Washington Post
New ICE form to separated parents: Choose deportation with or without kids | July 3 - Yahoo! News
"This form is just sort of a manifestation of the complete disregard that ICE has for anyone's
ability to make a claim for protection, and not least children's ability to do that,"
said Diane Eikenberry, associate director of policy with the National Immigrant Justice Center.
---
They separate children from their asylum-seeking parents without any mechanism or coordinating plan in place to keep track of their mutual whereabouts. It's as though they were kidnapped and randomly distributed into the country with no real intention of ever bringing them together again. The incompetence and indifference displayed by all of the separate agencies involved, most notably, the Department of Homeland Security, an omnipotent and contemptuous overseer of our national security, forever using the stamp of the 911 attacks as an excuse and a mandate for protecting the population from the onslaught of terrorists, and HHS, which unfortuantely is not living up to its name or mission, reflects the very same incompetence and ineptitude embodied by the President and his gang.

Jeff Sessions, the Attorney General of the United States, makes law up as he goes along, ignoring contrary judicial decisions intended to resolve, or try to, the incredible mess and heartbreaking tragedy unfolding right here in America as a result of what's become the usual confusion and short-sighted stupidity of those involved. Nobody knows what the hell they're doing, what the consequences of their actions might be affecting one and all, and no one seems to have thought anything through with compassion and empathy. And, bizarrely, reminiscent of Baghdad Bob, they yet defend their actions to the last.

Along with the President, his staff, in particular the sick and morally bankrupt Miller, and Nielson, the head of the irreproachable Homeland Security apparatus, congressional Republicans spinelessly and idly just let it all pass them by like so much trash on the river, fearful of antogonizing the would-be dictator and loose cannon occupying the Oval Office. Using fear and insecurity, which he generates by his daily lies, rants, imaginary and overblown threats, and animosity towards our traditional allies--a common base of support for the past century in a troubled world we've apparently taken for granted--he asserts his desire to protect us from the women and children seeking refuge on our southern border and those who adhere to the Muslim religion.

As regards that, he excludes Saudi Arabia and Egypt from his travel ban list, in spite of the fact that 15 of the 19 terrorists responsible for the 911 World Trade Center attacks were from Saudi Arabia, whereas, none came or have ever come from any of the countries on his list. The strategy of including Venezuela, a country not known for its Muslim population, had the desired effect with the Supreme Court, despite its obvious purpose.

Obfuscation of true intentions and manipulation by deliberately misleading propaganda are what this White House is all about. And what most Republicans seem unable to see. The consequences will affect all of us regardless of political persuasion: The dismantling and reformulation of America's identity and the values it stands for at home and abroad.
Acting above the law with impunity, ICE demonstrates
its autonomy by treating a court order with contempt:
Immigration lawyer: ICE not offering bond to some separated families | VIDEO (5:34) - Rachel Maddow
Rachel Maddow is joined by immigration lawyer Kate Lincoln-Goldfinch who says ICE has stopped
allowing some of her clients to pay a bond so they can reunite with their children.
Look Who's Not in Trump's Travel Ban | Bloomberg
Five majority-Muslim countries are covered. Four aren't. Guess where the president does business.
Chinese at Play
Of all the despicable and inhumane activities the Chinese are responsible for,
from Bear-Bile farming to the eradication of a long list of species for
the purposes of their mythological medical practices,
the Annual Yulin Dogmeat Festival tops the list in my book.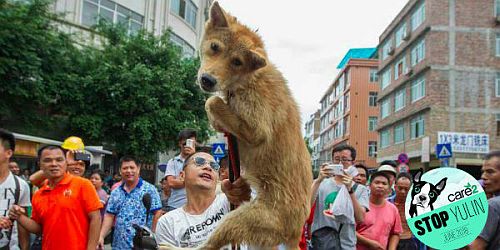 NARS, Take a Stand Against the Yulin Dog Meat Festival | Care2Petitions
Save America
IMPEACH TRUMP!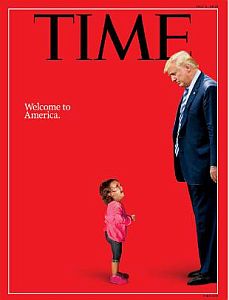 A child's anguish meets America's indifference on new Time cover
June 21, 2018 - CNN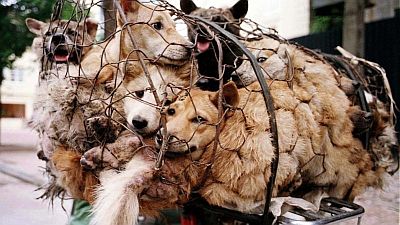 End the Yulin Dog Meat Festival. #StopYulin | Petition - Change.org
---
Fact Check Friday: Trump's impromptu performance packed with falsehoods
June 15, 2018 ABC NEWS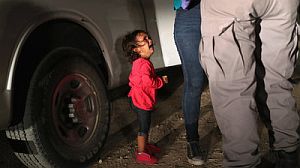 Trump Administration To Open Temporary Tent Shelter In Texas For Migrant Children
June 15, 2018 - NPR
DHS: Nearly 2,000 Children Separated From Adults At Border In 6 Weeks
June 16, 2018 - NPR
Trump blames Dems, but his policy is separating migrant families
VIDEO - June 15, 2018 - MSNBC

The president is blaming Democrats for the fact that migrant families are now being separated at the U.S.-Mexico border. But the reason is a policy change his administration made. Jonathan Allen & Franco Ordońez discuss.
White House defends border separations: 'It's biblical to enforce the law'
June 14, 2018 - Yahoo!

White House: Trump supports GOP leader's immigation bill
June 15, 2018 - Yahoo!
Trump military exercise giveaway to N. Korea suits Putin's goals
VIDEO - Rachel Maddow
Among the consequences of Donald Trump's meeting with Kim Jong Un is that he agreed without apparent condition to end joint U.S./South Korean military exercises, a concession North Korea has sought for decades. Rachel Maddow points out that it's not just North Korea that was eager for this outcome.

June 10, 2018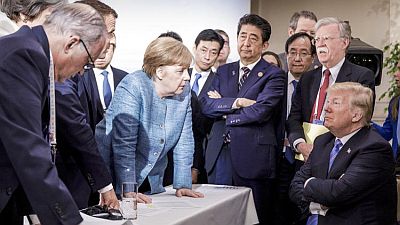 Commentary:After Trump's G-7 summit fiasco, be afraid
By Jennifer Rubin - June 10, 2018 - Chicago Tribune
Donald Trump invites crisis at G7 by attacking allies, embracing Russia
By Tom Nichols - June 9, 2018 - USAToday
Trump's 'global gag rule' cutting off health care in Africa: Report | June 6, 2018 - ABC News
Maduro's power grab can teach us how to defend against tyranny | CNN
May 24, 2018 - by Frida Ghitis
Trump Vs. "The Deep State" | by Evan Osnos - May 21, 2018 issue | The New Yorker
How the Administration's loyalists are reshaping American governance
Celebrating Hard-Working Animal Moms (Pictures) | Department of the Interior
America Slips in the Eyes of the World
"The reasons for America's drop – the second straight year its ranking dipped – are fueled by the world's
perceptions of the country becoming less progressive and trustworthy, more politically unstable and a
president who after just a year in office is far more unpopular than any other head of state or company CEO."
---
Having graduated from the Donald Trump Institute of Diplomacy, Billy Bob, Shut-Up Joe, and Bubba figured they were prepared to negotiate terms with the Water Ridge Clan over the moonshine and gun-running operations in Briarpatch County. The resulting gun fire and explosions could be heard as far away as Clearwater Junction. The State Police cordoned off the area and are considering calling in the National Guard. Updates on the ongoing situation will be forthcoming as they materialize.

April 26, 2018
Enormous tax cuts for the richest and enormous rent hikes for the poorest.
MAKE AMERICA GREAT AGAIN!
HUD Secretary Ben Carson to propose raising rent for low-income Americans receiving federal housing subsidies
The Washington Post
E.P.A. Announces a New Rule. One Likely Effect: Less Science in Policymaking
The New York Times
The Right Stuff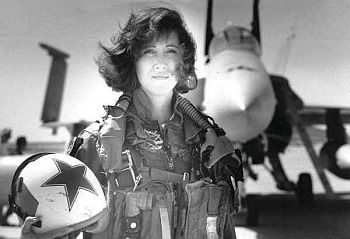 U.S. Navy Lt. Tammie Jo Shults poses in front of a Navy F/A-18A in 1992.
Tammie Jo Shults, who landed crippled Southwest plane, was one of first female fighter pilots in U.S. Navy | NBC
LISTEN: Southwest Pilot Coolly Plans One-Engine, Emergency Landing - NPR
April 16, 2018

Report from the Northwest

It's been raining more or less continually for the past 130 years, give or take. God is angry with us. However, having been raised a Roman Catholic I am forever looking for reasons to feel guilty, therefore, I take the blame. Something I did, I don't know what. Long ago perhaps and now it's coming home to roost. I expect people to show up, angry people, with burning crosses and wild accusations demanding I do something about it, apologize, confess, own up. The Strait of Juan de Fuca has overflowed its banks flooding downtown. If only I could remember.

One can't help but notice how dreary weather, with spring attempting to manifest its true brilliance, can affect a person.

A tiny spider about half the size of a penny is living with me. Golden brown in color and very quick on his feet. I'm not into killing anything that's not threatening me or mine so what I've been doing is moving him (her?) to places I think he might find more agreeable than the kitchen counter. But, mysteriously, and I do mean mysteriously, he keeps returning. This morning, there he was on the base of my Mr. Coffe machine when I went to pour a cup. I chased him with a piece of paper towel and he ran off to the base of a nearby lamp. What gives? I ask myself. Is this some weird magical effort to tell me something? Is he a messager from those who live on other planes of existence? Is this an instance of synchronicity? Or is he just a pain-in-the-ass spider who thinks he's funny?

I miss walking the streets of Philadelphia, my home town. It really is. I've met people out here in the West who've claimed to be from Philly, but on further conversation it usually turns out that they're from a suburb of it, like Upper Darby, or Wayne, Ardmore, East Lansdowne--there's a ton of them. But I am actually from the streets of the city, West Philadelphia to be exact. I used to love how the sidewalk smelled after a thunderstorm in the hot summers. The pretzel man would come around pushing his cart. Great pretzels with mustard. Pony rides up and down the block for a dime. Turning the corner fireplug on, day and night, standing in front of it with lots of other kids of all colors.

On the other hand, living near a small town has its advantages. If you're applying for a passport, for instance, you go to the courthouse and walk into the clerk's office and hand in your application and birth certificate for them to make a copy and pictures-- no waiting in lines for hours. Same thing at the DMV. To me it's like a large neighborhood, that's how I see it. However, occasionally I do miss Philly. The people are in your face in a down-to-earth grainy kind of way. It brings you out of yourself by necessity. There's an immediacy you don't often feel in a small town. I don't mean an aggressiveness, rather a tactile sensation of being alive.

April 1, 2018

Report from the Northwest

Washington state could be divided into three states. The East, on the other side of the Cascades, is mostly farmland, rolling hills where the bravest farmers in the world till the soil. The South, beginning at Olympia, is a whole nother thing I know little about. And then there's the West, specifically, the Olympic Peninsula. We who live here, on the edge of the Strait of Juan de Fuca, can be and often are a bit strange. On a clear day--huh!--you can see Canada and freedom, the gateway to Alaska and real freedom. Cabin fever is upon us. It's not only the time of year but the weather plays an important role. Right now, for instance, it's steadily raining with an indication that it might do so for the foreseeable future, possibly forever. As a consequence, intertwined with other factors involving the kind of personalities who end up homesteading here, conversations can be, how shall we say it, surreal.

My cat, Mariah, is somewhat shy of people. She was in an animal shelter for a long time, presumably in a tiny cage for most if not all of a day for weeks. I didn't notice any rooms or closed-in backyard area for them to get exercise. When she got here, in the woods where I live, she ran everywhere. She'd stop, sit and look around at everything, the trees, the dirt road she likes to roll in in the summer, the birds, of which there are many varieties, and then she'd take off running full speed for about 20 or 30 feet. I watched her. The shelter people told me her name was Elizabeth, but I think they made that up on the spot for my benefit. I didn't like it anyway, it didn't seem to suit her. So I watched her run crazily after being locked up for months and thought she ran like the wind. She is quite fast. And then that song popped into my head: They call the wind Mariah.

She's shy. When people come around, not very many, she hides under the house or off into the high, thick brush where she becomes invisible, even in the daytime. A neighbor comes over occasionally and, when he does, Mariah hides out. He sees her playing or resting outside, and as soon as she sees him, she takes off. One day he asked me about it. Why does she do that? Shouldn't she be familiar with him by now?

I told him I informed her that he ate cats. He stopped--we'd been walking along--looked me in the eyes and with utmost seriousness asked, "Why did you do that?"

These are the kinds of brief exchanges we have here that pass for conversation. Pointless yet, at the same time, revealing.

I was writing a story and one of my characters says to another, "No one's ever done this before." If you're into writing fiction, even if it's just for a serious hobby, you know the state of mind--states?--you can get into. You have all these different characters whose individual personalities you visit when they're speaking or thinking or moving, doing something. I once had a friend of mine--she volunteered-- read a story I was writing as I was writing it, giving me feedback, offering critiques. I usually write in a vacuum with no feedback or help, so it was very rewarding and eye-opening, especially from someone quite literate. Anyway, many pages in, well after the main characters had been introduced and developed, I met her on her boat after work. Asking about the two pages I gave her the previous day, she said she didn't like what so-and-so said, his bit of dialogue. I had to confess it sounded strained to me too. Her reason was simple: This character wouldn't say this, it's not the way he would express himself. But I digress.

No one's ever done this before. I studied this expression and wondered at how we use it. It's common to say in those circumstances that warrant it. But, the before at the end is redundant. My character in this story, an alien from another universe, wouldn't do that. No one's ever done this is sufficient. It implies before. Another expression we use a lot is: He could care less. We say it, I've seen it in reputable fiction, novels. But it's obviously backward in its intent. What should be said is: He couldn't care less. The former implies that there's a degree of caring that's lower in intensity he could realize.

Are you getting hip to cabin fever in the land of rain?

My cat, Mariah, believes that I am a god; I do as little as possible to dissuade her from that belief. However, things come up. The other day I pushed the door open for her to go out, she can do it herself and does if I don't notice she wants out, but she seems to like the attention. I opened the door and she just sat there, looking at the rain, her playground--the entire acreage--was all wet and muddy and yucky. She craned her head and gazed into my eyes in that way cats have when they want to reach into your soul. I could read her thoughts. Why don't you do something about this? I tried to explain that it was necessary for plants and trees to grow, to get nourishment, but she didn't appear to buy it. Grudgingly, she stepped out and went under the house, her rainy day playpen. God knows what she's got going on under there. I occasionally hear things banging around, but I've never bothered to check it out. It's her world.

The rain just stopped. I have a view through the window behind the screen, that section is loaded with tangles of blackberry bushes that are beginning to bud. It's quiet, the birds are hidng out, waiting for me to spread bread crumbs around the front yard. After which I'll go back to the novel I'm reading: Digital Fortress about cryptography. That's all I've been doing lately. I read The Secret Life of Bees followed immediately by The Martian. I have a lot to say about them, but it can wait.

Cabin fever. I think I need to roll another joint.

March 18, 2018
Trump administration wildlife council mostly hunting advocates | ABC News
Trophy Hunting: Woman Shoots Giraffe, Poses Triumphantly With Corpse | Huffington Post
U.N. experts: Seattle-area activist's deportation proceedings appear to be retaliation
February 14, 2018 Seattle Times

Records: Washington officials gave activist's info to ICE
February 16, 2018 - Associated Press
What You Should Know About Trump's Nihilist Budget
February 12, 2018 - by Zach Carter, Arthur Delaney, and Igor Bobic - Huffington Post

Abbreviated pundit roundup: White House unveils cruel and fiscally irresponsible budget
February 13, 2018 - by Georgia Logothetis - Daily Kos

Trump wants to slash food stamps and replace them with a 'Blue Apron-type program'
February 13, 2018 - by Caitlin Dewey - The Washington Post

Trump wants to overhaul America's safety net with giant cuts to housing, food stamps and health care
February 12, 2018 - by Tracy Jan, Caitlin Dewey, Amy Goldstein and Jeff Stein - The Washington Post
Report: The Trump Administration Really Has Very Little Use for Scientists
January 24, 2018 - Mother Jones
Millions of Americans Believe God Made Trump President
A surprisingly fascinating book explains why.
By AMY SULLIVAN - January 27, 2018 - Politico Magazine
---
Ursula K. Le Guin, Acclaimed for Her Fantasy Fiction, Is Dead at 88
January 23, 2018 by Gerald Jonas - The New York Times
In addition to more than 20 novels, she was the author of a dozen books of poetry, more than 100 short stories
(collected in multiple volumes), seven collections of essays, 13 books for children and five volumes of translation,
including the Tao Te Ching of Lao Tzu and selected poems by the Chilean Nobel Prize winner Gabriela Mistral.
She also wrote a guide for writers.
The writer's "pleasant duty," she said, is to ply the reader's imagination with "the best and purest nourishment that it can absorb."
The Fantastic Ursula K. Le Guin | October 26, 2016 issue - The New Yorker
Trump's Love of Dictatorial Rhetoric | January 11, 2018 - The Conversation - U.S. NEWS
U.S. CONSTITUTION | Legal Information Institute - Cornell Law School
News Flash: Lightning Deaths Hit a Record Low in 2017 | LiveScience
Thank you, Mr. President.
January 2, 2018

Let's change the subject, what do you say? I've been watching old movies lately. It's winter in the Northwest, what do you do? If you watch the same movie enough times, you see all the flaws, the implausibilities--even considering the context--and things that happen that make no sense.

At the end of the Lord of the Rings: The Two Towers we have a scene in the Helms Deep throne room. The Urik-hai are breaking down the door. Including King Theoden, Aragon, Legolas, and Jimli, there are about a dozen men. Are we to assume that all the other soldiers, including the contingent of Elf people, have been wiped out? Does that mean that Rohan's population now consists of these dozen or so men and all the women and children in the cave beyond? Is that it? And then the final insult to sense. They decide to attack the Urik-hai, to go out and meet them. Where did these horses come from?

In the movie Stargate with Kurt Russel and James Spader we have another incidence of major implausibility. Back on Earth, they used a huge machine to turn the inner ring which, somehow, I've never been able to figure out, locks-in a certain symbol, in sequence, which eventually opens the stargate. Okay, now we're on the other planet near the end of the story. Russel is initiating the bomb with a click of a switch. He looks at Spader, Doctor Jackson, and says, "You have seven minutes."

That is, to align the gate so as to return to Earth. Well, jeeze, folks. Jackson didn't even bother to look at all the symbols on the tablet they found, so I don't think he has it memorized. He would have to run back to that cave, write them down or memorize them--good luck--then run back and by hand, mind you, align the symbols in the proper order. If they had to use hydrolic machinery back on Earth to accomplish that, how the hell is he suppose to do it by hand? And all this in less than seven minutes!

In Dante's Peak there is a classic line I can't believe. Okay, the volcano is erupting. Buildings, freeways, electrical poles, everything is crumbling and falling down; the town is quickly disintegrating. Brosnan and Hamilton are in his rig heading uphill to retrieve her children and mother-in-law. The helicopter, the only one, apparently, crashes right past them into a store or something and blows up, starting a fire. He's talking to his boss on the handheld radio, tells where he is, and says, "Send the fire services." Well, gee. The whole town is falling apart and the volcano is about to blow its top, so I'm sure the firemen are sitting in the fire station waiting dutifully for a call. They're not trying to escape with their families like everyone else. The streets are covered with bricks, crashed cars, and poles, yet they are on duty, ready to go to the rescue of some building up on the hill.

And there are other insanities in other movies I could list. How about just one more? Okay, The Hunt for Red October is a great movie with a terrific cast. But the pivotal moment in the plot centers around Jack Ryan, played by Alec Baldwin, persuading the skipper of the Dallas that Captain Raimios, Sean Connery, wants to defect. How does he convince him? Okay, he guesses that Raimios is going to pull a Crazy Ivan--turn sharply--to starboard. Well, concidentally, he does just that, which is enough for the captain, Scott Glenn. Here's my question: What does this have to do with defecting? I mean, apparently, the captain of the Dallas accepts that because Ryan knew this, it implies with certitude that he must also be right about Raimios's desire to defect. Where's the connection? How could the Crazy Ivan prove that?

All of Tom Clancy's movies have this sudden leap, this wide canyon he comes to that necessitates jumping over in order to continue with the story. Yet, he is a Best-Selling author.

It goes on and on. And let's not even get started on Godzilla, Waterworld or Jurassic Park.

January 1, 2017

This was written way back in August of 2017, but I only just ran into it. If you haven't read it, I think it's worthwhile:
The President's Committee on the Arts and the Humanities Resignation Letter.
And commentary from the New York Times:
16 Members of White House Arts Committee Resign to Protest Trump | by Robin Pogrebin.
Trump, The Insurgent, Breaks With 70 Years of American Foreign Policy
By Mark Lnader - December 28, 2017 - The New York Times
E.P.A. Officials, Disheartened by Agency's Direction, Are Leaving in Droves
December 22, 2107 - The New York Times
Voucher Schools Championed By Betsy DeVos Can Teach Whatever They Want. Turns Out They Teach Lies.
These schools teach creationism, racism and sexism. They're also taking your tax dollars.
WHAT I BELIEVE
I believe that tax cuts to the rich and super rich will be used to build factories where exclusively Americans will produce things for decent, middle class wages that people in China can build for pennies an hour.
I believe the Earth is only 6,000 years old and that all the animals on it are as they have always been. And that God created humankind in his image, which gives us the right to treat animals any way we wish.
I believe the Great Flood of biblical times gouged out the Grand Canyon.
I believe that ALL Americans have the inalienable right to live on the street and to take possession of a shopping cart to store and transport their worldly goods.
I believe that withdrawing and insulating ourselves from the rest of the planet can work to our benefit. Cooperation for the good of the whole has never been a successful strategy. Thinking only of our country first, last, and always will bring security and eventual peace worldwide.
These things I believe in and much more. Some day, I'll share them with you.
November 16, 2017

Let's get away from politics, attempts at analysis, and the state of our country for a moment and check this out.

For cat lovers and caretakers:
I've lived with cats for a very long time, but still do not know them as well as I should. Recently I came across a website containig an article of significant information regarding the feeding of cats. It's entitled Feeding Your Cat: Knowing the Basics of Feline Nutrition by Lisa A. Pierson, DVM. It states in the final summation: "This paper has outlined what constitutes optimal nutrition for an obligate carnivore in a home environment as well as discussed some diseases that a poor diet can cause."

It's a long read; however, there is a short version available.

---

Sorry, I couldn't resist this:
Trump sinks to a New Low -- Even For Him | November 15, 2017 - Daily Kos

Shame On Trump For Leagalizing Trophy Hunting | Sign Petition - Force Change
How America Lost Its Mind
Kurt Anderson | September, 2017 Issue - The Atlantic
What's in it for Johnny Lucnchbucket? | by Dana Milbank
November 3, 2017 - The Washington Post
Trump, Niger and Connecting the Dots | by Thomas L. Friedman
October 31, 2017 - The New York Times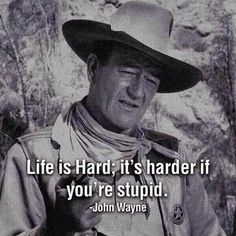 Read Flake's bombshell Senate speech: 'Mr. President, I rise today to say: Enough'
October 24, 2017 - azcentral
Trump administration unveils the 'Fetal 14th Amendment'
October 15, 2017 | Daily Kos
October 14, 2017

I was chatting with Donald Trump the other day; I finally got a hold of him. I've been busy here in the Northwest replenishing my pot stockpile in anticipation of the upcoming winter, so I wasn't able to return his calls. We had a good laugh over what he was up to: Threatening North Korea with nuclear war, reneging on the Iran agreement in spite of how the others involved feel about it, pulling out of the Paris Accord so that the U.S. can act unilaterally when it comes to carbon production, spending billions on a meaningless wall across the border with Mexico instead of using it to improve infrastructure and, in the process, employ thousands of people across the country, threatenig to deport immigrants who've been living here since childhood, canceling state insurance subsidies with an executive order that jeopardizes health insurance for millions of needy Americans. He went on and on.

We also chuckled over how well his distractions were working. Reshoring his base when it seemed to be lagging by waging war with the NFL over the flag, always a gut-level rallying cry; intimating racist leanings; attempting to revitalize the coal industry; rolling back environmental protection laws by canceling clean air and water restrictions; appealing to evangelicals and anti-abortion supporters on moralistic grounds by defunding Planned Parenthood and other similar organizations; opening up federal wilderness areas to mining and logging, and criticizing anyone who criticizes him, which invariably ends up preoccupying The New York Times and other national news outlets, while he works to push through tax cuts for the wealthy and corporations.

I reminded him that despite the overwheling devastation in Houston thanks to hurricane Harvey, no international aid groups had been asked to help. No Doctors without Borders or United Nations troops with blue helmets handing out care packages to the desperate from the back of trucks, none of the dozens of NGOs that descend on a country after experiencing a natural disaster had been needed. We are used to taking care of our own, it's part of our pride as Americans. It's what bonds us and gives us strength as a nation. But he laughed at my attempt. He explained, as though to a child, that a fragmented populace was easier to control. And once that's cemented and the instability it causes implemented to the degree of becoming commonplace, his programs and agenda, such as they are, will be more easily put into play.

He accused me of being naive, in fact. Confusion, anxiety, and stress create a state of insecurity, a society at odds with itself. When that becomes endemic and permeates every aspect of society, then America will again realize its Greatness, with him at the helm. I almost saw a glimmer of his rationality, of how much sense it makes, but then it faded into all the other mish-mosh. I was confused.

Sounding a bit displeased that I hadn't exclaimed how brilliant he was, he said he heard the bell ring and had to go. And without so much as a good-bye, hung up.

Later, after sampling my stash, a question unbidden popped into my head out of the mist, as it were: Can we survive a President who refuses, or is unable, to think through to the consequences of his actions? Not a visionary by any means, he nonetheless has this vision of a house divided, with him as the disciplinarian father. A father who knows what's best and how to accomplish it, if we just let him do whatever he wants.

October 1, 2017
James Baldwin on the Artist's Struggle for Integrity and How It Illuminates the Universal Experience of What It Means to Be Human
WANTED
Leader of the Free World
No Experience Necessary
New survey shows a disturbing trend: Most Americans have no clue what is in the Constitution
September 15, 2017 - Daily Kos

UNITED STATES CONSTITUTION | LII | Legal Information Institute at Cornell Law School
Animal Rescue Compilation | VIDEOS - YouTube
People saving pets From the Floods in Houston | VIDEO - YouTube
September 10, 2017

Open Letter:

Estimates vary, but it's probably not outrageous to state that around 100 million animals per year are used in experiments worldwide. That number doesn't include invertebates, rats, mice, birds, fish, and frogs. It's conducted inside universities, medical schools, pharmaceutical companies, farms, defense establishments, and commercial facilities that provide animal-testing services to industry. Animal shelters and pounds are required by law to hold dogs and cats for five days before selling them to a dealer. That's all, five days. Four states in the U.S. — Minnesota, Utah, Oklahoma, and Iowa — require their shelters to provide animals to research facilities. Fourteen states explicitly prohibit the practice, while the remainder either allow it or have no relevant legislation. These animals are classified as "random source." Dealers obtain them any way they can, apparently, oftentimes under fraudulent circumstances, not only from shelters, but also from want ads and grabbed off the street. Stolen pets have been found in various university medical labs.

Besides subjecting chimpanzees to nerve-gas and blowing-up live pigs from the inside-out, just to see what happens to the internal organs, the military practices what they call "trauma training" for medics and special soldiers. This entails procedures like cutting off the legs of awake and non-anesthetized animals in order to toughen service personnel for possible combat.

I could go on, it's endless. After recently watching a documentary on chimpanzee experimentation, I did some research. Reading about how these animals are treated and looking at pictures, I felt like I was living in medieval times. Considering the degree to which this testing is defended, not only by the cosmetics and pharmaceutical industries, but also by the Department of Agriculture and the National Institutes of Health, I had to ask myself why I found it so objectionable. Don't I want drug companies to develop cures for diseases? Do I mind if they induce painful, debilitating illnesses in dogs in order to test experimental drugs, which may themselves cause serious illness? After they use them, they're euthanized anyway, so, what's the difference? Don't I want eyeliner and eyelash stuff tested for irritation by first placing it into the eyes of rabbits and cats? I've seen enough women applying eyelash stuff while driving their cars so many times that I can see where that could be a problem.

There must be other ways to do this kind of research and experimentation. It's way too ghoulish and twisted. Only sociopaths could do that kind of work, day in, day out. If you weren't to begin with, it could certainly push you in that direction.

I'm a retired commercial fisherman with zero political clout or powerful connections. So, there's nothing I can do about it. My hope is that someone reads this who can and is outraged enough to want to. If you're interested in finding out more, I have a section on my website at: http://www.adriandorn.com/networks.htm#trauma. However, if you're the squeamish type, please don't bother.

Sincerely,
Adrian Dorn

---

September 8, 2017

A bowl of water used by my cat, Mariah, as a bee watering hole, and, as it turns out, a treefrog pool on a hot day. Click picture for larger version.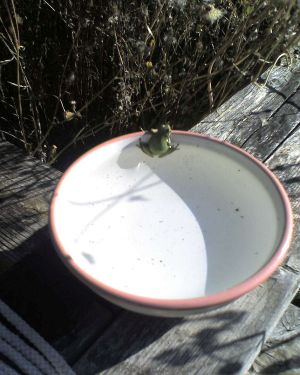 September 5, 2017

Like probably most everyone else in the country, I've been watching and reading about the events in Houston and surrounding area. Besides the official rescuers--the National Guard, all police organizations, the Coast Guard--ordinary people, not only from Texas but from other states too, representing all walks of life, all races, colors, belief systems, values and mores, joining together, organizing, taking direction, rescuing strangers, risking their lives, not only after the brunt of the storm passed but also while it was at its peak, have vividly and heroically demonstrated to the world the true character of America.

Those amazing people have shown once again that they, and by extension--I believe--the majority of Americans, are better than most of the top-rank of government, squabblers who promote divisiveness and refuse to cooperate for the common good. What a country we would have--a nation to be proud of--if only those leaders were made of the same stuff as the rescuers at Houston.
People saving pets From the Floods in Houston | VIDEO - YouTube
RAW VIDEO Dramatic Water Rescue in Harvey floodwaters in Houston
No, Cutting the Corporate Tax Rate Won't "Create Jobs" | September 3, 2017 - Daily Kos
August 26, 2017

I'm writing this knowing that nothing can be done about it, but I have to get it off my chest. In today's Seattle Times there's a story about "Second wolf pack targeted for killing after more cattle deaths." By what freakin' right does the Washington Department of Fish and Wildlife have to kill them off? Justin Hendrick, an owner of the DiamondMRanch, and other cattle owners have lost cattle to the wolves. The DiamondMRanch is one of the largest cattle operations in the state; surely, they can afford to invest some of their income to provide another means to protect their livestock without killing off whole packs of wolves.

But here's the thing that really bothers me. Those wolves in the state I've called home for over forty years belong to all of us. They live in the wilderness, our wilderness--public land. The Hendricks lease grazing land in the Colville National Forest. Well Christ almighty, how are they allowed to do that? If you put cattle in the middle of a wilderness area--mountainous, forested landscapes--without suitable protection where wolves live, of course they might be considered easy targets; in fact, however, that's not the case. As the story states, "Only six cattle were killed by wolves in Washington last year, making it a rare cause of death on the range."

Two other packs have been killed off for these people: the Wedge Pack in 2012 and the Profanity Pack last summer. Moreover, the Department of Fish and Wildlife doesn't work for the Hendrick family. They're not Mr. Hendrick's own personal extermination squad. And who's going to pay for the killing operation? We, the taxpayers. If ranchers are going to graze livestock on public lands, then it's their responsibility to protect them, not we Washingtonians through Fish and Wildlife. Their job isn't to help the Hendricks economicaly by killing off packs of wolves who happen to live smack dab in the middle of the same place where they have arrogantly chosen to graze their cows. At the very least, if wolves whose protections fall under the purview and custodianship of the people of this state are seen as a threat to some rancher's cattle, we should have a referendum or some such thing to vote on whether Mr. Hendrick's livelihood warrants the mass killing of entire packs of wolves. In my eyes, he doesn't have that right and neither do the Fish and Wildlife people. For one man, for the sake of his bottomline, to decide the fate of the wolves who call Washington's wilderness home is totally wrong. His lease agreement and those of others who graze livestock on public lands should be cancelled to protect the habitat of the wolves, not the other way around.

Mentioned in the story was the organization Predator Defense.

August 15, 2017
"It is clear to me now that the Republic no longer functions.
I pray you will bring sanity and compassion back to the Senate."
Queen Amidala --Star Wars: Episode I
Pangolins: One of the world's least known and most hunted animals
Mark Todd discusses why pangolins are now believed to be the most trafficked mammal in the world…
the fog horn off North Beach has learned to sing. it has become conscious of itself and discovered it has a voice. it starts off flat and low, but not too low, somewhere in the middle. be aware of my presence, it calls. i have a job. i have meaning. then flirts upward a whole note, quickly moving to a haunting, cloying sense of loss, alone in its loneliness.
Conservation International Blog
Field notes from the lost city | July 7, 2017
Decoding wildlife crime: 3 stories you need to read | by Sophie Bertazo - July 11, 2017
5 things you didn't know about wildlife trafficking | by Bruno Vander Veldi - July 23, 2017
Anti-poaching drive brings Siberia's tigers back from the brink | The Guardian
July 25, 2017

Linear-time existence is built up on a continuum of discontinuous, nonlinear existences. Linear time has been surgically abstracted from nonlinear time, and by so doing, determinism has been distilled out from its fusion with unpredictability.

We perceive order thereby we create linearity by defining, in the instantaneous act of perception, the manner in which we understand cause and effect. It is a wholly syntropic experience. The difficulty arises, more often than not, when we try to impose order from without according to a map or paradigm we carry in our heads. In the process of overlaying such static, nonlinearly empty, projections onto a dynamic interrelating "environment" from which we abstract ourselves, we shove the nonlinear wildness, and simultaneously our contact with the Self, under the carpet or cloak of a deterministic universe. We construct a prison for the Self; and try to consign Mother Nature to the role of Thing.

In a dynamic situation, the final "behaviour" of the system, its shape as an end result of infinite, random combinations, may be all that is ascertainable.

---

The nobility and courage of the lion stand in stark contrast to the base urges and stunted emotional development of the arrogant humans who hunt them for sport. Throwbacks. Raising lions and other animals on farms [canned] to be easily killed by trophy hunting narcissists shows how much contempt they have for the animal they kill. How can they brag about killing something so much more worthy than they? Do they hope to steal their spirits and thereby acquire what they don't possess themselves? Do they, these trophy heroes, sneak up on them while they sleep or wait until they're eating, then shoot them in mid-chew? Do they hunt from the safety of a helicopter or truck? They are cowards seeking validation by killing their betters.

Trophy hunting, killing endangered animals for sport and competition with other like-minded people--throwbacks to a former age--is glamorized and romanticised in spite of the animals' severely diminished numbers. Ego gratification is not a sufficient reason to kill anything. International organizations exist that can be accessed through the internet where people brag about their kills. And because it costs a significant amount of money for licenses, the club is composed of folks who don't need to kill for food, people who are out of touch with their connection to the Earth and its animals and so must validate themselves by killing creatures who are no threat to them. They travel vast distances, hire professional hunters to take them on safari or go to farms where animals are bred and kept in order to assure the client kills something, an adventure in the wild. A search on Google for trophy hunting sites will return thousands offering hunting packages to those who can afford it.

For twenty years I worked as a hard-core commercial fisherman on Alaska waters, so I'm not sqeamish about killing for food. But, I, personally, cannot even begin to imagine killing an elephant for fun or sport, or a giraffe, buffalo, leopard, or any of the rare and beautiful animals on the list of offerings. They hunt leopards with dogs, wear them down, corner them, and then shoot them, a trapped and frightened wildcat. After which, they brag about it, what he-men they are. Mind-numbing assholes absorbed in their own reality, incapable of realizing what they're actually doing. Their real motives may not even break through to consciousness, but when asked, they rationalize with double speak that they're helping to conserve whatever species they kill. Those not above the politically-correct need to justify their actions; they may not believe it themselves or be aware of the larger picture that supposedly substantiates it, the argument backed by science, the pseudo-science of managing nature, but they read it in the brochure and that's good enough for them.

[Conservation? -- In Okavango Delta: Ostrich numbers declined by 95 percent, while 90 percent of wildebeest were also wiped out, along with 84 percent of antelope tsessebe, 81 percent of warthogs and kudus, and nearly two-thirds of giraffes.]

It's pitiful and painful to me, and all I can do about the slaughter of these innocents is to try to help bring awareness to their desperate plight. They're being driven to extinction for the thrill of it all, and the only difference between poaching and trophy hunting is the legality of it, paying the government, the end is the same. Frankly, I have more respect for poachers, at least they're straightforward about their motivation.

How can anyone watch a giraffe or an elephant or a lion peacefully walking along on a wide plain or savanna, observe the sinewy grace of their movements and observe the gentle care they show their offspring, and take pleasure in killing them for no better reason than ego gratification?

We live in a world where people still hunt animals for sport as trophies to brag about, not only in Africa and Asia, but here in the states too. For example, cougar hunting is legal in Washington, and in most other states people are allowed to hunt certain animals that don't end up on the dinner table, like wolves in Michigan, Wisconsin, Minnesota, North Dakota, Montana, Wyoming, and Idaho. Wolves are hunted to the brink of extinction and the rationale is to say it's to protect livestock and dogs, but in actuality it's to protect the bottomline of hunting lodges and the associated economy.

It's stupid and myopic, as are most endeavors where humans try to manage wildlife. In the case of the killing of wolves, without a sufficient number of predators, the populations of game--deer, moose, elk--increase disproportionately, their food sources become scarce, with the end result being population collapse through starvation. Moreover, with no fear of predation, they linger by streams, browse eating the vegetation that keeps the banks in place. When the rains come, mud flows into the streams covering stones where fish lay their eggs. A high percentage of egg loss means a high percentage of fish NOT returning to their stream, which means a loss of food source for animals that eat fish and a loss of nutrients for the environment in general. And so forth, with the result being that the web decoheres, falls apart, connections become tenuous and finally dissolve, the ecosystem passes a critical minimum sustainablity, fragments, grows unstable and eventually declines towards total collapse for both flora and fauna.

Nature has been busy regulating the Biosphere long before Man came on the scene, and yet we seem to think we can do a better job. The ecosystem is fundamental, no part of it can be regulated without affecting the whole, usually leading to disaster in unpredictable ways. Once the complex set of interdependnet interactions has been altered passed some critical point, a new configuration emerges, the kaleidoscope twists. That's common sense.

It's the mind-set that needs changing, hopeless as that may be.
---
Trophy Hunting | Global Digest
---
Commentary:
Okay. Let me tell you the real deal. You're a trophy hunter. I don't mean someone who's hunting for food for himself and his family, I mean someone who's doing it for pleasure, for ego-gratification. You're out there in the wild, which includes what they call "canned" hunting on reserves where animals are trapped inside fences for the sake of those with the big bucks who want to kill something. The target animal is either standing around or laying down or possibly even asleep. With your experienced hunter's eyes, you spot him. Maybe he's grazing or just taking in his surroundings. He's not charging or running away. Perhaps he's even looking at you, wondering what the hell you're doing or even what the hell you are if he's not familiar with humans. You take your high-powered rifle with scope and aim. He stands there. Maybe it's an elephant chomping on leaves or long grass. You shoot, he falls, dead. Afterwards you brag about the hunt, the kill, how exhilahrating it all was. A big tusker. Well, Jesus, where's the glory in that? Where's the challenge? Where's the fun come in? What the hell really happened?

Do you imagine you've validated your manhood, punched your Cro Magnon card, by shooting an animal with a high-powered rifle while hiding behind a clump of downed trees or bushes? Do you imagine you're on some kind of religious quest, a spiritual undertaking to find your earthly, authentic soul, doing your part to testify to Mankind's dominance over the lesser animals, joining the venerable society of tribal hunters? Or do you just like to kill things, especially animals that can kill you, let them know who's the top dog? Who's superior now, eh?

Only a coward would kill an animal standing around minding its own business, not threatening anyone. You see, these people, these trophy hunters are sick individuals, emotionally stunted, without conscience or caring. There's no big deal to killing something that's simply minding its own business, not interested in you, or even lying down asleep. That's trophy hunting. They brag about it. There's websites where they list their "kills." These people are assholes and cowards. It's all crap!

Lions and tigers are cats, they spend 16 hours a day sleeping and resting. Just sneak up on one and from a safe distance, shoot while he/she's napping. What courage, what bravery, what narcissistic bullshit!

Animals are not trophies.

July 21, 2017
A new interview reveals Trump's ignorance to be surprisingly wide-ranging
Lab Research Dogs See Sun and Earth for the First Time | VIDEO - YouTube
Why Trump's brand of stupidity is so dangerous | Paul Waldman - The Week
Why China's Yulin Dog Meat Festival Won't Be Cancelled This Year After All | June 15, Forbes
Why China's Yulin dog meat festival is a wake-up call to the world | Animals Australia
Dog Meat Still on Sale at Controversial Festival | National Geographic
June 30, 2017

The most despicable act of cruelty forced upon animals, to my mind, is bear bile farming in Asia. So seldom is there any good news coming from that front. Animals Asia is an organization that is activley working hard to end such torture. Here's something: Nine Moon Bears Rescued from Farm in Vietnam

June 26, 2017
MAKE AMERICA GREAT AGAIN!
GOP Senate Bill Would Cut Health Care Coverage By 22 Million | June 26, 2017 | NPR
Senate Republicans Reveal Long-Awaited Affordable Care Act Repeal Bill | NPR
"Larry Levitt, a health policy expert at the Kaiser Family Foundation, summed up his thoughts on the bill on Twitter on Thursday:
"In broad strokes, the Senate bill is just like the House: Big tax cuts, big cut in federal heath spending, big increase in the uninsured."
Laos: The Tiger Meat Farms Must Go - Sign Petition
"In one specific destination, the Kings Romans
- an entertainment complex containing a hotel, casino, "zoo" and restaurants,
you can purchase anything from bear paw, pangolin and sauteed tiger meat.
And the nearby jewelry shops sell endangered animal parts like tiger teeth and rhino horns."
---
This life has been modified from its original version.
It's been formatted to fit this time and place.
---
Trump Will Withdraw U.S. From Paris Climate Agreement | June 1, 2017 - The New York Times
World reacts to Trump's Paris climate accord withdrawl | June 2, 2017 - AlJazeera
Paris climate agreement: What you need to know
Trump's Speech on Paris Climate Withdrawl, Annotated | June 1, 2017 - NPR
Denounce Politically Motivated Prairie Dog Hunt with Donald Trump Jr.
"As good Montanans, we want to show good hospitality to people," Gianforte said.
"What can be more fun than to spend an afternoon shooting the little rodents?" -- Greg Gianforte, Republican Scumbag
A Dark Cloud With A Silver Lining
The death of an elephant by trophy hunters, or by anyone, for that matter, is never something to be treated lightly. However, this time there was justice:

Shot Elephant Falls on Trophy Hunter, Killing Him | May 22, 2017 - PETA
Stop Sucking Blood From Pregnant Horses to Induce Fertility in Pigs | Force Change Petition
"In other words, big factory farms have figured out they can suck the blood of pregnant horses, and inject an extract of that blood into pigs so they can be forced to constantly give birth.

"If you think it can't possibly get worse, then you might want to think again:

"The mares are regularly being given abortions without painkillers, so they can keep getting pregnant, and thus constantly producing the hormone."

May 24, 2017
GOP Health Plan Would Leave 23 Million More Uninsured, Budget Office Says | NPR.org
Trump Takes a Big Bite out of his Voters' Food Stamps | Mother Jones
Seven of the 10 states that most rely on SNAP voted for Trump
President Donald Trump unveiled his 2018 budget today, with more than $1 trillion in cuts over the next 10 years
to government programs such as Medicaid, farm subsidies, affordable housing, and other anti-poverty programs.
Trump budget seeks huge cuts to science and medical research, disease prevention
Planned Parenthood would be barred from receiving any HHS funding, according to a fact sheet accompanying the budget release
— a prohibition that would apply not just to Medicaid but to all programs. The fact sheet notes that this move
"follows through on a campaign promise" to block federal dollars from
"certain entities that provide abortions, including Planned Parenthood."

Trump proposes dramatic changes to federal government, slashing safety net programs that affect up to a fifth of Americans
May 23, 2017 - The Washington Post
Here's What's in the House-Approved Health Care Bill | May 4, 2017 - NPR
"The House of Representatives voted last week to eliminate critical healthcare coverage and protections for millions of Americans. By a margin of only four votes, the House just took health insurance away from 24 million Americans, raised everyone's insurance costs by an average of $1,500, cut $880 billion from critical Medicaid services, and made it next-to-impossible for individuals with pre-existing conditions to afford the protections they need -- all while delivering a $600 billion tax break to wealthy individuals and corporations."
Consumer.org

May 7, 2017
Five Minute Video: Cat Saves Boy From Dog Attack

Today Show - May 15, 2014
Scott Pruit hails era of environmental deregulation in speech at coal mine | April 13, 2017 | The Guardian
'Like a slow death': families fear pesiticde poisoning after Trump reverses ban | April 17, 2017 | The Guardian
Syria chemical attack: Doctors, civilians recall children suffocating, dying on streets, sarin gas suspected | April 5, 2017 - Fox News
U.S. launches cruise missile strike on Syria after chemical weapons attack | USAToday
I wonder how President Trump feels now about granting asylum to Syrian children? To Syrian refuges in general? I commend his decision to attack the source of the raid, but we could go further: Find out where Assad is at any likely moment and blow it to smitherenes.

April 6, 2017
End The War On Wildlife
Excerpt from email I received:

"Richard Nixon is looking pretty good right now. He created the Environmental Protection Agency. He signed the Endangered Species Act. He also signed an Executive Order banning poisons that kill native carnivores on public lands in 1972. That executive order is, sadly, no longer in effect.

"In the past few weeks alone, three tragedies involving use of indiscriminate poisons on our public lands should give pause to every American. A few weeks ago, a young boy was harmed and the family dog killed by a cyanide bomb placed on public land by the U.S. Department of Agriculture's animal damage control agency. Five days earlier, two families recreating on public lands in Wyoming watched two of their family dogs die after the animals detonated cyanide devices. And two weeks before those incidents, a wolf was killed in Oregon by the same type of device.

"These three recent incidents are exactly why extremely dangerous M-44 cyanide bombs, and other indiscriminate tools like traps and poisons that are deployed to kill wildlife, often targeting majestic native carnivores like wolves and coyotes, should not be placed on our public lands.

"It would be a mistake to call these tragedies accidents. It's not an accident if federal employees are knowingly placing deadly devices where children and companion animals play; that's extreme and inexcusable negligence.

"This should be, and I believe is, a bipartisan issue. While liberals and conservatives may disagree about wolves, can't we all agree on public safety issues that affect our children and family companion animals? Is it going to take the death of a child before the public takes action to prevent the regular and reckless damage caused by these practices? Sadly, this very well could happen.

"The essential questions are these: how precise are these "cyanide bombs" and how effective are they at accomplishing their stated goals? Consider this—more than 50,000 non-target animals have been killed in this or similar ways. If the USDA has failed 50,000 times regarding animals, how long before an unsuspecting child is the victim?

"But we can make it stop.

"WildEarth Guardians is intensifying our End the War on Wildlife campaign to mobilize more popular support to secure local, state and federal action to end the barbaric, indiscriminate killing. Just last week Congressman Peter DeFazio introduced a bill in Congress to ban predator poisons on our public lands.

"And earlier this week we filed a lawsuit to force Wildlife Services to stop using cyanide bombs. Last week we filed a petition with the USDA seeking to prohibit their use in Idaho. I strongly believe that the American people firmly support an end to cruelty against our majestic wildlife, and I am absolutely convinced that every American is opposed to actions that threaten their children."

March 25, 2017
Republicans Admit Defeat On Health Care Bill: 'Obamacare Is The Law Of The Land' | NPR
March 16, 2017

Let's remember, folks, that Donald Trump is, at heart, a real estate developer. He sees his entire kingdom as open and needful of development. This is his main goal, and distractions such as Muslims invading our country and Obama tapping his phone, and whatever else he can tweet out to the world, will serve him as he sets about on his true interests of a more personal sort.

Our infrastructure is in a state of near collapse. If he were to set about on that major project, reminiscent of the Public Works Administration (PWA), part of the New Deal of 1933, a large-scale public works construction agency in the United States headed by Secretary of the Interior Harold L. Ickes, I would actually feel he might do some good accidentally.
A Budget Blueprint to Make America Great Again | Whitehouse.gov
Manufacturing's not coming back, people need employment, forget all these pathetic, lame distractions and sign some executive orders to set about bringing the country to renewed pride in itself that way, not by building real and imaginary walls around us to protect us from the boogeymen. I don't want Trump to be my dad, protecting me from who knows what. But building roads and bridges, airports and power grids, hospitals and schools is not very dramatic or glamorous, it doesn't satisfy his ego as much as being the protector, the tough guy willing to glare at the rest of the world to let them know not to mess with us. Well, I think they already know that. He wants to be seen as the white knight coming to rescue us from the dangers of living in the world as it is. All his ranting, bravado, and tough-guy talk and attitude just encourages those sitting on the fence to challenge him.

Like I said before, he's a punk and a bully, and in the neighborhood I grew up in, a guy like him sooner or later met with trouble. And that means, of course, us too.

February 25, 2017

Melodramatic and overstated this might be, but nonetheless, our country is in danger of losing its fundamental identity. An identity idealized at its birth and worked towards ever since, overcoming odds in its effort to actualize itself as though it had a will of its own. But the land of the free and the home of the brave is becoming the land of the xenophobic and the home of the cynical, suspicious, and fearful. How do we want other countries to see us? We have always been a beacon of freedom in the world. A safe place for those seeking to escape tyranny, persecution, and desperate, war-torn conditions. An asylum, a sanctuary, a safe haven in the storm. Children terrified and confused, living abnormal, dijointed lives, often without parents or loved ones nearby. We deny them refuge?
Toxic stress in war zones is harming development of millions of young children | Feb. 17, 2017 - Theirworld
Syrian Children Under Siege | UNICEF
When compassion and empathy go out of the equation, so do integrity and tolerance. By stripping our conscience of these essential ingredients, we don't regain some illusory state of greatness; we lose all hope of achieving it in truth. We become a house divided amongst itself, ignoring our responsibilities as Americans. Make America Great Again should point to that ideal the founding fathers created out of their own vivid experiences of a life without freedom--a refuge for those in need. Are we going back to times when government promoted open warfare against the indigenous population, genocide and land-grabbing sanctioned as accepted norms? Or how about when Americans of Japanese descent were interned in make-shift detention camps on the West coast for the duration of World War II? Or the times of slavery of people taken from their homelands and forced to work in fields of cotton? What period of greatness is Trump referring to?
Indian-Killer Andrew Jackson Deserves Top Spot on List of Worst U.S. Presidents | Indian Country Media Network
Millard Fillmore: The Racist Who Didn't Like Anyone | Indian Country Media Network
11 Most Racist US Presidents | The Huffington Post
The original ideal is one that is yet unfolding, albeit in fits and starts, into the future, not one that seeks to refabricate a bygone era in all its infinite details. An impossibility even if all the components were still available. For instance, where are the unions of the former Midwest manufacturing world? Gone. Without them, what you would have is an American version of a sweatshop (minimum wage) with production ramped up to compare with that of China. It's all an illusion and the wrong direction.

The people around the country who support Trump's actions and agenda are collaborating in a lie. And in the end, it will all come back to bite them, and unfortunately, the rest of us as well, on the ass.

February 23, 2017
The United States of America
Closed for Remodeling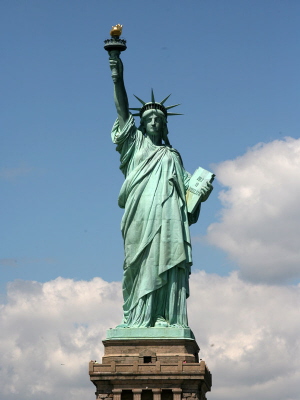 NO IMMIGRANTS!
---
"Give me your tired, your poor, your huddled masses yearning to breathe free, the wretched refuse of your teeming shore. Send these, the homeless, tempest-tossed to me, I lift my lamp beside the golden door!"
---
February 10, 2017

President Trump sees Muslim immigrants and citizens of this country as a threat to national security. But how about ignorance of treaties concerning nuclear weapons? That doesn't seem to be as important. He has access to the buttons to push and nobody can stop him. Shouldn't that be something he needs to learn?
Trump's Doubts and Ignorance on Nuclear Treaty Worry Experts
On a call with the Russian president, Trump reportedly had to ask aides what the New START treaty was. | Mother Jones
Why Does Donald Trump Lash Out at Everybody, Even Judges?
February 9, 2017 - John Cassidy - The New Yorker

The Mind of Donald Trump | by Dan P. McAdams - The Atlantic

Donald Trump Just Lost, Bigly | February 9, 2017 - The Washington Post

Trump's Supreme Court Nominee Calls President's Attacks On Judge 'Demoralizing'
February 8, 2017 - The Huffington Post
Like Many Americans, A Judge On The Court Weighing Trump's Refugee Ban Was A Refugee
February 6, 2017 - The Huffington Post
Judge Alex Kozinski's family fled communism when he was a child.
February 4, 2017

As the sun sets here in the Northwest (we assume that because it gets darker), chaos spreads across this great land of ours and world leaders scratch their heads in consternation and wonder as to how we could have elected such a disagreeable and contentious nutcase to the office of the Presidency. In an attempt to assess the pulse of the people, our team dispatched interviewers to different parts of the country. Small town USA has always been a straightforward source of homespun truth and sincere appraisal; you won't find many who complicate their opinions and criticisms with purely rational thought. Critical thinking and analytical reasoning can compromise judgementally motivated decision making. Things aren't always what they appear to be; in fact, they hardly ever are. And thinking things through, considering the practical realities--the nuts and bolts--can undermine hope and dreams and the confidence that everything will work out just fine, even if that confidence flies in the face of reason.

The team threw darts at a map and left for their lot in life immediately. Urgency spurred them on.

In Hillberg, South Carolina, it seems most folks were behind the president 100%. In a small diner on the south end of town, our correspondent, Anne Marie, talked to a man stuffing himself with opossum stew and dingleberry pie. In between mouthfuls, Joe Bob (that's the only name he would give, convinced as he was that the CIA was monitoring him from space), said, "If'n the president wants to go to war with the rest of the world, I reckon it's all right with me. After all, he wouldn't be where he is if he didn't know what he was doin'."

Later in the cool evening, Anne Marie entered the General Store. A few men sat around the wood stove chit-chatting about the state of the world. She introduced herself and explained her assignment. At first they were distrustful, she is the media. But when she told them she grew up in Florida and had once shot a cow in the head just for the hell of it, they warmed up. Billy Jim (no last name, same reason) appeared to be the spokeman for the group. When asked what he thought about Trump's first two weeks in office, he said, "When ya' jump behind the wheel of a moving tractor, first thing ya' do is grab the wheel and yank it hard one way or tother just to get its attention." The others laughed in agreement, nodding their heads. It's how things are done, common sense. Take the world, grab the wheel and jerk it around, what the hell. Wake everybody up. Get their attention.

Anne Marie finished the night at one of the two bars in town. It was half-full. She didn't ask anybody anything, she just needed a drink, or two.

January 31, 2017

From Democrats.org:

"In the first seven days after he took the Oath of Office, Donald Trump signed a variety of truly despicable and irresponsible executive orders and directives that:

Authorize construction of a border wall (which we now know will be paid for with our tax dollars)
Strip federal funding away from international organizations that even mention abortion
Begin the GOP's efforts to repeal the Affordable Care Act -- a move that will take health coverage away from 30 million people
Restart construction of the Keystone XL and Dakota Access pipelines
Place harsh restrictions on immigration, including banning refugees fleeing the civil war in Syria, accelerating deportations, and threatening sanctuary cities
Prevent government agencies from sharing updates with the press or the public on their social media accounts and websites
Order a ban on Muslims from seven countries from entering the United States that goes against our values and makes our country less safe."
---
Acting Attorney General Says Justice Department Won't Defend Trump's Ban On Refugees, Travelers | The Huffington Post
Trump Fires Acting Attorney General of the United States | The Huffington Post
The Inevitability of Impeachment | The Huffington Post
---
Federal Judge Stays Deportations, Blocking Part Of Trump's Immigration Order | January 28, 2017 | NPR
January 26, 2017

As the new administration's policy of mandated ignorance and suppression of scientific inquiry spreads across the land, we the people have only ourselves to blame. The scientific evidence supporting climate change is being thrown out as bunk and the researchers involved are being threatened with career-ending roadblocks if they publish their findings through any means. Climate change is a fact much like gravity, its reality can't be denied. The point of the argument against it is intended to repudiate human responsibility. However, we're not able to do that. Fossil fuel burning and the introduction of methane and other hydrocarbons into the atmosphere and the oceans along with clear-cutting the carbon-eating forests for Palm Oil plantations and other short-lived agricultural needs have to have a deleterous effect. Even if we had no hand in it, were completely exonerated, put our head firmly into the sand, it's still happening and to ignore its exacerbation by our increasing production of heat-absorbing chemicals is to quicken inevitable disaster.

I suppose we can next expect a clampdown on the teaching of evolution in public schools and state universities in favor of Intelligent Design. Yes, Mabel, the earth is only 6,000 years old, species don't transform into others--that would be silly--and the Great Flood of biblical times gouged out the Grand Canyon.

Science is nothing more than a point of view and rational thinking a hindrance to economic development.

And yes to you too, Billy Bob. Multinational corporations will build new factories here in America and cancel all those sweet cheap-labor sweatshop contracts they've had going since the 80s in China, the Phillipines, and Southeast Asia. No problem, sure thing. Patriotism, even if it means paying a hundred times more in wages to produce the same thing, is far more important than their bottomline. It might take some time, perhaps four years, but after we gut the EPA and put a lid on the Department of Energy and the USDA, they'll find it easier to make a profit and thus encourage homegrown manufacturing. Those other countries don't have problems with environmental regulations, protecting and preserving wildlands and parks and the animals that live in them. Clean water, clean air; God almighty, how clean do you want it? That's what filtering plants are for. That's the problem. We need to get rid of all those encumbrances in order to create a level playing field.

The Dark Ages are upon us. McCarthyism of the fifties is going to look like an Easter Egg hunt compared to what's coming. And the passive-aggressive attitude--Not My President--is simply not going to cut it. Trump doesn't care if groups marginialize themselves, just as long as they stay out of his way.

January 25, 2017
---
Trump Administration Restricts News from Federal Scientists at USDA, EPA
January 24, 2017 - Scientific American
Federal agencies ordered to restrict their communications | January 24 - The Washington Post
Information lockdown hits Trump's federal agencies | January 24 - Politico

Trump EPA Pick Expresses Doubts about Climate Change, Defends Oil Industry Funding
January 18, 2017 - Scientific American

Energy Department Refuses Trump's Request for Names on Climate Change
"The memo sought a list of all department employees or contractors who have attended any meetings on the social cost of carbon,
a measurement that federal agencies use to weigh the costs and benefits of new energy and environment regulations.
It also asked for all publications written by employees at the department's 17 national laboratories for the past three years."

NASA, NOAA Data Show 2016 Warmest Year on Record Globally | NASA
---
---
Donald Trump Just Replaced the White House Climate Website With…This
January 20, 2017 - Mother Jones
---
January 1, 2017

Northwest Weather Report:
It snowed through the night, most of it anyway, on top of a half-hour hail storm. So I decided I wasn't going anywhere. We live in the woods five miles from town, so when you're snowed-in it's not like you can get out there and hoof it through the crusty snow with the air around you wanting to turn into ice; at least, I'm not interested in trying. No reason to. There's no place I need to be, no emergencies, no appointments, no responsibilities except to my cat, Mariah. I tracked her footprints in the hard snow this morning. She was all over the place. Long hair and surprisingly tough. She's a Northwest cat.

Being snowed-in with nothing pressing is an excuse to sever all ties with humanity. Perhaps that's a bit too strong. You're on your own and can indulge that aloneness, even if you're with others in the same situation.

I remember the transformation that would occur when we'd untie the lines at the dock and head out for a three-day run from Kodiak to Akutan in the Aleutians, or actually, to anywhere. It was the untying and leaving that was significant. After a short period, which gets shorter with experience, everything that's happening in your world on land with society, all the problems and relationships and responsibilities, everything that has to do with that self, is suspended, completely. Attention is paid to the moments at hand, the present, the here-and-now. Everything else might as well be on Mars.

Being snowed-in allows you, or forces you, to expand to the outer edges of your surroundings, the limit of your self-proclaimed enclosure. Your mind goes with it. The here-and-now becomes more important by necessity, by default. Details fill in, are seen and not glossed over. Time slows down to a crawl. You feed crumbs of bread to the many birds, their colorful feathers dancing on the white, frosty snow. A patch of blue opens up in the sky, you stare at it like it was a message from the old ones. You go inside to get warm and make another pot of coffee. You don't have to take care of out there. Only here, in the now time.

This has been a weather report from outpost Zebra somewhere in the woods of the Great Northwest.

December 31, 2016

Would you get on an airliner if you found out that the pilot had no knowledge of how to fly a plane? Would you hire someone to repair your leaky pipes who had no knowledge of plumbing? Well folks, we just hired a person who has no knowledge of how government works, of foreign affairs, or of the miltary as Presdient of the United States of America and Commander-in-Chief of the most complexly organized and most powerful military in the world. Why did we do this?

When someone has a public record of service in government or the military, think-tankers and the like can possibly speculate on what that person might do in any given situation, domestic or foreign. But that's not the case here. There is nothing to use as a basis from which to deduce possible reactions. I, personally, have never watched any of his campaign speeches; nonetheless, what little I've seen tells me he's run by his ego and seems incapable of rising above it for the good of the country. I don't believe it takes a leap of consciousness to see that. That could be a detriment.

He's openly unopen. I've known people like that, I met quite a few when I was a commercial fisherman in Alaska. They're invincible and have infinite confidence that they'll be able to tough out whatever nature or anything else might throw at them. Of the many things I learned from that life is that arrogance will get you killed more easily than the worst weather or bad luck. You have to have respect for the sea, not try to or even imagine you can control it by any means. If you're smart, and it doesn't take much more than common sense, you learn early on that you're not in charge, the ocean is. You come to terms with it, learn its every mood and anticipate what may come next. It's a two-way street, in other words. You have to work with your surroundings and give it the respect it deserves.

In the case of Trump and all the Trumpites, that open-unopenness towards the world and those segments of the population you've chosen to push away can only come back to bite you in the ass. The world needs equilibrium; it's the only state where it can possibly function properly. To act as a pendulum against that inclination, as so many nations do, will only create counter forces, more enemies.

I have no idea what Trump will do. I can guess, but so what? He's a con man and a good con man knows what role to play for any situation. He feels it out. He becomes what he thinks is needed to be in order to arrive on top. The mark made. But, first, ladies and gentlemen, he must go through an education with an enormous learning curve.

I don't believe in backing anyone for the sheer sake of backing; I'm not a true believer. But what does need backing is sanity. Perhaps this is the scare we Americans need to take charge of our destinies. I don't know. We'll find out.

---

One thing I do know for certain, however, ladies and gentlemen: We'll miss the emotional maturity, rationality, self-possession, dignity, and class that President Barack Obama consistently displayed these past eight years in the face of Republican obstructionism. None of those qualifiers of character can be applied to Trump.

December 23, 2016

Donald Trump, president-elect, reminds me of the character Dennis Hopper played in the movie Water World. He had all aboard the Exxon Valdez rowing to the promised land. Only he didn't know where it was or what course to follow. But they rowed feverishly anyway. The faithful. He had a vision.

September 17, 2016

Emotional states of mind are places where we go when a certain set of circumstances comes up.

In the middle of the night under a full moon with life feeling like an empty promise, troubling questions pass through a man's mind. Why didn't Verdell receive an Oscar for the movie As Good As It Gets? Why isn't eggnog available in supermarkets every day of the year like milk? Why is it I can't talk to my neighbor for two minutes without it ending in an argument?

God has nothing to do with eggnog and, obviously, has no influence over the Oscar committee--The Academy. But you would think he'd have something to do with two people who have the same problem getting along with one another. Yes, we have the same communications interpreter. If in the beginning of a casual chance-meeting talk I use a word that has possible negative connotations, she immediately becomes defensive and tries to correct for it. Cynicism is the other side of reacting defensively. She vollies a misunderstanding, or at least, pretends to misunderstand. What she says makes it sound like she's more sensitive than I am and in fact I am a lout who cares naught for anyone but himself. I shoot back a lame attempt to clarify by stating the opposite, that I too think tree frogs are cute. Of course I do. How could anyone believe otherwise? What kind of a world are we living in? And so it goes, the inexorable spiral downward into the bowels of defense management.

Politicians of a certain ilk use this trick. The Bait and Snatch. If you don't think this way about that, then you're obviously not very patriotic, or, even a citizen. Do we attend these emotionally entangling speeches and pep rallies to be intentionally drawn in? We want to believe. We block out what we don't want to hear and emphasize what we do. And it may only be one thing, one simply-stated plank in the platform, one intention that we find particularly significant and important. It gets to the heart, or rather, the base of our personal desires, our most inflexible convictions. Conflicting aspirations carve out portions of the population--demographics. In the process, or because of it, groups are formed, factions, organizations, parties. Leaders emerge to identify, galvanize, and solidify those attitudes and feelings, accentuate principles and beliefs. The more ground one can cover--the more convictions that can be appeased--the larger the flock of followers. And then we vote.

I've decided not to let my neighbor drive me crazy (crazier?) by suckering me into wanting to prove myself to her so she won't think poorly of me. I honestly don't care what she thinks about anything. The sensation of being drawn into something, into a way of thinking, into thoughts that appeal to and support our deepest and most desperate fears with the promise of alleviating if not eliminating those fears is irresistible. Unless ... we understand how the game is played. And let our conscience be our guide.

September 12, 2016

It's early morning here in the Great Northwest: 2:00 A.M. I was standing outside stargazing when an experience I once had up north came to mind. I was in Valdez, living ten miles out of town, and a lunar eclipse was about to happen that night. So when it came time, I drove out to a flat area with no trees near the Lowe river to watch it. I stood next to my car; it was a crisp, clear night; no pollution in the air to dull the intensity of starlight. Then it began, the eclipse.

I watched the Earth cast its shadow over the moon; I remember it seemed to move rather quickly. I let that image and its real counterpart burn into my brain with no other thoughts of any technical or poetic nature to muck it up. Just me on this quiet, rocky bank staring at the shadow of our planet, proof that it actually exists in space.

In this state of mind, facilitated by Matanuska Valley pot and coffee, the Earth finally completely covered the moon. And then it happened. The sensation of being adrift in outer space. My legs wobbled. Instinctively, I reached for the hood of my car to steady myself. I recall feeling in the pit of my stomach that sensation of weightlessness, of falling. If you've ever spent time on the ocean fishing or just traveling along on a small boat, you've probably experienced what I mean. On a rough sea, walking across the deck, the boat might abruptly, and I mean abruptly, drop several feet. For a long moment you are adrift in gravity-free space.

Staring at the moon, or rather, Earth's shadow, I could definitely feel that we were moving through space, cast adrift , untethered. Ordinarily, I think, we feel a sense of permanence or rigidity with regard to the planet and ourselves strewn about riding it. We're fixed and held in place and the rest of the universe is moving, receding away in all directions. Not true.

What could be more precarious and utterly magical than life on this planet? was one of my afterthoughts back home in my cabin resting securely on solid ground. We take so much for granted, we assume, our attention and our minds are turned inward, and rightly so in most cases in order to survive. However, every so often, I think, we people of the Earth should take a moment to realize how incredibly fortunate we are to be alive now, to bear witness to the fact that we live in outer space, a very haphazard and spectacular place to be. And we can prove it.

September 3, 2016
He swam upstream against an imaginary current in an imaginary sea he called the way things are.
Costco: Stop Selling Disease and Suffering
Petition: Direct Action Everywhere - Video

A recent Direct Action Everywhere (DxE) investigation shows horrifying abuse of pigs
at Hormel's Farmer John, a major Costco supplier in central California.
The Right Stuff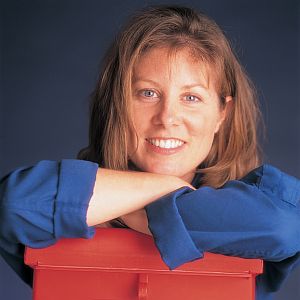 |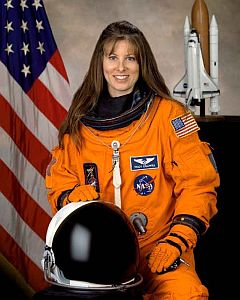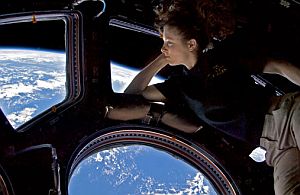 He thought if he chose the proper terms to describe what he was thinking of,
he'd have a more correct assessment of their validity,
of what lies behind them.

The terms became mantras of a certain consciousness of reality
that would set him free.

He actually believed it.

He was constricted and fearful of acting incorrectly otherwise.
The illusion of control he felt certain he possessed would abandon him.
And he would therefore be subject to punishment from some corner.

He deserved it and would wait,
blindly creating the circumstances for its arrival.

Panic would threaten to disable him, engulf his spirit,
if he forgot them, these magical words and ideas.

Armed thus with his very own tablet of truths,
he ventured forth into the unknown of day-to-day existence.

Meanwhile, his real self, the one who cared and empathized and belonged
and enjoyed life for its own sake, waited off-stage for his cue.

"I must live according to the truth,"
he would say to himself.

He was the most dangerous man in the world.
July 30, 2016

Two things stand out in America right now; cotemporaneously, as it were. Actually, there's lots of things that stand out, but as with politicians, the advertising industry, and your generic used-car salesman, I'm choosing these two in order to slant an argument.

Hence:

1) The mysterious and unexplainable fascination in America with Donald Trump,

and,

2) The mysterious and unexplainable fascination in America with zombies.

Surely, there must be a connection!

[There's also the fascination with watching sharks eat people, but that's another story.]

July 27, 2016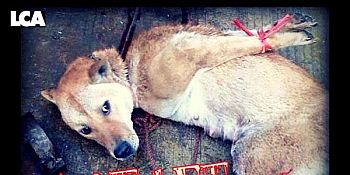 STOP BOKNAL, THE SOUTH KOREAN DOG MEAT FESTIVAL
Care2Petitions - July 27, 2016
---
On our way to the Olympic National Forest the other day for a hike, a friend and I drove through Trump country. We passed some buildings on the highway and hanging from a garage door was a huge, dark blue banner with large yellow letters. Under TRUMP were the words: MAKE AMERICA GREAT AGAIN.

If that's his slogan, it's the first time I've seen it. I was feeling pretty good at the time. It was a bright, sunny morning in the Northwest, temperature around 65, the air was perfect. Considering the area, seeing the word TRUMP in giant letters wasn't terribly surprising or disturbing. One would expect nothing else, in fact. But the slogan, it was like getting punched in the gut.

My friend was driving, so I had time to parse this thing out. The gut punch: I didn't know America had fallen into ungreatness, that we were not the top dog anymore. We've been surpassed by those we consider less great. How could that have happened? Poor leadership, no doubt. The fact that the Republican Congress routinely and spitefully blocked any chance at true greatness for the past eight years need not be considered here. It's a competition, after all.

What exactly does it mean by GREAT? Oxford dictionary defines it as both 'above the normal or average' and 'very large and imposing'. But I really don't think that's what's alluded to here, in this context.

It's a black hole of empty meaningless emotions. We stare into the abyss of GREAT searching for redemption, longing to rid ourselves of the onerous yoke of normalcy. We may not have been thinking about it at the time--who drives around wondering about America's greatness?--but now, here it is. We didn't know. We've lost former Greatness, whatever that may have been. A time when we presumed superiority on all major fronts, in every category, globally. Could that be it? Why else say AGAIN?

The slogan implies that America is not whatever that was anymore, an undefinable condition in any practical terms. A vague feeling of diminished self-esteem comes over us, weakening our resolve and determination. Why bother to persevere with what we're doing, with how we're living our lives and what we're striving for? What's the point? We must pursue this greatness, we must find it AGAIN!

The most important word in the slogan, of course, is AMERICA. Objectively, ideally, America is a micro-cosm of the world. Every ethnic group, culture, and faith is represented. An integrated whole working together, as well as possible, supported by dint of law and mutual respect as americans. To identify with that is to realize a level of consciousness above that of other countries whose people identify only with their own ethnicity and ways--their culture and social norms and customs. America has customs and traditions that are for all the people. July 4th is one such that stands out.

That's the cliff notes idea of America, the land of the free. However, the word in that slogan is intended to be interpreted purely subjectively. It's code. What it means to each person who reads it is uniquely different. Anyone who feels America the country has indeed lost respect for itself and is in need of a resurgence will fall for it, believing somehow that the word in the slogan means what he wants it to. Its key intention is to engender patriotism. To transcend our separate self as a true american would, to bring back greatness to our country. And how do we do that? Why, by putting Donald Trump in charge, one of the many people responsible for selling us out to the world at large.

We hiked for a few miles up above Snow Creek. It was a beautiful, quiet, relaxing day. At home, my cat-friend Mariah was waiting for me. She rolled around on the ground, her way of saying she's happy to see me. I made a pot of coffee and sat in the cool shade surrounded by trees and dense brush. It was late afternoon, the sun was behind the tree tops. Mariah beside me, I breathed in the sweet-smelling air and smiled. I couldn't help myself--I felt great.

July 2, 2016
"Take my love, take my land,
Take me where I cannot stand,
I don't care, I'm still free,
You can't take the sky from me."
June 27, 2016

I retired from commercial fishing 20 years ago. This morning I awoke to a sunny day here in the Northwest. The cool air coming through the window had a certain feel to it as I lay in my bunk waiting for the coffee pot to finish gurgling. Otherwise, it was dead quiet, not even the many birds in the area were singing. Something about the way everything clicked together that brought to mind a time in Chenega in Prince William Sound, Alaska, getting ready for a longline trip, building gear. It was mid-March, a bright sun pierced sharply through the clean, crisp air; pockets of snow were on the narrow dock still. Our boat was a 90-foot power scow, so we had plenty of deck space to work.

This morning I awoke to a sunny day here in the Northwest and in Chenega 25 years ago. I miss that life. There was a completeness about it. Even when not occupied with the many tasks required, including running the boat, you were always immersed in the present. The immediacy of the physical world in detail, the sights; the smells; the touch of cold, wet steel on your fingers; the salt air and occasional spray off a rough sea; the tiredness in your bones, all worked to bring you out of whatever daydreaming you might ordinarily pursue when on land. Society and the world at large--including any personal problems you might be going through--may as well be on Mars for all the relevance it had. You learn a lot of stuff about yourself, sometimes things you don't like but can change. Fishing, traveling, on the ocean and the Bering Sea, there can be a sense of timelessness. By that I don't mean stifling boredom--there is that sometimes--but rather the feeling of belonging to an eight-thouand-year-old brotherhood of all those people who have ever gone to sea.

June 26, 2016

It's early in the year yet, the half for those interested in such things as national government and international relations is yet to come. Nonetheless, I would like to take this time to nominate the Dumbest Man in America: actor Ben Affleck. Any man who would cheat on Jennifer Garner needs to have his head examined. It happened over a year ago, I know, but all this time I've been stunned, dazed, unable to comment. She was Elektra, for goodness sakes! It must be heady living in those lofty heights of society where Ms. Garner is just another chick. Jesus.

But maybe that's true for almost all men with partners, we tend to take them for granted somewhere along the line and start looking elsewhere. I said that seriously; nonetheless, I still can't get over it. Who would cheat on Jennifer Garner? What else is there to look for?

June 13, 2016

Is anybody else in the nature-documentary watching world sick to death of David Attenborough's voice? Is he the only person on the planet who's permitted to narrate nature shows? I'm no zoologist, but it seems to me that there's much more to any animal's life than the struggle for survival. If you've watched enough of them, and I have, you become conditioned. Your gut churns, anxiety ramps up, you brace yourself for the inevitable preditor/prey scene. Okay, I know animal's kill and eat one another, but why must Sir Attenborough drool and linger over such scenes? You can almost hear him salivating. I love nature shows, but anymore, in spite of an interesting program description, if it's being narrated by Attenborough, I can't get myself to watch it.

Please, nature documentary makers--and you know who you are--can't you find someone else to narrate, and can't you be more imaginative when it comes to the lives of animals?

There was a show he did, I forget the title, where a pack of Orcas harried a sperm whale and calf relentlessly until finally, the mother exhausted and out-maneuvered, they killed the calf. It took a really long time and was extremely painful to watch. I kept waiting for it to end, knowing what was going to happen as did everyone else, I'm sure, and wanted the scene to change. But no, not Attenborough. He hung in there, quietly, depressingly narrating along to the bitter end, the camera never stopping. I watched the rest of the program, but I've never watched it again because of that scene, forever entangled with David Attenborough's voyeuristic voice as he hovered over the attack.

Salacious is a word that comes to mind.

June 9, 2016

Trophy hunting--what's the deal? Below is a link to the photo gallery page of Hunting Lease's website. They advertise as "Your #1 Source for Places to Hunt." It's big business. I looked at a few of the pictures. The animals are spectactularly beautiful. Kneeling behind, usually holding onto the symbolic horn, if the animal has one, is a smug, fat-faced hero. Here was this elk or moose or bear or deer standing around in a small meadow on a quiet day foraging, munching on grass and roots, minding his own business. And our hero, the man of the hour, sneaked up on him, as close as he dares, and with scoped-out high-powered rifle or complex bow (much more painful, takes a long time to die) this ego-driven asshole shoots it. Death. For no reason. And brags about it, he's proud. The heroes are usually plump guys; they're not doing this for the food, they obviously get plenty. It's for sport, for fun, a day with the family in the woods, an outing, and don't forget to bring the potato salad and beer. Let's go kill something!

They see this for their children, some as young as eight or nine, as a rite-of-passage. Crossing a threshold into manhood. It's an aberration that thrives in our society. More African trophies come into America every year than any other country in the world. There are websites galore celebrating kills. Competition for top hunter is fierce. A sense of belonging to a group of people who consider themselves a cut above the average man who doesn't hunt for ego-gratification. They seek out the most beautiful animals, the most splendid and noble, an elk, for instance, with an elaborate horn display and who holds himself with genuine pride and strength of character, and kill it as if to rob it of the spirit they could never possess on their own.

It's a global business and pursuit, and the bottomline is not just about the money, it's about something that's empty and meaningless--the right to brag as though true manhood, or womanhood, (freedom from a sense of inadequacy?) has been indelibly etched into their souls. Cowards. They can't feel good about themselves ordinarily over accomplishments that mean something, that have purpose. This is their way. "I see you, beautiful animal, and to prove that I am superior, I'm going to kill you, end your life here in these woods, your home and range, take away everything you are or ever will be, all the experiences you would've had, for the sake of my self-esteem." How people like that can function in normal society is a testament to how little presence--empathizing with one's surroundings--is needed to get by. You can live completely in your own world, in a world cut-off from true nature, from being and feeling a part of it. A real sense of belonging.

No hero of the woods hunting for trophies will ever know his true self by robbing it from an animal far more honorable and worthy of respect than they. To kill something for no real subsistence or otherwise reason and as a consequence believe that anything real about yourself has changed is the height of insanity.

The animal is dead by my hand and I feel wonderful about it. I smile from ear to ear with pride at my accomplishment. [Here's where I have to stop writing and try to imagine what's actually going on.] I killed an animal unneccessarily, for no good practical reason, and it makes me feel so marvelous about myself that I want to shout it from the highest peak. I am filled to overflowing with self-admiration.

I'm missing something here. Trophy/sport hunting is a one-sided event. The hunter's motivation is completely self-centered. That can also be said about someone who kills for food, to survive, but with an obvious difference. To kill for food is a biological imperative, to kill for sport is purely for ego satisfaction. And, not only are the animals unwilling participants in the ritualistic event, no other human shares in it as well. A solitary affair, a singular moment, an act of independence. However, that is an illusion. It's sanctioned, approved of, and encouraged by the world of trophy hunting. So, in reality, that whole collective shares in it if only because of the emotional and moral support given to the individual.

For eighteen years I was a commercial fisherman in Alaska. For the last ten of those, I majored in longlining. We spent summers fishing halibut down in the Aleutians and out by the Pribilofs on the Bering Sea. But all that fish went for food, for people to eat. Although there can be a great deal of satisfaction in commercial fishing--the adrenaline and thrill of catching an unusually large halibut, for instance--I can rightly say I never killed anything expressly for the fun of it. That, to me, signifies a mental illness and an emptiness of heart.

The only real that's changed is the death of an animal that didn't need to die.
Hunting Lease's Photo Gallery of Assholes and Majestic Animals
June 1, 2016

So you like chicken, do ya'? Here is a video of an undercover investigation of Tyson Foods by Mercy for Animals:
Mercy for Animals Slams Tyson over Tortured Chickens | June 1, 2016
May 28, 2016

Quote of the week: "If Jesus had a gun, he'd be a l i v e today." Homer Simpson. Maybe it was the way he said it, I don't know, but whenever I thought of it that day, I had to laugh. I passed it on to a friend who laughed too, though not as hard as I did, then asked, "Who said that? Trump?" He was serious. There's a mindset going on here, a perception. I hardly ever pay attention to the news on TV or radio anymore, I'm not sure why; nonetheless, it looks like Trump is going to be chosen as the Republican nominee for president. Could it be among the populace who supports him that his clownish persona is an attractive force? A person who could be confused with Homer Simpson? Trump is liable to say anything at any time, just like Homer. And the dumber it is, the more down to earth he seems and more appealing to his followers. Homer Simpson for president. Someone the ignorant and bellicose can feel comfortable with. Could we do worse?

May 20, 2016

Mariah, My Cat Friend

| |

I treat her with all the respect I would give a panther because, quite frankly, she thinks she is one. I found her at the local animal shelter locked in a wire cage; she was on death row, scheduled to be killed soon because she'd been there for a maximum allowable amount of time. Apparently, at the Port Townsend, Washington animal shelter, animals have an expiration date. There was no one to pet her or sit with her or scratch her neck. People walking by, hearing strange noises, confined in a small space, she probably wondered what was going on, how come nobody wanted anything to do with her. She must've been scared, lonely, and unhappy; I know I would've been.

But now, she lives with us out in the woods. Happy, playful, adventurous, gutsy, and free, exploring the wilds of Washington. Hiding in the tall grass this time of year, you can't see her until she jumps out, in spite of the color contrast. And she runs like the wind--hence, her name--which she seems to do for the fun of it, stretched out, light on her feet, moving like a jet-black feather undulating along. She eats well and--my fault--is addicted to Temptations. I think that's all she'd eat if she could get away with it. When she sleeps with me, she needs to be touching, pressing against me. And to think how close she came to being put down in order to free up space for younger, more adoptable kittens?

If you find yourself wanting a cat for a companion and friend, if you feel secure enough about yourself to not mind an animal around you who can be quite independent and demanding at times, try your local shelter. You won't be disappointed and you'll be doing a good thing, rescuing. Except to go to the vet whenever that may be necessary, Mariah will never again know a cage; she's free to roam wherever she likes. She's been here since last July and by now, no doubt, has many lairs and secret places all her own. She's happy and healthy and has a home where she's loved and cared about. Also, it can't be overemphasized, having a panther for a friend is not a bad idea.

P.S.: This "Adopt a Shelter Cat Month," You Can Make a Difference for Felines in Need | ASPCA

May 6, 2016

Do you think Samuel L. Jackson talks the way he does in movies and commercials normally? I mean, say he's at a dinner party with several others. He's at one end of a long table and he shouts at a woman at the other end, "Hey, you gonna hold on to that bowl of sweet potatoes all night, bitch? Pass 'em down." Or, it's the holiday season and he says to a guy dressed as Santa Claus standing on a corner trying to get donations for the local Salvation Army, "You try slidn' down my chimney into my house, asshole, and I'll blow your shit away. Got that, fat boy?" Maybe not.

Bernie Sanders' people have begun fear tactics. They advocate choosing him by default because some folks who apparently know such things don't think Hillary can trump Trump. Is that a sufficiently valid reason for nominating Bernie? Would a reactionary like Trump be really that bad for the country? Is his popularity among the rural set a backlash to having a black man for president the past eight years?

I promised myself at the beginning of all this election stuff that I wouldn't even bother to vote unless Senator Elizabeth Warren of Massachusetts was in the running. Unfortunately, she's not interested. Bernie Sanders is an honest man; Donald Trump is a showman, appealing to the worst emotions we Americans can muster. Hillary Clinton would be up against a hostile Congress who would be as cooperative with her as they have been with President Obama. She brings a lot of baggage with her, not the least of which is her husband. The Republicans will focus on that, embroiling her in one meaningless and irrelevant investigation after another, hindering any good she might otherwise do.

Politics. I'm voting for Samuel L. Jackson. At least you know what you're getting. Maybe.

December 12, 2015

Not that anybody besides myself noticed, but I haven't written anything here since last June. I've been involved in writing stories and smoking pot. It's legal here in Washington, you know, or at least, I think it is. I haven't felt like commenting about anything out there. What's going on in the Middle East will always be going on. It's their way. Failed states are becoming commonplace. As far as the group known as ISIS goes, there doesn't seem to be much agreement on what to do about them or cooperation in the doing. The Turks shot down a Russian bomber that may or may not have passed over their airspace enroute to drop some death on the deserving ISIS slime, killing the crew, people with families and friends and lives, just doing their job. Their reason for being where they were had to have been obvious to the Turks. They don't live in a vacuum, they knew perfectly well what was going on between Russia and ISIS. That ship was not there to bomb Turkey; what possible reason could they have? But, nonetheless, they shot them down claiming they had the right to defend their country, protect their people, and so forth. Idiocy, political pettiness, and lack of cooperation are running the world into chaos.

And, I haven't had much interest in the absurdities of the premature presidential race, what with morons like Trump running. The fact that he leads the Republican Party's offerings is a testament to how imperceptive the American people can be. I grew up on the streets of West Philadelphia in a mixed neighborhood. At an early age, I learned to read people, to see through their surface persona--their act--and pretense. Donald Trump, besides being incredibly naive and stupid, is a punk. That glowering, disgruntled, arrogant look he puts on his face for show is just that. And even if genuine, who the hell wants a president who's that overbearing and incapable of empathy? He wants to compile a database of all muslims in the country, including those who've lived here as fine, upstanding, law-abiding Americans for generations. This is what he offers: A draconian society under aggressive authoritarian control and an adversarial posture towards the rest of the world.

But none of the above is why I felt the need to bring attention to something. Here's what is:

Man dies 6 years after he was slammed into wall by deputy, disabled
December 11, 2015 - The Seattle Times

Man slammed into wall by King County deputy in 2009 dies; coroner rules it a homicide
December 11, 2015 - Q13Fox News

Man dies 6 years after he was slammed into wall by deputy, disabled
December 11, 2015 - reddit.com - FORUM

There's a video that's really hard to take. Like I said, I grew up in a neighborhood where fist-fights on the street were not uncommon. So, that level of violence right in front of me doesn't traumatize me. But that video was a shocker, especially considering that the man had stopped and put his hands up, even though the cop was not wearing his police uniform. If this had happened to a black man, there'd be protests, marches, and probably some destruction. But because he's white, it gets swept under the carpet. Police brutality is color blind, everyone stands the chance of being victimized.

Here's the picture I see from articles I've read on the matter and especially from watching the video:

He wasn't in his own neighborhood. He was in the city surrounded by strangers, walking down an alley. Two men, dressed in non-descript black clothes, started chasing him and yelling for him to stop, they say. He ran, naturally enough. Anyone in his right mind, unarmed and in a questionable part of town, would've done the same. Wouldn't you?

But eventually, one cop caught up to him. He stopped and raised his hands, still, more than likely, not knowing what the hell was going on. He was just standing there, his back to a wall, surrendering or, not aware that these two were sheriffs, was trying to control the situation. Who are these guys and what do they want with me? he may have been thinking. And then it happened.

By the video, he'd not taken an aggressive stance. He wasn't attacking or resisting, he was standing limply, watchful but non-threatening. In fact, had he'd been braced, defiant, defensive, he may not have fallen; at least, not that far. Mister Harris was standing still with his hands up. The cop could've handcuffed him and put him in custody until the situation got straightened out. But he chose instead to attack with extreme violence, without visible provocation, propelling Mister Harris backwards, smashing his head into a concrete wall. It didn't look to me like a professional move; this was all personal.

Isn't there any psychological testing performed on prospective deputies to weed out nutjobs like this asshole? Do they hire anybody who comes in off the street?

The reason the DA's Office and the Sheriff's Department gave for not pursuing criminal charges against King County Deputy Matthew Paul was because Mister Harris didn't ultimately die as a result of the officer's push, but rather because his head hit the wall. Splitting hairs taken to a whole new level of legal obfuscation and absurdity. Are Newton's Laws of Motion not recognized in King County courtrooms? The intimate relation between cause and its undeniable, direct effect apparently has no jurisdiction in that contrived space. I can see it being the case in Kansas, but not here. No one was responsible, it was an accident.

However, somehow managing to adopt the opposite position, without admitting its contradictory implication, they handed Misses Harris a 10-million-dollar settlement, clearly accepting responsibility. Why else would they do that? And who is the agent of this responsibility? Why, Deputy Matthew Paul.

Despite this inescapable conclusion, he got off with no more than having to take some additional training. That's not right. At the very least, he should be fired, and, in a just world, would be prosecuted for the death of Christopher Sean Harris.

---

June 30, 2015

Save Endangered Wildlife from Rand Paul Attack | Petition - ForceChange.com

June 17, 2015

All right! Rick Perry, Jeb Bush, and Donald Trump have thrown their hats into the presidential ring. Now, if Daffy Duck would join them, we'd have the Four Horsemen of the Apocalypse. I'm sure there must be stupider people, people even more out of touch with everyday reality. We'll hafta wait and see.

March 6, 2015

""God is still up there, and He promised to maintain the seasons and that cold and heat would never cease as long as the earth remains...The arrogance of people to think that we, human beings, would be able to change what He is doing in the climate is to me outrageous." [Doonesbury, March 6}

This moron leads the committee that forms federal policy concerning the environment. He's from the great state of Oklahoma where the increase in the frequency and size of tornadoes over the recent years has apparently gone unnoticed. Perhaps when the good senator was in conference with God, he missed it. God told me that we were presently in the midst of a global extinction event, the transitional phase leading to ecological chaos, collapse of the biosphere and the unraveling of the web of life, to set the stage for the next era. But, nobody believes me. If only I was a senator.

January 2, 2015

---

"If we'd been born where they were born
and taught what they were taught,
we would believe what they believe."

A sign inside a church in Northern Ireland,
explaining the origin of intolerance and hate.

---

December 22, 2014

Has anyone ever noticed that Superman is an illegal alien? He's good for the country, don't get me wrong, what with standing up for truth, justice, and the American way--whatever that is. But the law is the law. Superman arrived here as a small child, his parents had died and with their last breath, put him into a small spaceship and sent him off. He was adopted by Kansas farmers, the salt of the Earth without whom we'd starve; you can't get more American than that. They raised and nurtured him, sending him to the local school. Yet the Republicans in Congress want him deported, gone, out of here. They see no benefit to Superman as an American. Jesus! Before he became a newspaper reporter, he worked on his adopted parents' farm supplying food to the masses, as do thousands of other illegal aliens. The big picture is being ignored.

In different conflicted parts of the world, migrations are going on. People desperately seeking refuge from the storms that threaten their existence and that of their children. Can we, as people living in a country built almost exclusively on immigrants flooding our shores in times of need or strife, turn them away, children looking for a safe place to be and food to eat? Can we demand that Superman leave? Suppose he doesn't want to?

December 12, 2014

The Oregon attempt to label GMO "food" failed. Apparently, the majority of Oregonians don't want to know the ingredients of the food they eat. The supporters can blame an inadequate information campaign. It's too bad. Besides its obvious impact on the environment and natural species, we, and they, have no real idea what the practical consequences of eating unnatural food is over the long haul, say--30 or 40 years from now. Milkweed has been all but eliminated by the presence of GMO crops, putting the migrating Monarch butterfly close to the endangered species list.

"Genetically Modified Crops: Widespread adoption of herbicide-resistant corn and soybeans has resulted in the loss of more than 80 million acres of monarch habitat in recent years. The planting of these crops genetically modified to resist the non-selective systemic herbicide glyphosate (Roundup®) allows growers to spray fields with this herbicide instead of tilling to control weeds. Milkweeds survive tilling but not the repeated use of glyphosate. This habitat loss is significant since these croplands represent more than 30% of the summer breeding area for monarchs."
--- Monarch Watch

---

The Missing Monarchs | Slate.Com
Monsanto's Roundup and genetically modified crops are harming everybody's favorite butterfly.
Monarch Butterflies | The Xerces Society
Monarch Butterflies are Dying, and Roundup is a Suspect
August 29, 2014 - The Des Moines Register

---

Monsanto, and others, want to own the world by owning the rights to food. That's the other issue, the obese gorilla in the room no one wants to talk about. If they can slip it to you unnoticed, under the radar, who cares? Not enough folks in Oregon, it would seem.

Here's something all you voters for ignorance can chew on:

"Food is information. What does that mean? Well we look at our food in terms of the macronutrients of fat, protein, and carbohydrates and the micronutrients like minerals and vitamins. But understand that the very foods that you choose to eat are changing the expression of your DNA."
-- Doctor David Perlmutter

"The World According to Monsanto" | 1 hour, 49 minutes - Top Documentary Films
"Thanks to these intimate links between Monsanto and government agencies, the US adopted GE foods and crops without proper testing, without consumer labeling and in spite of serious questions hanging over their safety. Not coincidentally, Monsanto supplies 90 percent of the GE seeds used by the US market.

"Monsanto's long arm stretched so far that, in the early nineties, the US Food and Drugs Agency even ignored warnings of their own scientists, who were cautioning that GE crops could cause negative health effects. Other tactics the company uses to stifle concerns about their products include misleading advertising, bribery and concealing scientific evidence."

Exposing Monsanto: Herbicide Linked to Birth Defects - the Vitamin A Connection | July 28, 2014 - Truthout

---

Anyone for a more in-depth study, go to: Monsanto

---

November 25, 2014

Witnesses Saw Michael Brown Attacking–and Others Saw Him Giving Up
November 25 - The Atlantic
Evidence supports officer's account of shooting in Ferguson
October 23 - The Washington Post
Ferguson Witnesss Told Investigators That Michael Brown Charged Cop "Like a Football Player. Head Down"
November 24 - The Smoking Gun
Missouri cop was badly beaten before shooting Michael Brown, says source
August 20 - FOX NEWS
'A dozen witnesses' say Ferguson teen attacked cop before shooting
August 29 - New York Post

---

"The grand jury in Missouri failed to indict Darren Wilson, the Ferguson police officer who shot and killed an unarmed Black teenager, Michael Brown."
--- ACLU

I keep seeing the word "unarmed" linked to Michael Brown as though that was the crux of the matter. Does anybody care that he was 6-foot-four-inches and 300 pounds at the army-joining age of 18? What the hell do ya' mean, unarmed? No witnesses refute the officer's story that Brown was attacking him through the window of the police car and when he got outside. The officer was half his size and twice his age. Was he supposed to let himself be beaten senseless with the possibility that his gun would be taken and used on him? He defended himself in the only way he could. Brown'd just robbed a store, it was on camera, he grabbed the store owner by the throat and then just walked out. Afterwards, he and his buddies were walking down the middle of the street in the face of an oncoming police car. Attitude? Confrontational? Defiant? Do they care?

→ Cheerful... Warm... Friendly... Engaging →

Brown cursed at the officer who told him and his friends to get out of the street, then reached through the car window and started punching and grabbing. Are we to lament the loss of this fine, upstanding citizen, this pillar of the community? What might he have become? A guidance counselor? A lawyer specializing in civil rights cases? A missionary toiling at a refugee camp somewhere in our conflicted world? Who knows.

I wasn't there so I don't know what really went down and I don't believe the real unbiased truth will ever surface. Details subject to individual perception vary, the general stream of events, however, can be understood based on experience. But, it probably doesn't matter. The majority of whites believed O.J. Simpson was guilty and the majority [if not all] blacks were convinced he was innocent -- same evidence. So what really happened means little, the show's the thing. Ultimately, nobody who didn't personally know Brown gives a rat's ass.

The opportunistic black youths--the criminal element--find it as an excuse to rob, loot, pilage, and burn. They couldn't care less about Michael Brown, whoever he is. And the so-called community leaders, like Sharpton and Jackson, whose livelihoods depend on maintaining and perpetuating a victim-identity for all blacks, show up to officially recognize and sanction proceedings--bless it and make it credibile--and to grant their imprimatur to channel outrage in all the usual self-destructive and tragic directions. They speak of dreams having once again been undermined. But the dreams they speak of--never described in practical terms--will never be realized, will always be placed beyond reach. They offer pie in the sky, to be eaten some time in the distant future. Elsewise, they're out of a job. Such inflated irrelevant rhetoric has nothing to do with the incident at hand, the cause. Michael Brown was no retiring choir boy, and to try to cast him as a teen, with all the innocent childlike connotations that word implies, is deliberately misleading.

Variations on the headline: "Police Officer Shoots Unarmed Teen" evokes an image of a 13-year-old walking across the street minding his own business--maybe thinking about his science project--when an evil cop drives up and guns him down. Misperception and self-righteous indignation obfuscate not only the actual facts concerning the incident, but also the different characters and personalities of the people involved as though that didn't matter. We mathematize it and idealize it for our own advantage. Bambi meets Godzila. I don't think so.

Jesse Jackson, world renown rabble-rouser, even though he doesn't know either person involved and probably hasn't bothered to read witness accounts, has decided that the grand jury verdict is wrong and he is right. Immaculate Conception? Or, the knee-jerk reflex of a professional and highly skilled opportunist and self-promoter?

Who's writing this script and why must it be religiously adhered to? Where's the imagination? Who's really doing the oppressing? It's always the same, the pattern repeats, pull the video off the shelf. When does it end, this mutually co-dependent dysfunctional identity crisis that politicians and academics call race relations? If a black youth strives to realize existing opportunities or create new ones, he risks forfeiting his victim status and thus can no longer hide behind it as an excuse for failure, for not beleiving in himself, and for some, acting out. We've seen it all before, the play remains indelibly etched into the drama of our American psyche, ready to be activated after the next arbitrary incident. But no further.
Acting Out
by Andrea Mathews, L.P.C. - Blog - Psychology Today
Manipulation and Identity
November 22, 2014

November 14, 2014

Concerning the imposition of Democracy onto other countries:

"A system that had been ingrained for generations could not be easily undone by change from the top." (Doris Kearns Goodwin).

November 11, 2014

"South Korea is the only country known to have large, intensive farming systems to supply the demand for dog meat. The dogs held captive on these farms suffer from the day they are born in a barren wire cage until the day they are forcibly removed and killed in a makeshift slaughterhouse."
--- Humane Society International

November 5, 2014

Here are just a few reasons why the Northern Rockies are a bad place to be a wolf:

In Idaho and Montana, there are no statewide quotas on the number of wolves that can be killed.
In both states, it's legal to kill mother wolves and pups.
In Idaho, the state is spending hundreds of thousands of dollars each year to subsidize wolf extermination.
In Montana, you can get a license to kill up to 5 wolves for only $19.
In Idaho, you can kill up to 10 wolves for $11.50 per wolf.

October 28, 2014

"On Friday [October 24, 2014], the ASPCA joined forces with the FBI and the U.S. Attorney's Office for the District of South Carolina (USASC) to rescue a dozen dogs from a dog fighting operation in Columbia, South Carolina.

"The investigation—which began as a drug trafficking case—took a tragic turn when fighting dogs were discovered on the Gaston, SC property. Upon arriving at the scene, ASPCA responders found several adult dogs and puppies chained and anchored to car axles. Severely emaciated and dehydrated, the dogs had nothing but trash barrels to protect them from the elements. Many exhibited scars and injuries associated with dog fighting.

"Responders also found dog fighting paraphernalia on the property, along with the remains of deceased dogs. "
--- ASPCA

---

Investigation Documents Cruelty of Bear Baiting
Only In South Carolina
Video included - The Humane Society of the U.S.

---

"Bear baiting is an appalling— and shockingly legal "sport" that is all too common in South Carolina. These poor creatures are mutilated, tied down, and rendered defenseless while cruel participants sic aggressive hunting dogs on them so they can watch the fight.

"Bears forced into the brutal world of bear baiting are mutilated by having their canine teeth and claws cruelly removed so that they are unable to defend themselves. Then they are forced to undergo several "fights" per day where they are tied down and ruthless dogs that have been trained to attack are unleashed upon them. The bears are viciously tortured for up to three minutes per fight, and a match is considered over when the dogs succeed in dragging the bear to the ground.

"The wounded bears do not receive medical attention and are instead forced to suffer through as many fights as they can survive. In addition, the attack dogs are often injured or even killed during fights. Dogs belong in the safety of loving homes and should not be used for such a barbaric, dangerous purpose by humans whose goal is to train them to be aggressive toward other animals for the sake of twisted entertainment.

"The South Carolina government must immediately outlaw this disgusting sport and begin strict enforcement of the ban to end the suffering of these poor creatures."
--- Ban Tortuous Bear Baiting 'Sport' | Animal Petitions

---

What the frell is wrong with South Carolina? I thought Mississippi and Texas were the most ignorant states, along with Idaho, of course. We can't forget Idaho, the Killing State with its war on wolves and just about anything else that walks, crawls, or flies. As long as there are people in this country who enjoy watching dogs fight to the death and helpless bears being attacked by packs of dogs, we will never be civilized or justify a moral high ground with respect to any other country.

October 24, 2014

"Before Obamacare, there had never been a confirmed case of Ebola in the U.S."
— Nick Muzin, Deputy Chief of Staff and Senior Advisor for Sen. Ted Cruz
-- Say What? -- Doonesbury

October 15, 2014

"Let's be honest. Does anyone not believe that Congresswoman Annie Kuster is ugly as sin? And I hope I haven't offended sin. If looks really matter and if this race is at all close, give a decided edge to Marlinda Garcia...Sad to say, but the drag queens are more attractive than Annie Kuster."
--- NH state Rep. Steve Vaillancourt, on U.S. Rep. Ann Kuster's re-election campaign.
From Doonesbury Say What?

September 18, 2014

"The dairy factory farm knew her as #4391.

"But to me, her name was Grace.

"Yesterday, Mercy For Animals broke my undercover investigation exposing heartbreaking cruelty to mother cows and their calves at a Leprino Foods dairy supplier. Cheese from Leprino ends up at Pizza Hut, Papa John's, and Domino's restaurants around the world.

"Today I want to tell you the story of Grace, one of the cows I met during my time working this case. After reading her story, please give today to help us stop the suffering of other dairy cows just like Grace .

"Grace was used, abused, and then discarded by the dairy industry.

"She was treated as a mere machine — not an individual worthy of love or kindness.

"Like all dairy cows, Grace was impregnated and had her babies taken from her immediately after birth. She endured this trauma time after time after time.

"When Grace's milk production slowed, she was impregnated again and the heartbreaking cycle would continue. The dairy industry's plan for Grace — and all other dairy cows confined on factory farms — was to push her to physical limits until she "ran dry," and then send her to slaughter.

"But Grace's story ended differently.

"One day I witnessed a worker examining Grace. I could tell by her frantic bellowing that something was wrong. Grace's baby had died in her womb.

"My supervisor told me he knew Grace's condition was so bad that he should call a veterinarian, but he refused to do so. Instead, he decided to proceed without a veterinarian's assistance.

"And that's when things went horribly wrong.

"The workers began removing the dead calf even though Grace's body wasn't ready to deliver her baby. She screamed in pain and strained in misery as the workers forcefully pulled the dead calf from her body — piece by piece .

"I watched helplessly as workers used a chain to finish removing the calf's body from Grace, making the prolonged, botched procedure even more excruciating for her.

"After what seemed like an eternity, her dead calf was removed and thrown into a truck.

"Grace should have been examined and given medical care after her gruesome ordeal, but instead she was left to suffer without any care or kindness at all. Grace was treated like trash.

"The next day, Grace died.

"I wish I could say that this horrific scene was unusual, but it's not. Dairy factory farms regularly cut corners to maximize profit, and it is the animals who pay the ultimate price .

"And that's why I risk my safety to be an undercover investigator with Mercy For Animals. Because animals like Grace deserve a voice. They deserve justice .

"But I can't do this work alone. Now I need your support. I need you to stand with Mercy For Animals as they pursue justice on behalf of Grace, and all the other cows I saw being beaten, kicked, punched, and dragged by tractors at this factory farm."
--- Mercy for Animals

September 17, 2014

When did the National Football League become equal to the United States Government Judicial System? I missed that memo. If an ordinary slob knocks out his wife he gets arrested and probably does jail time. No ifs, ands or buts. The NFL protested criminal charges stating that it would be tantamount to punishing them (Adrian Peterson and Ray Rice) twice as they were already disciplined by the leagues ruling government. What? It's nice that the commissioner, with considerable persuasion by corporate entities, punished Rice and Peterson for their separate violent infractions, but it does not usurp the power of the US Judiciary or replace legal judgements. These people, the NRA included, have lost their freaking minds. What arrogance and presumption.

Rice and Peterson should be treated like any other citizen who commits violence and abuse against another, especially an impressionable, emotionally developing child. Losing or being suspended from your job is not a sufficient punishment for felony assault. For Rice's woman to stay with him after such public injury and humiliation is a testament to her low self-esteem, or fear.

In this country there are separate laws for the rich and the poor. Now, we have to include separate rules for sports figures. However, we do have this:

A Punch Is Seen, and a Player Is Out | September 8, 2014 - The New York Times
Ray Rice Cut by Ravens and Suspended by N.F.L.
Ravens cut Ray Rice after graphic video of assault against fiancee is released | September 9, 2014 - The Kansas City Star

But, this disciplinary action by an organization he works for, like any other workplace, should not negate or supercede criminal action in a real live valid criminal court.

September 15, 2014

Yesterday morning I was up early, my head foggy from a late night of beer drinking. I sat on a stool at the counter in the center of the kitchen sipping my very first cup of coffee. When suddenly, a blonde, nazi kid jumped up from the floor, his face spread with an insane, big-eyed smile, and said something about a streudal. I recoiled off my stool backwards, slamming against the refrigerator, rocking its insides. The apparition continued with the demented smile as I stumbled to the kitchen drawer by the backdoor where I keep my gun. I pulled it out too far and it and all its contents dropped to the floor. I reached down for my 45, put one in the chamber and turned. He was gone. I scoured the area; there was no sign he'd ever been here. No streudal crumbs, nothing. Where did he come from? Is that one more thing I have to worry about now? Nazi children popping up in my kitchen out of the void? Or how about some man crouched where my dishwasher is supposed to be? Or a large bald-headed cartoon standing too close to my mom? Smiling? What's happening?

And what's with this relatively new commercial approach where background noise makes it necessary to shout? Or not. Witness the oxy-clean voice. Who talks like that? Or that one where some guy is sitting on a bench with a view of the statue of liberty in the background and starts off by saying glibly: "Okay, so you drop 40 grand on a car..." What? Who the hell can afford to drop 40 thousand dollars on a car? If I had 40 thousand dollars, I'd move to Amsterdam and ride a bicycle.

September 7, 2014

Dear Republican Congressmen,

"It is my conviction that a basis for the settlement of conflicting views would be found in the recognition of different types of attitude - a recognition not only of the existence of such types, but also the fact that every man is so imprisoned in his type that he is simply incapable of fully understanding another standpoint. Failing a recognition of this exacting demand, a violation of the other standpoint is practically inevitable".....Carl Jung

"The more projections are thrust in between the subject and the environment, the harder it is for the ego to see through its illusions" (Jung, 1971, p. 147).

September 5, 2014

The USDA, with its covert contingent of mercenary assassins, is a force unto itself, operating completely without oversight, rules or controls of any kind. Their acronym, APHIS, stands for animal and plant health inspection service. Could anything so brutal and lethal be called a more innocuous name? Who are these people? Bloodlust is their hallmark and the indiscrimate death of all wildlife, rationalized by the flimsiest of excuses, is their mandate and mission. Ranchers refuse to spend the government subsidy money or take the time to protect their livestock from predators by other known means presently available. The simplest way is to shunt it off to the USDA, who then send in Wildlife Services. These rambos target everything by any methods available, including poison and traps. They poison waterholes killing off every creature who comes to drink. These people are off the reservation; they need to be reined in, put on a tight leash.

That's how we deal with wildlife, already losing all their habitat and corridors of migration due to humans. When anything out there becomes inconvenient, we kill it.

---

USDA's Controversial Wildlife Services Refuses to Help Endangered Ocelot
September 3, 2014 - Wild Earth Guardians
WildEarth Guardians protects and restores the wildlife, wild places, wild rivers, and health of the American West.

"The Center and allies this week launched a new legal challenge against Wildlife Services, the rogue federal program that kills millions of wild animals each year. Our latest action is a notice of intent to sue the program over its large-scale, often secretive work in Idaho. Last year more than 3,000 coyotes, black bears, fishers, foxes, mountain lions and other species were killed by Wildlife Services in that state, using methods like aerial gunning, neck snares, traps and exploding poison caps.

"We're asking that Wildlife Services halt these lethal activities, including plans to destroy beaver dams with explosives that will harm endangered bull trout, until an adequate and up-to-date environmental analysis of the program's impacts is prepared. "'Grizzly bears, lynx and bull trout are all suffering at the hands of Wildlife Services, and that needs to stop,' said the Center's new Idaho-based attorney, Andrea Santarsiere."
--- 09/11/14 - Center for Biological Diversity

---

"Washington wildlife officials have determined that the wolf they killed last week was the Huckleberry Pack's alpha female. It's devastating news: This killing could shatter the structure of the entire pack and her orphaned pups may face starvation this winter.

"This is the second time in two years that Washington has targeted a pack because a livestock producer refused to do what was necessary to protect his stock. This has got to stop.

"Two weeks ago the Washington Department of Fish and Wildlife secretly sent a helicopter to kill up to four members of the Huckleberry pack. Thanks to your help we flooded the governor's office with calls and emails and soon the helicopter was grounded and the slaughter was called off -- but sadly help didn't come soon enough for the pack's matriarch."
--- Center for Biological Diversity

Groups threaten suit over federal agency's trapping, poisoning of problem wildlife
By Becky Kramer - - September 9, 2014 - The Spokesman Review

"Wildlife Services is part of the U.S. Department of Agriculture. It grew out of federal predator removal programs designed to help the livestock industry take hold in the West. Wildlife Services describes its current mission as resolving conflicts "to allow people and wildlife to coexist." But critics say the agency still puts too much emphasis on killing animals."

---

"Last night, we were shocked to learn that the wolf killed two weeks ago by the Washington Department of Fish and Wildlife (WDFW) was the alpha female of the Huckleberry pack.

"This is a massive blow to the wolf pack.

"Contact the Washington Department of Fish and Wildlife Director Phil Anderson, and demand that he rescind the kill order immediately!

"Make no mistake, WDFW has reaffirmed that the kill order on wolves in the Huckleberry pack is still in effect. Until the kill order is lifted, these wolves are not safe. WDFW, as well as ranch staff, continue to have authorization to remove up to three more wolves from the pack.

"WDFW has grossly mismanaged the situation from the beginning - from the poor implementation of non-lethal methods to taking nearly two weeks to announce the fact that they had killed the most important member of the pack.

"It was just two years ago that WDFW killed every single member of the Wedge pack in a highly controversial lethal control action that was also tragically mismanaged. There were only five breeding pairs in the entire state last year and wolves are still a state listed endangered species today.

"Tell Director Phil Anderson to rescind the kill order NOW.

"With the tragic loss of the alpha female, the future of the Huckleberry pack is highly uncertain. The young pups are motherless and the pack has no matriarch - by allowing the kill order to remain in effect, WDFW is sealing the fate of the pack."
-- Defenders of Wildlife

August 20, 2014

Ferguson, FERGUSON, FeRgUsOn, ferGUSon, FERGUson, fErGuSoN, Ferguson, FERGUSON, FeRgUsOn, ferGUSon, FERGUson, fErGuSoN, Ferguson, FERGUSON, FeRgUsOn, ferGUSon, FERGUson, fErGuSoN, Ferguson, FERGUSON, FeRgUsOn, ferGUSon, FERGUson, fErGuSoN, Ferguson, FERGUSON, FeRgUsOn, ferGUSon, FERGUson, fErGuSoN, Ferguson, FERGUSON, FeRgUsOn, ferGUSon, FERGUson, fErGuSoN, ????????????????

August 15, 2014

Well, it's the middle of August and Congress has been on a well-deserved leave. Can't you just feel the disruption, the slowdown, the loss of leadership? If they were to stay on leave permanently, would anyone notice? The original reason for an August vacation was the intolerable late summer heat in Washington, DC. But now, in the golden age of air-conditioners, why is that necessary? Tradition. If nothing else, Congress rigidly and faithfully upholds traditions.

For example, in 1953 the CIA orchestrated the overthrow of the democratically-elected government of Iran, its first. It was a test run, a field experiment to work out the bugs and the unforseen. From it, an actual user's manual was derived, later refined and tweeked to take into account all possible scenarios and contingencies. That original coup d'etat was masterfully accomplished, and, after the first failure, an experiment gone bad, set the model for all to follow, establishing the tradition of coups.

King Reagan concocted the trickle-down economic joke that the Republican party embraced as a bona-fide tradition, a keystone of their political philosophy. Through the 80's and 90's production of products in America increased several fold while wages and benefits remained constant. The increased profits were gobbled up and distributed to the upper eschelon and did not manage to trickle down to the workers responsible for the increase. Trickling down was bullshit from the beginning, and in the circles I've traveled, refers to being pissed on.

We can only hope that the month goes by quickly so Congress can return to its three-day-a-week job of saying no and generally refusing to do anything to help the country and its citizens. After months of anal retention, a relatively new and perversely adhered to tradition of the Republican Party, they certainly need the break.

August 12, 2014

I recall after the World Trade Center attacks, some spokesman for Al-Qaida anticipated a coup taking place in the United States. I remember how truly shocked I felt at that. The very idea. America is a highly complex, interwoven social, cultural, and political structure. For ignorant insulated ragheads to believe that it would disintegrate into an amorphous bowl of jelly as a result of those attacks demonstrates their lack of knowledge about the history of the US--Pearl Harbor, anyone?--and seriously underestimates the strength, resolve, and determination of the American people to stand up for our country and way of life. And why the hell would there be a coup in the first place and by whom?

This told me far more about those countries, their people and how they think than anything else I've come across. In their world it's possible or even likely that a coup would be inspired from a proportionate attack by some terrorist group. They don't get it and never will. They don't belong to a country and so the country they call home doesn't belong to them. None of the 22 members of the Arab League is free or democratic. Kings, princes, nobles run the land and own the oil to do with as they wish, however wasteful. As long as they remain enslaved by their own political and sectarian systems, putting allegiance to tribe and religious group above that of their home country as a nation state, as long as they adamantly refuse to form an integrated society working with all its faults for the good of the whole, nothing will ever change. Never.

---

Review of Popular TV Shows:

Smallville:
Mostly twenty-somethings pretending to be high school students involved in supernatural activities and events.

Buffy the Vampire Slayer:
Mostly twenty-somethings pretending to be high school students involved in supernatural activities and events.

Royal Pains:
Does anyone really care if the top one percent of the country living or summering in the Hamptons develops tennis elbow or gout or almost drowns in his pool after drinking too much champaigne?

July 25, 2014

Does anyone remember the communications officer for Sadaam Hussein? When we invaded Iraq and were in downtown Bagdhad with troops and tanks practically outside his front door, this guy was giving press talks telling people how badly the Iraqui military was beating the Americans. It was surreal and insane and a little pathetic at the same time. Well, that's who comes to mind whenever I hear or read about something John Boehner said.

All kidding aside, I find it extremely disturbing to realize that Boehner, as the Speaker of the House, is third in line to run the country. My God. Please Lord, if you have any mercy left in your hearts for us overbearing and self-destructive Americans, please keep the president and vice-president safe and healthy. Please?

June 12, 2014

Just listening to John Boehner's warning of danger over the Bergdahl trade--traditional Republican scare tactics. "Releasing those five detainees has put every American at risk."

Really? What about closer to home, nutjob? If you're so intersted in keeping Americans free from random danger and threats, try cleaning up the streets in New York, Chicago, LA, and, oh, here's one: why not do something serious about gun control? Why not do something about a Veterans Aaffairs system that's been clearly busted for decades and is responsible for the unnecessary deaths of men and women who've put their lives on the line in wars we should've been done with long ago? There's lots you and your obstructionist cohorts can do to alleviate danger to Americans. I don't see how sending angry men--and I would be too--back home halfway around the world even begins to compare with mass killings and ineffectual gun laws. Do something about helping people out of poverty so they won't have to resort to crime to get by and support their families. Do something positive, for Christ's sake, and get off this opportunistic bashing of the president. You just make yourselves look like racist fools and hate mongers, trying to scare people about boogeymen from the Far East when there's plenty right here at home. I'll tell you what, I grew up on the streets of Philadelphia, and the only thing that scares me in this country is you people, the staunchly resistant and anal-retentive Republican slice of the Congress. And the Democrats, forever timid and afraid to upset an imagined populace, demonstrate cowardice in their lack of energetic support of the president. All you people should be ashamed of yourselves, but I think you're beyond the reach of such provincial emotions.

John Boehner Flat Out Lies With Claim Obama Put American Lives at Risk With Bergdahl Swap

Boehner: Bowe Bergdahl Swap Could Put Americans in Jeopardy | The Wall Street Journal

---

Idaho's orgy of death continues unabated with its War on Wolves. Check out this infographic from Defenders of Wildlife:

War on Wolves Infographic

June 6, 2014

The difference between real philosophers like Hoffer, Emerson, and Sartre and those with merely an intelectual grasp of freedom is street sense. That's the dimension that allows for its full expression. One must feel comfortable and at home in the world. Openness connecting as self and acceptance of doing nothing are not givens.

You have to own yourself.

Without the visceral element of eros, without the physical medium of consciousness, there can be no true understanding of freedom.

May 28, 2014

"Monarch butterflies have habitat where you wouldn't expect it -- for instance, agricultural fields across the Midwest. But this habitat is in danger of being lost to a deadly new herbicide.

"The EPA is planning to approve a Dow Company herbicide that contains glyphosate, the active chemical in Roundup, and 2,4-D, a major component of the infamous Agent Orange toxin used in the Vietnam War. Wildlife habitat, plants and crops that haven't been genetically engineered to withstand this dangerous cocktail will be harmed.

"The increase in genetically engineered crops and herbicides in recent years has already reduced milkweed populations by 51 percent, and monarch populations have plummeted by 81 percent.

"The use of 2,4-D will also hurt threatened species like California red-legged frogs, Alameda whipsnakes and several types of salmon by destroying plants where these species live."
--- Center for Biological Diversity

---

"Americans have a special bond with horses. They helped build our nation, and they're not raised to be food because we don't eat them. So how is it that we could allow more than 150,000 U.S. horses to be sent abroad to slaughter every year?

"Make no mistake—any horse can wind up at a slaughterhouse: the patient Quarter Horse, the sleek Thoroughbred, the gorgeous Clydesdale. Every single horse in America is vulnerable—and just one bad sale away from the butcher's knife.

"The ASPCA is fighting this grisly industry on all fronts, but we can't do it without your help. Our immediate task is to block the resumption of U.S. horse slaughter. We made great progress last Thursday, when language to renew the ban on using tax dollars to fund horse meat inspections cleared its first hurdle by passing the Senate Appropriations Committee. But there's more work to do. The ASPCA is pushing for passage of the SAFE Act, a bill that will ban horse slaughter in all 50 states as well as ban export of our horses to other countries for slaughter."
--- Keep Horses Off the Killing Floor

May 26, 2014

Demagogue: A leader who obtains power by means of impassioned appeals to the emotions and prejudices of the populace.

Sound like anyone you know? Maybe lots of someones. Fear mongering has become tools of the trade for Republicans these days. What contempt they have for the American people.

May 22, 2014

I just watched this on Free Speech TV:

"Call Of Life: Facing the Mass Extinction" | Watch Free Documentary Online - 80 minutes | Culture Unplugged
"If current trends continue, scientists warn that within a few decades at least HALF of all plant and animal species on Earth will disappear forever. "Call of Life: Facing the Mass Extinction" is the first feature documentary to investigate the growing threat to Earth's life support systems from this unprecedented loss of biodiversity."

Check it out.

---

"A new GOP push to dramatically cut federal spending for summer school lunch programs comes after years of right-wing media misinformation about and attacks against funding for school lunch programs."

GOP Push To Cut School Lunch Funding Echoes Years Of Conservative Media Attacks
May 21, 2014 - Media Matters for America

May 14, 2014

The great State of Idaho is at it again:

"Ravens are among the most intelligent species on this planet. They are also among the only creatures who engage in play for the sheer joy of it. Juvenile ravens have been known to steal and cache shiny objects and slide down snowbanks on their backs. They have even been observed to make their own toys and to engage in games with other species. Ravens are also a federally protected species, yet the state of Idaho is planning on killing at least 4,000 of them over the next two years.

"The ravens are being culled in the name of conserving another species, the greater sage-grouse. Ravens are an opportunistic species and are known to occasionally prey on grouse eggs and chicks, yet predation ranks low on the list of threats to their survival. The greatest threat to the birds by far is loss of habitat, mostly due to residential building and energy development. Increased predation is the direct result of loss of ground cover and suitable habitat for sage-grouse nesting, yet while the ravens are sentenced to death for engaging in their natural behavior little is being done to restrict development and save grouses' native brushlands.

"The sage-grouse is currently on a conservation wait list. Federal officials will decide next year whether or not to officially list the bird as threatened. As a threatened species the grouse would be subject to federal protection, including limiting development on critical habitat. Because of this states like Idaho that have large historic populations of sage-grouse are rushing to increase their numbers in an attempt to limit federal regulation on their public lands. This is an irresponsible and misguided fix to a complex, fundamentally human problem."
--- Stop Wildlife Officials' Senseless Raven Killing

April 25, 2014

I would like to draw your attention to the following polls. The question asked was: "Do you approve or disapprove of the job the Republicans in Congress are doing in office?" Here are the results.

And according to a Gallup poll: No Improvement for Congress' Job Approval Rating | April 10, 2014

---

In the movie Elysium, with Matt Damon and Jodie Foster, the basic theme was that only the wealthy could afford state-of-the-art medical care because only they were considered citizens. Sounds very much like how Republicans want it to be which would be the case without the Affordable Care Act.

I don't know how many times I've seen the positively brilliant movie Avatar. Every time I watch it some new details are revealed. James Cameron created his very own category, a breathtaking and beautiful experiencce. The content tends to distract, necessarily, from the context which is mentioned briefly and only at the very beginning. Backed by an aggressive military, some obscure corporation seeking the improbably-named and prophetic mineral unobtainium is running the show, making the final decisions, launching the invasion. The movie is futuristic as is Elysium; however, where that movie is clearly a class allegory, Avatar tells the story of native Americans and their plight at the hands of invading Europeans seeking gold and land. But the point I'm trying to make is this: We have a corporation backed by mercenaries invading another planet with the intention of taking it over no matter the cost to life, but no mention of any Earth-side government.

In fact, it may not be too much of a stretch to imagine Pandora to be Iraq, unobtainium to be oil, and the corporation to be that of the oil industry. And who has backed them? Digressing somewhat, that's where the comparison ends, though. I don't believe the Iraquis are in touch with much of nature as native Americans are or at least were. People who feel close to, if not one with, the Earth and the natural order are far more tolerant--although not so much towards invaders--than those who believe in abstract notions of God. And because of the abstract character of their God, Iraquis are fragmented in their beliefs based on trivial differences. Moreover, it doesn't seem that the sanctity of life is very high on the Islamic agenda.

And what about the logging and mineral companies invading tribal lands and destroying villages and wild habitat in South America? And what about the Arctic National Wildlife Refuge? What about human beings ruthlessly going after whatever they feel they can't do without, must have, at the cost of some other people's lives and ways of life? What about the Chinese government uprooting tens of thousands of people from their ancestral villages and homes in order to build a dam? What about all this shit?

Would an alien race on a research anthropological tour of this sector of the galaxy even begin to consider contacting us? Don't you think they'd be wary, given our predilections, lest we visit their planet?

April 25, 2014

Night of the Living Dead
"A disturbing ritual in Holley, New York has surfaced in the media. Residents take part in an annual "Squirrel Slam," a fundraiser in which citizens kill as many squirrels as they can in order to "benefit" the local fire department. As if this isn't bizarre and gruesome enough, children are encouraged to take part and awards are given to those who kill the most squirrels. Fortunately, by supporting a bill that would ban senseless killing contests, we can help stop the event.

"Residents in the town of Holley take pride in squirrel hunting. One image shows children carrying the dead animals down the street, while adults stand by idly. Since squirrels are said to be a vital asset to forest regeneration, their removal would upset the local ecosystem and harm the growth of at least 10 species of trees. Estimates suggest that the Holley Squirrel Slam results in the death of over 2000 squirrels per year, thus deliberately damaging the environment.

"The animal rights organization Friends of Animals, along with state senator Tony Avella, who proposed the bill, are hoping to stop animal killing contests across the state of New York. Other senators have already jumped on board with the idea that senseless killing and destruction of wildlife is unacceptable."
-- End Gruesome Squirrel Slaughter

April 23, 2014

"The Thai Police have recently made a gruesome discovery in the forest alongside the Laos border. They uncovered hundreds upon hundreds of dog pelts in a pile next to dog bones. This horrific discovery sheds light on how big the dog leather trade really is. Many people are familiar with the dog meat trade, however, the dog leather industry may be just as shocking.

"Dog leather is used by factories to make everything from drums to golf gloves. Golf glove manufacturers especially value the skin from male dog testicles because the skin from that area has a softer quality. The demand for dog pelts appallingly works hand in hand with the dog meat trade. Many dog smugglers are drawn to Thailand due to its large population of stray dogs. Smugglers continue to sneak dog parts across the border from Thailand and Laos. If their attempts are successful, it is most likely that the dog pelts and meat would be transported to Vietnam or China, where the demand for dog parts is particularly strong.

"The entire ordeal for these dogs is extremely cruel from beginning to end. Usually the dogs would be skinned alive and have to endure an excruciating amount of pain before they die. It is an absolutely cruel and horrendous industry and it must be stopped as soon as possible. Sign this petition and urge the Prime Minister of Thailand to crack down on the smuggling and trade of dog parts."
-- Stop Killing Dogs for Leather in Thailand

April 21, 2014

Standing, left to right: Associate Justices Stephen G. Breyer, Clarence Thomas, Ruth Bader Ginsburg and Samuel Alito.
Seated, left to right: Associate Justices , Anthony M. Kennedy, John Paul Stevens, Chief Justice John Roberts,
Associate Justices Antonin Scalia and David H. Souter

"But when a long train of abuses and usurpations, pursuing invariably the same Object evinces a design to reduce them under absolute Despotism, it is their right, it is their duty, to throw off such Government, and to provide new Guards for their future security." -- Excerpt from the Declaration of Independence

April 20, 2014

"The Copenhagen Zoo in Denmark sparked anger all over the world in February when officials killed a healthy 18-month old giraffe. As if that didn't cause enough outrage, according to the New York Times, the zoo decided to euthanize four more animals in April. This time they killed four healthy lions to clear some space for a new male lion. The zoo's decision caused a huge public backlash with some even calling Copenhagen Zoo officials "murderers." The zoo defended the killing of the four lions by saying that they wanted to save genetic purity of the animals in their facilities. They were afraid that the new male lion would prey on the cubs and breed with one of the female lions that were his offspring, which would cause inbreeding."
-- Condemn Zoo for Killing Four Lions | Animal Petitions

---

"Three conservation groups recently initiated a lawsuit against the governor of Idaho and other state officials to halt trapping that illegally kills one of the rarest cats in the United States, the Canada lynx. According to The Center for Biological Diversity, the state of Idaho is enabling Endangered Species Act violations by permitting trapping that leads to incidental killing of lynx. Urge the Idaho Department of Fish and Game to develop a conservation plan that would help maintain the survival of these beautiful, threatened animals.

"Under the Endangered Species Act, trapping of lynx is illegal, even if the animal is released alive. Any agency that permits trapping is liable under the Act. Trapping permitted by the state of Idaho is pushing these animals toward extinction, which is a clear violation of the Act.

"The Canada lynx is a threatened species that numbers as few as one hundred in the state of Idaho. Recreational trapping poses great risk for the lynx living there. Although the intentional trapping of lynx is not permitted under Idaho law, increases in trapping licenses and fur prices, especially for bobcat, have resulted in incidental trapping of lynx. In the past two years, at least three lynx have been unintentionally caught by bobcat trappers."
-- Save Rare Lynx from Illegal Trapping | Animal Petitions

---

"Kentucky State Representative Joni Jenkins sponsored a bill in January called House Bill 222, with the intent to set strict standards for the use of euthanasia in animal shelters. Unfortunately, when the bill entered committee in the State Senate, things went awry. Language was added to the bill that would restrict or even ban animal rights advocates from entering farms and slaughterhouses to record animal abuse.

"Such legislation bans the use of hidden cameras to film abuses carried out on factory farms, and is a direct attack on animal rights organizations trying to stop and prevent animal rights violations. Bills including language like this are often referred to as "ag-gag bills." The addition of such a provision comes on the heels of many alleged instances of animal cruelty on Kentucky family farms, many reported here on ForceChange. Call on the Kentucky Senate to remove the "ag-gag" provision of the bill, and restore this important piece of legislation to Representative Jenkin's original intention of helping animals. Senator Paul Hornback, who leads the Kentucky Senate Agricultural Committee, has the power to remove all "ag-gag" language in this bill; call on him to do so today.

"The ability of animal rights groups to investigate factory farming operations and slaughter houses is crucial to preventing animal abuse. In the last few years, undercover operations have exposed animal cruelty in Kentucky and many other states time and time again. The American Society for the Prevention of Cruelty to Animals pointed out in a recent statement that while it is deplorable that big agribusiness is edging its way into legislation at all, it is especially tragic in the case of House Bill 222, which was originally meant to protect animals. The Kentucky Farm Bureau, a lobbyist group that represents not only small family farms but also large factory farm operations, unsurprisingly supports the bill."
-- Stop Law Meant to Keep Animal Abuse in the Dark | Animal Petitions

April 19, 2014

Four Horsemen Of The Apocalypse

John Boehner, Ted Cruz, Paul Ryan, Rand Paul

April 18, 2014

It not only depends on what news outlet you listen to, it depends on how closely you listen, the details. On the Jon Stewart show a representative of the State Department was being interviewed in one of their typically derisive question and answer segments. He stated at one point that President Putin was concerned that "neo-nazi terrorists were going to (oppress) ethnic Russians." It was intended to be absurd, of course, as we Americans are conditioned to believe that anything our former cold-war enemy says is nonsense and just pretense to justify military involvement in order to keep the country--Ukraine plus Crimea--from breaking away completely from Russian influence. But later on in the day during the David Pakman show on Free Speech TV the story came out that Jews in the town of Donetsk in eastern Ukraine are being told to "register" with the pro-Russian militants who have taken over a government office. How taking over an office puts them in charge of the country, or anything, for that matter, and in a position to dictate to any particular group is a testament to the fragmented and incoherent nature of Ukraine's current status. Sounds like intimidation, extortion and robbery by an armed gang of petty thugs--a shakedown--just like in Germany at the onset of the Nazi movement, only not so organized.

"Jews emerging from a synagogue say they were handed leaflets that ordered the city's Jews to provide a list of property they own and pay a registration fee "or else have their citizenship revoked, face deportation and see their assets confiscated," reported Ynet News, Israel's largest news website, and Ukraine's Donbass news agency."
--- Leaflet Tells Jews to Register in East Ukraine | April 17, 2014 - USA Today

At the bottom of this article was:

"Michael Salberg, director of the international affairs at the New York City-based Anti-Defamation League, said it's unclear whether the leaflets were issued by the pro-Russian leadership or a splinter group operating within the pro-Russian camp.

"But he said the Russian side has used the specter of anti-Semitism in a cynical manner. Russia and its allies in Ukraine have issued multiple stories about the threat posed to Jews by Ukraine's new pro-Western government in Kiev, Salberg said."

The emphasis is mine. Understand that Salsberg's point of view is as the spokeman for the Anti-Defamation League home-based in the U.S. of A.. Nonetheless, the point I'm trying to make is that, except for the allegation by western media sources that the people threatening the "ethnic group"--Jews--are Pro-Russian militants wanting Ukraine to be part of Russia, what Putin purportedly said turns out to be correct. That is, if we can believe what USA Today and other news media tell us insofar as their designation of just who these people are and what they represent--their agenda--as opposed to Putin's, their anti-Semitic actions are the same. The question then comes down to: whose side are they actually on? Perhaps they're just on their own side, like the Taliban, which would make President Putin's observation the more accurate one.

Ultimately, what is really going on there and who the main actors are and what they want has been so terribly muddled by global media through its divergent interests and perspectives, its slants and cultural biases, and by the obtuseness of the usual suspects in Congress whose knee-jerk and typical response to such provocations is to shoot first and clarify later, that the true state of affairs may never surface. The end result of such confusion is that someone attacks someone else in an effort to put a lid on the whole mess in the name of imposing order and justice, thereby usurping control. All that's needed is a rationale, an excuse, a trigger, even if the aggressor has to fabricate one out of thin air. We Americans are no strangers to that.

April 14, 2014

Republican War On Women
The Republicans in Congress and their Governor cohorts and city councils around the country have been working overtime to dismantle and undermine Roe v Wade; that should come as no news to anyone paying attention. Restrictions of the most ridiculous nature have been devised by these perverted, misogynistic assholes. In Texas they passed an ordinance or statute that places a minimal square footage on abortion clinics for reasons too obscure and clearly bogus to repeat. None of the clinics are able to comply, of course, the required footage was researched, so now they're all closed. Let me point out that these clinics don't just perform abortions, they also supply planned parenthood, contraceptive, and gynecological services to those unable to afford them.

They haven't focused soley on reproductive rights, a bill known as the IVAWA--International Violence Against Women Act--is being reintroduced to the House for the fourth time. The GOP has blocked it on its last three incarnations.

"I-VAWA would make preventative measures against gender-based violence a permanent addition to U.S. foreign policy. It would also seek to solidify and uniform research and reporting standards; strengthen prevention and response to violence; and nurture effective local organizations offering programs and services to women in matters of health, law, education, and other issues." -- Nina Strochlic - The Daily Beast

"It's a Republican-held Congress and they're dead set on shooting down anything we introduce," says Sabrina Singh, the Congresswoman's (Rep. Jan Schakowsky, a Democrat representing Illinois's 9th district who sponsored the bill last Fall) communications director. According to GovTrack.us it has a one percent chance of being enacted.

I feel like I'm on a boat that's slowly and jerkily being pushed back by the tide and wind, lots of wind. This right-wing almost fascist fervor and attitude of Republicans is nothing short of startling. They don't even try to hide with cleverness their determination to revoke womens rights and will to self-determination. Will the right to vote be next? Put forward by some southern reactionary as a means to curtail all possible threats from the left? The Voting Rights Act has already been seriously tampered with all through the south, so why not?

What I'm hoping for is what I refer to as "the rubberband effect." I've seen it happen in other social contexts. Easy victories in the beginning lead to larger, more arrogant steps, assertions. False confidence builds inspiring daring leaps of aspiration when suddenly--one goes too far, the limb breaks, the baloon pops, the rubberband snaps, kaplow, right in the kisser.

It's coming, the backlash, wait and see.

---

April 10, 2014

Idaho, Land of the Dead
Rich Americans fly to Africa to kill animals for the hell of it, to brag about--trophy hunters. We love it, it's in our genes, our heritage, the way we think. America is easily the most kill-crazy country in the world, and no state more exemplifies that than Idaho. Forget potatoes, it's kill wolves, all of them, adults, cubs, pregnant mothers, allll of them. The blood lust is upon them. No holds or methods are barred, shooting with assault rifles from helicopters, trapping, snaring, then shooting, poisoning, blowing up, whatever, they have the blessing of the government backing them up, all hell is breaking loose.

Goodbye wolves, you had your chance, we have to protect our livestock, even us folks what ain't got none, we're too stupid, selfish, and sociopathic to come up with another strategy, we're too dumb to figure out how to cooperate with wild animals, it hurts our brain, it's easier to just kill 'em. We need to boost the elk and deer populations for our sportsmen, there simply is not enough to go around. They're bad shots so they need lots of targets. It ain't like anybody eats wolf meat, you understand, no humans leastwise, it's not like we need to kill ya' to survive, no, it's all just for fun, git it?

Now get this: The Earth is our planet, ours, you see, and we intend to keep it that way even if we have to kill every last one of you sons of bitches!

---

"The feds just released the latest wolf kill numbers, and the news is heartbreaking: 1,131 wolves killed in Idaho since federal protection was removed in 2011. The state's population has plummeted by 42 percent since then. Otter's goal is to wipe out most wolves, until the entire state has only 10 packs left.

"The state's wolf population is in sharp decline for the first time since wolf-recovery efforts began in the 1980s.

"And it's going to get much, much worse if we don't stop Governor Butch Otter's atrocious plan to radically ramp up the killing.

"Idaho has wiped out half its breeding wolf packs in just two years, leaving only 20 now. Otter has pledged to wipe out another five packs and bring the state's total population down to a mere 150 animals.

"To pay for the slaughter he's taking $400,000 of taxpayer money and funneling it into his handpicked Wolf Depredation Control Board's funding. He's taken wolf management away from the state wildlife agency. He's expanded hunting areas and times, making killing a year-round sport in the northern half. And now he wants to give the livestock industry free rein to kill wolves whenever they want.

"And if those few remaining packs successfully raise families and grow? Otter's "wolf depredation control board" will spend taxpayer money on helicopters, guns, traps and sharpshooters to kill them and if Otter gets his way, there will be so few gray wolves left that the species will be threatened with extinction again."
-- Center for Biological Diversity

---

"Idaho has gone too far with their endless assaults on wolves.

"Less than five years after losing federal protection, it is clearer than ever that the state refuses to manage its wolf population responsibly.

"That's why today, Defenders of Wildlife officially requested that the U.S. Fish and Wildlife Service (FWS) immediately initiate a status review of wolves in the Northern Rockies and examine the relentless threats that this species has encountered since being stripped of Endangered Species Act protection back in 2011.

"Instead of managing their wolves like other wildlife, the state of Idaho has declared war on them.

"In the less than three years since Congress stripped Idaho's wolves of protection, the state has:

Used aerial gunning to wipe out entire packs, including those on national forest lands, to artificially boost elk populations;

Allowed hunting of wolves every day of the year;

Doubled the number of wolves that could be trapped or snared from five to ten;

Sent a professional trapper to eliminate two packs of wolves in a federal wilderness area;

Has proposed killing 60 percent of the remaining wolves in the Frank Church Wilderness; and

Recently passed HB470 into law setting aside an annual amount of $400,000 for the sole purpose of killing as many wolves as possible.

"The Governor of Idaho has made no secret of his intention to reduce the state's wolf population to 150 animals or less – which would require initially killing more than 450 wolves and their young as more are born."
-- Defenders of Wildlife

---

Nearby where I live is a small lake. A handful of locals use it in the summer to wade and swim in. Last year they complained, some of them, about the goose droppings in the water, seemed it bothered their otherwise perfect enjoyment. Consequently, the Fish and Game authorities went there and killed all the geese, 60 of them.

Up the road from me lived a beaver and his family. As beavers do, they constructed a dam and built a house in the middle of the pond that resulted. It rains a lot here in the spring. After an especially long downpour that lasted several days, the pond flooded over and covered the roadway, not much, just an inch perhaps. The people who lived up that way, not many to be sure as a mile further is the entrance to the Olympic National Forest, complained about it. They could've waited until the sun came out and the water subsided, it wasn't going to be a permanent fixture and they were never in any danger of having their vehicles washed off the road. Nonetheless, the authorities came out and killed the beaver family--male, female and two cubs I saw on one occasion--and broke up the dam.

This is the American way, how we deal with wildlife. Someone complains or might complain or is temporarily inconvenienced and the culpable creatures are killed fortwith; no tolerance or attempt to work out some strategy that's mutually beneficial is considered. And the authorities, Fish and Game or Fish and Wildlife, are very obliging and quick to respond the only way they know how.

April 9, 2014

"Rep. Paul Ryan "the Republicans' self-appointed policy wonk" is out with a new plan to cut ... well, pretty much everything: Head Start, Medicaid, food stamps, low-income housing, energy assistance, job training, education, veterans programs ... basically finding every way possible to cut from programs that help hardworking Americans in order to give more money to special interests.

"Just one problem, though. He cherry-picked data from various academic and governmental studies to make his numbers work and the economists whose work he's misrepresenting are not happy about it.

"Simply put: Paul Ryan is a fraud who can't balance a spreadsheet."
-- The Daily Kos

April 8, 2014

"Oil companies are continuing to seek permits that would allow them to explore for oil in Africa's oldest national park, Virunga. This national park is also the home range of more than half of the world's mountain gorillas, a critically endangered species whose survival would be seriously threatened if it were to lose a large portion of its habitat. Despite the fact that Virunga is a protected UNESCO World Heritage Site, the Democratic Republic of Congo (DRC) has considered revoking the national park's protected status, therefore becoming "degazetted"ť and making it legal for oil companies to drill in the area.

"Not only is Virunga National Park home to a majority of the mountain gorillas currently living in the wild, but it is also the home of several other endangered species including chimpanzees, forest elephants, and hippos. The incredibly rare forest giraffe, Okapi, resides in Virunga National Park exclusively. Allowing oil companies to search and drill for oil in this beautiful landscape would further threaten the survival of these rare creatures.

"By signing this petition, you will be asking U.S. government officials to urge the DRC government to abandon its plans to degazette Virunga National Park to allow oil development, revoke all previously issued permits to explore for oil in the park, and permanently declare all of DRC's protected areas and national parks off-limits to oil companies."
-- Save National Park from Oil Drilling

When Big Oil says jump, these corrupt governments hold out their hands and ask, "How high?"

April 5, 2014

As we enter the Golden Age of Corporate Oligarchy (Corporatocracy), let's take a moment to look back at how it came to be.

President Eisenhower warned of the Military Industrial Complex, but no one took heed. Through the seventies and especially the eighties multinational corporations, led by Big Oil, invested heavily in every developing country in the world, making deals with the ruling governments. They superceded restrictions placed on mere sovereign nation-states and had the backing of the World Bank, the International Monetary Fund, and the Asian Development Fund. These institutions offered large sums of money to countries in desperate need with conditions that demanded the elimination of local village and community access to clean water and agricultural necessities--seeds, fertilizer, pesticides, and herbicides--in compliance with the business interests of those multinationals concerned.

In general, today the peoples of these countries have thus become dependent, to a great extent, for their survival on the multinationals who, in a very real sense, exert a controling influence on the cultures of these societies, undermining their previously traditional sustainable and independent life-supporting practices.

Any and all pretense to legitimate democracies, military juntas, communist dictatorships, and local political regimes has been supplanted by an entrenched infrastructure regulated by the complex of corporate banking interests in collusion with and supported by a corrupt governing body.

Welcome to the New World Order.

---

A body that is granted a charter recognizing it as a separate legal entity having its own rights, privileges, and liabilities distinct from those of its members.

(Law) a group of people authorized by law to act as a legal personality and having its own powers, duties, and liabilities.
---
Recently--April 15--the following report/analysis came across my desk so to speak:
---
Two documentaries that will shed more light on the global situation are:
"The World According to Monsanto" | 108 minutes - Top Documentary Films
"There's nothing they are leaving untouched: the mustard, the okra, the bringe oil, the rice, the cauliflower. Once they have established the norm: that seed can be owned as their property, royalties can be collected. We will depend on them for every seed we grow of every crop we grow. If they control seed, they control food, they know it – it's strategic. It's more powerful than bombs. It's more powerful than guns.

"This is the best way to control the populations of the world.

"Thanks to these intimate links between Monsanto and government agencies, the US adopted GE foods and crops without proper testing, without consumer labeling and in spite of serious questions hanging over their safety. Not coincidentally, Monsanto supplies 90 percent of the GE seeds used by the US market."

Watch Free Online -- "Flow: For Love of Water" | 93 minutes - Top Documentary Films
"Irena Salina's award-winning documentary investigation into what experts label the most important political and environmental issue of the 21st Century - The World Water Crisis. Salina builds a case against the growing privatization of the world's dwindling fresh water supply with an unflinching focus on politics, pollution, human rights, and the emergence of a domineering world water cartel."
---
---
April 4, 2014
---
Move to Amend
On January 21, 2010, with its ruling in Citizens United v. Federal Election Commission, the Supreme Court ruled that corporations are persons, entitled by the U.S. Constitution to buy elections and run our government. Human beings are people; corporations are legal fictions.
Recommended Documentaries
"We suggest the following films as great educational resources on corporate power (many additional films are also listed on the website Films for Action)." Their tag line is: Films For Action Presents: The Top 100 Documentaries Inspiring the Shift to a Sustainable Paradigm
Videos | Move to Amend
Corrosive Influence of Big Money | Occupy Natick
Robert Francis Kennedy, Jr. said, "Today, more than ever, it is critical for American citizens to understand the difference between the free-market capitalism that made our country great and the corporate cronyism that is now corrupting our political process, strangling democracy and devouring our national treasures."
CPI: Center for Public Integrity | Investigative Journalism
A non-profit public interest group based in Washington, D.C.
Campaign finance reform | Wikipedia
---
"A recent undercover investigation by The British Union for the Abolition of Vivisection (BUAV) has revealed that puppies are being tortured and killed for vaccine research at MSD Animal Health, which is owned by the pharmaceutical company Merck, Sharp and Dohme. Modern technologies have made this type of testing unnecessary. It is time to stop the senseless killing of animals.
"During an eight-month period, a BUAV investigator, who was posing as an employee, witnessed 92 beagle puppies, 10 adult nursing female beagles, at least 15 kittens, and an unknown number of rabbits, calves, and chickens killed at the MSD Animal Health facility which is located in Cambridgeshire, England. Some of the puppies were as young as four weeks old when they were repeatedly injected with vaccines in the name of research. When they were deemed no longer useful, many of the adult dogs were killed without any attempt to find them a loving home.
"The BUAV investigator captured disturbing video footage of puppies thrashing and squealing as they try to prevent being injected with a lethal does of medicine. After the puppies are killed, their small bodies are ripped open and their organs are examined. Shockingly, MSD Animal Health are not breaking any laws with their cruel research, but alternative techniques like cell bacteria analysis would provide ample information without killing innocent animals. BUAV's spokeswoman Sarah Kite says, "We do not believe that the company or the wider research community are doing enough to use alternative approaches to animal testing in the development of animal vaccines.""
-- Stop Killing Puppies for Vaccine Testing
April 3, 2014
The Chariman of the House Budget Committee, Republican Paul Ryan, recently released his master plan for balancing the budget by 2024. His intention is to increase defense spending and cut corporate taxes, even though most corporations don't pay what they owe now and some don't pay anything, subsidized as they are by federal money, cut Medicare, food stamps, college loans, and repeal the Affordable Care Act as a sideshow, everything and anything that helps those most vulnerable in today's economy. He is a mouth-piece for the wealthy, corporate interests, and the military-industrial complex and doesn't even try to hide it. And he's just the spokeman for that mentality, for the Republican war on poor people.
And yet, and yet, those very same people who are and would be most affected by entitlement and program cuts still get out there and vote for them. It's mindboggling. Could it be some variant on the Stockholm Syndrome? Could they be under some kind of spell? Even though they're made to feel inferior and accused of being lazy and unamerican, they still vote those bastards into office. If some Republican congressman says he's a Christian opposed to gay marriage and for gun rights, that's enough. Issues close to the heart of evangelists, homophobes, and second amendment fanatics are so important that being knocked into the mud and held there while simultaneously raising up the rich and powerful is a small price to pay if it means voting those people into office who will work tirelessly to support what real America is all about, misunderstood and opposite to the truth as that may be. And it's not as though they, the politicians, are being clandestine about it. No, they're far too arrogant and sure of the gullibility and ignorance of their audience who, as a matter of pride, accept gross inequities and being the victims of corporate and financial-market fraud as God's will and a cross to bear that will be rewarded in heaven.
Regardless of what the Party wants to do and has done to make their lives more difficult if not impossible, having the right core value attributes appears to be sufficient to warrant their vote. What insanity. How unbeleivable. The right-wing fascist movement in Germany in the '30s used the same kind of tactics, began with the same sort of mentality, easily manipulated with lies and propaganda. It's a human thing, and we the people of democratic freedoms are not immune.
-- Ryan's Budget Would Cut 5 Trillion in Spending Over a Decade | April 1, 2014 - New York Times
---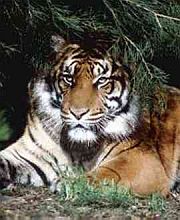 "Siberian Tigers are the rarest breed of tiger on our planet and right now illegal logging is putting their future in jeopardy. Only 400 to 500 Siberian tigers are left in the wild, living throughout the vast forests of the Russian Far East, the only place they call home and the origin of millions of square feet of illegally logged hardwoods used right here, in the United States. Not only does illegal logging damage the environment, it disrupts our climate, hurts communities, and threatens American jobs.
"A landmark law called the Lacey Act helps the United States combat trafficking in illegal wood products and penalizes those who import illegally harvested wood products and wildlife. It is imperative that the Lacey Act continue to be enforced and strengthened."
-- Save Wildlife and their Habitats from Deforestation! -- Protect the Lacey Act
April 2, 2014
"Two Texas teenagers were recently arrested after they admitted kidnapping, skinning and murdering neighborhood pets. Local police had been investigating the sudden disappearance of an eight-year-old rescue dog named Camo after rumors began spreading that the beloved pet had been kidnapped by cult members for a satanic ritual. Authorities eventually found Camo dead, hanging from a tree. The poor animal had been skinned and was reportedly missing several internal organs. Investigators believe that Camo endured severe abuse and torture before he was likely sacrificed in a cult-style manner.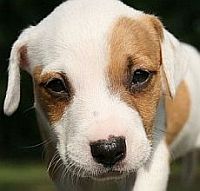 "The teenagers, 17-year-old Mark Ainsworth and 18-year-old Delaney Walters, reportedly admitted to kidnapping Camo and killing him during their satanic ritual. They also admitted to stealing, torturing and murdering a cat and three kittens. After their confessions, police also discovered evidence of these disgusting crimes, as Ainsworth and Walters took photos and videos throughout their cruel rituals."
-- Condemn Teens for Torturing and Murdering Neighborhood Pets | Animal Petitions
---
"Right now, politicians in Alabama are considering the most extreme and restrictive abortion ban in the country. And if that wasn't bad enough, this bill, which would ban abortion at just six weeks of pregnancy, is just one part of a sweeping package of bills aimed at restricting a woman's personal medical decisions.
"If it becomes law, the proposed six week ban would become the earliest and most extreme abortion ban in the country, with no exceptions for cases of rape and incest. If passed, this bill would essentially ban all abortions in the state of Alabama. Unfortunately, these politicians aren't the first to try it. Just last year a federal judge blocked a similar ban passed in North Dakota because it was blatantly unconstitutional. It's clear these attacks will not be stopping any time soon. It's important we show that we are watching and taking action."
-- Pledge to Fight the Most Extreme Abortion Ban in the Country
April 1, 2014
---
War on Voting Rights
---
Albuquerque Police Out of Control
---
War on Wolves in Idaho
"Idaho Governor Butch Otter just signed a death warrant for 500 more wolves. And he's going to divert $400,000 of taxpayer money to kill them. If Otter gets his way, there will be so few gray wolves left that the species will be threatened with extinction again.
- He lengthened the regular hunting season in much of the state and made killing a year-round sport in the northern half.
- He took wolf management away from the state wildlife agency and turned it over to a handpicked "wolf depredation control board" entirely made up of anti-wolf hunters and ranchers.
"Idaho has already killed more than 970 wolves since federal protections were stripped away by rightwing congressmen in 2011. The state's population has plummeted by 42 percent since then. Otter's goal is to wipe out most wolves, until the entire state has only 10 packs left."
-- Center for Biological Diversity
---
The following are from Animal Petitions:
"Tiger slaughters have been a problem in China for nearly a century, but over the last few years it has become a symbol of stature for wealthy businessmen to not only have tigers slaughtered for their meat and bones, but also to be able to witness the slaughter as a form of entertainment.

"More than ten tigers have been killed in the last five years solely for the purpose of entertaining officials and wealthy business people who gather to watch in order to show off their social stature. These events are described as "visual feasts." Police in the city of Zhanjiang recently discovered a freshly slaughtered tiger and other tiger products in a raid. A video taken two years ago shows a tiger in a cage having an electrified mass forced into its mouth with stick. After being electrocuted for more than ten seconds, the tiger finally collapses."
-- Stop Slaughtering Tigers for Entertainment
---
"The worst case of animal abuse documented in the United States took place at an unlicensed slaughterhouse in Florida where drug dealer and owner, Raul Fernandez, shot, stabbed, beat and boiled animals alive — all for the sake of a profit.

"Visited by undercover members of the Miami police and Animal Recovery Mission, the illegal, unlicensed slaughterhouse quickly transformed into a house of horrors as a cameraman inquired about purchasing a whole pig. Intrigued, a member of Fernandez's staff set out to find the perfect hog, where the obscenities were filmed on a hidden camera. One butcher is caught shooting a wild boar in the head and dragging it 150 feet to its fate with a metal hook through its jaw. Another worker beats a screaming pig with a mallet before stabbing it. Lastly, a helpless goat has its neck sliced and blood drained while wooden slabs are attached to its legs in preparation for a dunk into a vat of boiling water."
-- Reprimand Slaughterhouse for Atrocious Animal Abuse
---
"An officer from the Filer Police Department in Idaho recently shot a dog to death at a young boy's birthday party. According to news reports, Officer Tarek Hassani was called on duty to a home, based on reports that dogs were running loose around a neighborhood. The owner of the black labrador that was shot believed that the situation could have been handled differently, because his dog was not violent or aggressive. The officer shot the dog only yards away from the children's party. He could have easily harmed not only the dog, but also the children nearby."
-- Punish Police Officer for Shooting Dog
March 31, 2014
Excerpts from email:

"The Exxon Valdez oil tanker spilled off the coast of Alaska 25 years ago this month, coating the waters and shores of Prince William Sound with nearly 11 million gallons of oil and killing hundreds of thousands of sea animals. The local killer whales, sea birds, and other wildlife populations are still seeking recovery from the toxic spill. Today we risk a disaster of equal or greater proportions as oil companies clamor to drill U.S. Arctic Ocean."
-- 25 Years Later: Why Alaska Can't Afford Another Exxon Valdez
In 1989 I was briefly involved with the cleanup effort. I was helping a guy I knew in Cordova, where I was living at the time--the spill killed my fishing season--out in the southwest sector of Prince William Sound around Latouche Island and Knight's Passage. We were babysitting an oil skimmer, no big deal for large sums of money. The currents at tide shifts are brutal in that area. They speed up when passing through the narrow channels separating islands. If your boat can't exceed 12 knots or so, you could find yourself in big trouble. Anyway, the work was a joke. Dozens of men spraying a ruined beach, hopelessly, the oil was sludge, once you got it on your fingers you had to use this citrous juice stuff to get it off. So imagine what it did to birds and otters. They'd clean one beach, move off, then later come back to the first beach. It was money thrown away for appearances sake. I remember one day, we were tied up next to the Cape Douglas, a 120 foot sludge container, when a man from Exxon came into the cabin on the Douglas where we were watching a movie and said to look busy because some News televison channel was going to fly over in a helicopter some time that day. It was all bullshit and after about a month, I quit to go herring tendering in the north Bering sea, the Togiak opener.
The sludge on those beaches has never been even slightly removed, it's just buried by the relentless tidal comings and goings. I remember all the Orcas, Gray whales and countless dolphins that used to run beside the bow in their playfulness that once lived in the Sound and were exhilarating to see and be around. They all moved out after the spill along with the seals from Columbia Bay and up to 1994 when I left Cordova I never saw any or heard of anyone else seeing them again.
Incidently, I recollect that Exxon made record profits that quarter; they passed the enormous cost of the cleanup and subsequent settlements on to the consumer.
---
"Oceana has published a new report exposing nine of the dirtiest fisheries in the U.S. These fisheries combined throw away almost half of what they catch and are responsible for killing thousands of dolphins, whales, and sea turtles each year. Oceana is calling on the federal government to clean up these dirty fisheries to protect marine wildlife and reduce wasted catch.

"The Bureau of Ocean Energy Management has released their final Environmental Impact Statement on seismic airgun blasting, taking another step forward to releasing these blasts in the Atlantic. Oceana CEO Andy Sharpless and actress Kate Mara penned an editorial for the Huffington Post explaining how seismic airguns will harm marine wildlife and coastal economies."
-- Seismic Airguns Threaten the Atlantic.
March 29, 2014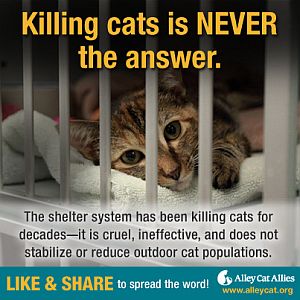 March 28, 2014
The following are excerpts from some of the daily email I receive:
"Animal advocates and lawmakers in New York are working to make sure barbaric wildlife killing contests like Palenville's Crow Down and Holley's Squirrel Slam never take place again. Opponents continue to raise concerns over the cruelty inherent in these contests and the dangerous, indifferent, attitudes they promote towards wildlife especially when it comes to what they teach children about the species we share our landscapes with. Species who are considered pests are often targeted in these contests, but the so-called hunters who continue to support them are completely ignoring not just the role their targets play in the environment, but their inherent value."

"The National Rifle Association has mounted an outrageous campaign to torpedo President Obama's nomination of an outstanding young doctor, Dr. Vivek Murthy, to be the next surgeon general of the United States because he has acknowledged in the past that gun violence is a public health problem. The sad part is, the NRA's campaign is causing some nervous Democrats whose votes may be needed for Senate confirmation to consider breaking with the president to bolster their own chances for re-election in states where the gun lobby is powerful. President Obama has the constitutional right to name his executive team. There is nothing in Dr. Murthy's background to suggest he would violate his pledge not to use the office to advocate for gun control."

"This fact should be making headlines: An extra 50 million people will be at risk of hunger by 2050 due to climate change. And the world's poorest countries are least prepared and at greatest risk."

"The D.C. City Council adopted a measure that removes criminal penalties for possession of up to one ounce of marijuana for adults and replaces them with a civil fine of $25."

"A bill to decriminalize marijuana possession is moving forward in Maryland. Earlier this month, the Senate approved a bill that would remove criminal penalties for possession of up to 10 grams of marijuana and replace them with a civil fine."

"At a highly emotional news conference this week, mothers of children with epilepsy slammed Gov. Mark Dayton for continuing to block a widely supported medical marijuana bill."

"Idaho's governor signed a virtual death warrant for hundreds of the state's wolves. The new law, HB470, establishes a $400,000 special fund, the sole purpose of which is killing as many wolves as possible. It is part of a broader effort by wolf-haters to reduce Idaho's wolf population down to 150 animals – which means killing more than 450 wolves."

"The sweeping anti-choice law that closed a third of Texas abortion clinics on October 31, 2013, will continue to devastate women's lives and deny them their constitutional rights. Many of those clinics remain inoperable, and each new day that they can't serve patients increases the likelihood they will never reopen their doors. The bottom line: millions of women in Texas live nowhere near an abortion provider."

"Well-known oil company Exxon-Mobil recently revealed its plans to pump toxic tar sands oil through pipelines along the East coast of the United States. These deadly substances would travel through a 63-year-old pipeline, which runs through a sensitive moose habitat. Since moose feed on aquatic plants in lakes, rivers, and wetlands—often submerging themselves underwater to reach vegetation beneath the surface—a tar sands oil spill in their habitat would have a devastating effect on their already threatened survival."

"The state of Oregon has granted three of the four permits that would allow Ambre Energy to build a coal-export terminal on the Columbia River and ship coal from Montana to Asia.

"I'll bet you've noticed coal and oil trains in the news lately. Every week there's another derailment, spill, or explosion around the country. Did you know that out-of-state energy corporations want to dramatically expand transport of these toxic substances to ports on Puget Sound? They plan to ship oil and coal to refineries along the West Coast and to power plants in Asia to be burned, polluting the air, and changing global climate."

"The Copenhagen Zoo recently euthanized four healthy lions, two adults and two cubs, to make room for a new male lion. This is the same zoo that killed a healthy 18-month old giraffe earlier this year to prevent inbreeding rather than finding it a home with another zoo or sanctuary. As with the giraffe, the zoo said it failed to find a new home for the lions."

"The Kane County Animal Control volunteers have been keeping a close eye on a Hampshire farm petting zoo in the state of Illinois because they have not kept up with their animal health guidelines. Because the farm has not been keeping up with strict county regulations, the county animal control team obtained a search warrant to see if what they were told by people who visited the farm have been true. Sadly enough, the authorities found the animals at the farm in horrid conditions and they needed to be removed immediately. The animal control team were told by the local residents that there were deceased animals on the property, and that is when the investigation into the farm started. During the investigation they discovered a number of dead horses, along with dead chickens, llamas, goats, rabbits, and many more. This is a huge discovery since there were over 90 known living animals on the farm. Authorities took over and had the surviving animals checked by a local veterinarian."

"The geese population at South Gate Pond in Ocean Pines, Maryland has become a major concern for environmental groups and local residents. The Environmental and Natural Assets committee determined that goose waste in this area harms water quality and that the geese create traffic problems. The committee determined that the best way to deal with these problems is to simply kill the geese."

"Animal sanctuaries are meant to keep animals safe, healthy and happy. Unfortunately for the animals that end up at some 'sanctuaries,' such as the Barry R. Kirshner Wildlife Foundation in California, this is not always the case. Former volunteers at the Kirshner Wildlife Foundation have recently come forward to report animal abuse, neglect, and deaths. The sanctuary owner, Roberta Kirshner, has been accused of failing to treat sick and injured animals to the point that many animals died, as well as inflicting (and instructing volunteers to inflict) injuries on the animals."

"The recent deaths of two chimpanzees and three birds have led to what is at least the fourth United States Department of Agriculture (USDA) investigation of the G. W. Exotic Animal Park in Wynnewood, Oklahoma. The park has had a long history of unexplained deaths and many of its prior investigations are still ongoing."
March 22, 2014
Besides the Ukranian insurrection, the Syrian indiscriminate killings and mass migrations of the populace, and the Iranian leader questioning the historical validity of the Holocaust: "The Holocaust is an event whose reality remains uncertain and, if it happened, it's uncertain how it happened." -- Ali Khamenei, Iran's Supreme Leader, here on the homefront this past month's been one of empty Congressional inaction (how unusual!) -- automatically refusing to confirm any of the President's nominees for the most ridiculous and irrelevant of reasons.
Sarah Palin, Paul Ryan, and Rand Paul continue to amaze. Not by what they have to say, mind you, but that anyone cares what they have to say.
February 22, 2014
Senator Ted Cruz--you remember him: Republican, Texan, irrational, anal-retentive, leader of the Tea Partiers--was awarded Statesman of the Year in Florida. One must consider the source; after all, this is the state that brought us the Bush/Gore fiasco. Now, Benjamin Franklin and Thomas Paine were not only members of our Founding Fathers but could also be considered statesmen in the true world-stage sense of the word. Would anyone with the slightest shred of common sense consider madman Cruz to be of the same caliber as they?
We accord praise to the most worthless and undeserving of government actors these days. Have we been so vulgarized by what passes for honest values and genuine character that we bestow unwarranted compliments to just anybody with the biggest mouth or most extreme opinon and willingness to act uncaring of others? Cruz stands out, but is self-righteous, ostentatious behavior a sufficient criterion for respect? On second thought, perhaps I go too far, give him too much credit, calling him righteous. His actions are more like those of a spoiled shallow child who's learned that saying no and whining will get the most attention. He's an entertainer, nothing more, and not a very enjoyable one at that.
So we hand out Statesman of the Year awards the way we hand out others of the many entertainment awards. However, the ones with which we're familiar are intended for those who excel in one field or another; except for being a fool and an obstructionist, I don't think Cruz qualifies in any, certainly not as a statesman or even a responsible adult in a position to do something helpful and worthwhile for the people of this country.
If Cruz were considered to be sincere he would also have to be deemed a sociopath, out of touch with reality. An oxymoron to be sure but Congress is riddled with contradictory personalities; hence the gridlock and inability to perform the service for which they were hired.
I'll bet the room of shouting Cruz enthusiasts smelled of greasy chicken and redneck sweat. I can just see it, I've been there.
February 7, 2014
It's a testament to the deplorable state of mainstream media with its sensationalism, slanted editorializing, and preoccupation with trivia, gossip, and distractions that the venues exposing the bull and hypocracy forever in the air can be found only on Jon Stewart's The Daily Show and Stephen Colbert's Report. Otherwise, you have independent and participatory news sources like Free Speech TV [Democracy Now!], Link TV, PIVOT, and RT, all of which have their own websites, as you can see. Also, looking at what's happening around the world from the perspective of foreign news sources, like Al Jazeera, gives not only a broader and more detailed view, coming from people who live in these areas, but also lets we Americans see what's happening here from a point of view we might find surprising and humbling, a picture our localized news outlets avoid.
I would also like to point out that we're living in a country where the most popular televison program is The Walking Dead.
God help us.
February 2, 2014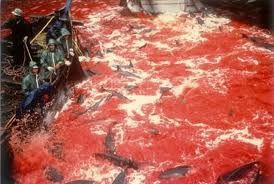 This is said from outrage and sadness, not hatred. The Japanese people, that offshoot of humanity responsible for the atrocities in Nanking, China in 1937 and the Bataan Death March, are about to hold their annual dolphin-eating festival. That's right, I said dolphin, as in intelligent, sociable, playful mammals capable of communicating with one another through a bona-fide language. There is something terribly wrong with those people. They give credence to the understanding of evolution that when a population of a given species is separated and isolated for whatever reasons from the main mass for a long enough time, they evlove into a completely different species. I believe it's the case with the Japanese. How else to explain their complete lack of empathy and refusal to accept the common humane principles the rest of the world lives by?
---
Condemn Japanese Prime Minister for Defending Dolphin Slaughter | February 2, 2014 - Animal Petitions
Pod of captive dolphins killed one-by-one in Japanese bloodbath festival as Yoko Ono pleads with cruel hunters to stop | January 20, 2014 - Daily Mail Online
250+ Bottlenose Dolphins Captured & Held Overnight In The Cove; Captive Selection & Slaughter At ~ 1 Pm PT Today | January 17, 2014
January 27, 2014
Democracy Now!
North Carolina: Battleground State | VIDEO (46 minutes) - January 3, 2014 - Bill Moyers Home Page
Big money has moved North Carolina far to the right politically but citizen protesters are fighting back against "extremist policies." See why the conflict unfolding in North Carolina could be a testing ground for what's to come in every state.
State of Conflict: Bill Moyers on North Carolina's Right-Wing Takeover and the Citizens Fighting Back | Video - YouTube
Here is the entire Bill Moyers doc on N.C. that UNC-TV tried to bury | Video - The Clog
January 20, 2014
Since humans first established villages, towns, communities, we've been embroiled in conflicts, both inner, between various factions, and outer, between the townsfolk and the raiding barbarians; conflicts and wars between the Shias and the Sunnis, the Muslems and the Christians, the invading Europeans and the indigenous peoples of the Americas, between the Romans, Mongols, Germans and everybody who isn't, between the invading aliens and earthlings, the list is endless. Wars between the ups and the downs, the befores and the afters, the haves and the have-nots. It's a mindset, inculcated and ingrained, practically hardwired into our brain, a language we speak to ourselves. This aggressive mentality comes from somewhere, an unfortunate derivative of what our species nurtured and needed to possess at the very beginning of our time, a natural species imperative to survive with which we have an ancestral bond. Our sports embody it; our personal relationships employ it; our refusal to suppress it validates it. Its guilt-free expression in certain predefined contexts reinforces its intrinsic nature.
Aggression justifies counter-aggression as a response to tyranny or attack; that's completely acceptable. It's the predisposition to address potentially dangerous situations with aggression, triggered into action by a subjective perception of the intolerable, that's the problem. Without reflection we believe it to be the innate and necessary driving force that maintains our way of life, has been and always will be. We are at war with nature, with the Earth, with the universe at large, fearing asteroid collisions, cosmic radiation, black holes, and alien invasions; we're ready to take on all-comers and we see them everywhere--threats. It's a point of view and an attitude. Can it ever change? Is it too late to do anything about it? Is the eventual and inevitable end self-destruction on a global scale?
Our leaders are no less affected and afflicted. Change can come about only incrementally, nothing grand is likely to happen, no new inner structure is liable to overthrow the old within our psyche, inspire new genes to manifest. There will be no sudden shift as with the magnetic field of the Earth, no abrupt about-face with a new attitude slowly and methodically instilled from the start, from birth. Hatred and the propensity for conflict is handed down, passed along as hereditary legacy from one generation to the next as though the most sacred truth to be treated with the utmost respect--dogma. Common sense and the lessons of history are our only hope to correct what has gone before.
To whit and of a practical consideration: sanctions proposed and imposed on Iran can serve only to cause suffering to its people and justify anger and hatred towards the United States. The weak-minded on both sides are ready to fight. This cannot be, this can be avoided. We need to change the way we do business and get away from old habits of ten thousand years duration. Iran is not going to attack us, so what our Congress proposes looks like bullying, and it is, what else can you call it?
Below are relevant links:
Imposing more sanctions on Iran would not just trash nuclear talks, it would hurt Iranian reformers | January 14, 2014 - The Daily Kos
US to Begin Easing Economic Sanctions on Iran | January 20, 2014 - ABC News
January 14, 2014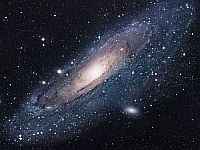 Long ago in the Andromeda galaxy on the planet Xulcatur close to the central black hole a cave serpent dutifully tended her eggs. After they hatched and grew to maturity, they crawled to the nearby village. Now this was a magical planet filled with magical beings who could take whatever form they chose. The residents of this village were humanoid and in order to move about freely, the serpents morphed to appear like them. They attended school and chose paths dependent on their inclinations. In time and seeking adventure, they enlisted in the Galactic Explorers and after training were sent along on a distant voyage to the nearest galaxy, ours, the Mily Way, although they didn't call it that.
To make a long story short, they canvassed one star system after another looking for intelligent life. They found several. They measured, assessed, analyzed, and filed away their reports. Eventually, they came upon our system and discovered Earth. Because it appeared simlar to their own, they were intrigued. Could this be another magical planet, they wondered? They decided to investigate and so landed in an obscure area to hide their ship. As they were capable of manipulating time--that's how they could traverse such vast distances quickly--they had plenty of it. Accordingly, they chose to spend some living amongst the strange inhabitants--as they saw us--in order to collect a detailed study, the first of its kind. Unfortunately, from their perspective, they were disappointed to learn that the dominant intelligent beings could not transform externally, but all was not forsaken, however, for they discovered that these beings--us--could change identities from within to suit their purposes, a feat they couldn't do. Indeed, it was a magical planet after all, only in a curiously different way.
They transited to our time and morphed further to appear human. Besides being explorers for the homeworld, these were mischievous creatures--serpents, remember--and so decided it would be fun to affect the course of events in a less than friendly way. They didn't care, they weren't from here. They readily saw that control was held by the wealthy, but to become such took work and a considerable amount of luck, although they didn't call it that. Instead they chose a political life in a country called the United States. They didn't have to do any actual work and the wealthy catered to them as people who could intercede on their behalf in their dealings with the government. Being serpents at heart they were naturally drawn to the Republican Party. As a group they climbed the political ladder and were elected to Congress, eventually forming a faction within that party. After studying American history, they decided it would be clever to choose a name for themselves that conjured up heroism and a sense of rebeliousness against established rule in the minds of Americans. To whit, they called themselves the Tea Party Conservatives. Periodically, they meet in a private secure location to commemorate their origins as snakes from Xulcatur and to slither around in the grass as a ritual of remembrance, their true nature never to be compromised. And thus a political group dedicated to undermining the quality of life of ordinary citizens and the functionality of government was born.
January 12, 2014
I am not paranoid, really, nor am I one of the many conspiracy-minded folks we seem to run into occasionally, people we know. Some people seem to think they're smart because they believe in conspiracies--nobody's gonna pull the wool over their eyes. I know people who are convinced the moon landings--all six of them--were faked. People who are convinced our intelligence apparatus orchestrated the World Trade Center attacks. People who believe climate change warnings are a big hoax; why anyone, scientists, would do that is a mystery, but conspiracy freaks don't need a reason, they allow for an agenda beneath the surface, an ulterior motive that has to do with controlling some facet of our lives. I don't know. Nonetheless, I can't help but think there's a conspiracy going on with Congress, specifically the Republicans, and even more specifically, the so-called Tea Party enthusiasts.
Speaker John Boehner promised two years ago to put a Jobs program on his agenda. He didn't and hasn't, in spite of the fact that the country's infrastructure continues to crumble and is in desperate need of upgrades. There's always plenty of money for defense contractors but none for railroads, vehicle roads, bridges, electrical grids, and so forth. We're still in the midst of the worst recession since the thirty's. People are still losing their jobs and homes in spite of what Fox news is trying to convince us about an upturn. Food stamps have been drastically cut; unemployment compensation payments have been stopped; Ted Cruz, a spokeman for the Tea party folks, wants to cut Social Security and Medicare and repeal universal health insurance coverage--Obamacare, they call it. Those on the bottom of the economic ladder, a number that has grown considerably over the past few years as the gap between rich and poor has widened, are being pushed into a corner, a dark tight mean corner, even while the top five percent or so are being continually protected.
What the hell is going on here, I ask myself, me who is not a conspiracy-minded type? Is the situation as blatant as all that? Are they truly that arrogant?
They insult the workers of the country, calling them slackers looking for a handout from the government. Cutting food stamps and denying continuance of unemployment benefits will somehow encourage the recipients to get off their lazy butts and find a job in a market where there aren't many worth a crap. Where is Boehner's Jobs program? They seem to be on a crusade of some kind. Could it all be an accidental confluence of disparate circumstances, could they sincerely have the best interests of the nation at heart by coming down on those who need assistance from their government? Could it be true that our 'leaders' honestly can't find any other way to help America out of the recession? What is going on? Who are these people? They don't act like Americans.
I smell a conspiracy.
January 10, 2014
I signed a petition that was sent to my senator in Washington state, Maria Cantwell, requesting that the cuts to food stamps be taken out of the farm bill. I received a response from her office today. Below is that email:
---
Dear Mr. Dorn,
Thank you for contacting me about the Supplemental Nutrition Assistance Program. I appreciate hearing from you about this important matter.
According to the U.S. Department of Agriculture's Economic Research Service, roughly 45 million Americans are hungry or living on the edge of hunger. This figure represents more than 14.9 percent of American households. Over 15 percent of all households in Washington are food insecure and our state ranks 14th in the nation in hunger, which is higher than our neighboring states of Oregon and Idaho. It is obvious to me that too many Washington families are still on the verge of hunger and malnourishment. We must lower these numbers.
The Senate passed the Agricultural Reform, Food, and Jobs Act of 2013 (S.954), also known as the farm bill, on June 10, 2013, to reauthorize the federal government's agriculture and food programs. I supported passage of this legislation, which will strengthen investments in Washington State's agriculture economy and research, sustain local and organic food programs.
The Senate farm bill includes an initiative I championed to include more lentils, dry peas, beans, and chickpeas in school lunch menus. This initiative will authorize research grants to further examine the nutritional benefits of these vegetables, provides technical expertise to help food companies use pulse crops in their products, and increases their inclusion in school breakfasts and lunches. These crops are inexpensive, nutrient-rich, and support thousands of jobs in Washington State.
Despite these successes, the legislation unfortunately also cuts $4.1 billion from the Supplemental Nutrition Assistance Program. Representing the majority of farm bill spending, the food stamp program cuts across rural and urban communities, benefitting millions of people who experience hunger. This cut in funding will decrease food stamp benefits for about 500,000 households by an average of $90 per month. On May 21, 2013, I voted in support of Senator Kirsten Gillibrand's (D-NY) amendment (S. Amdt. 931) to restore these funds; unfortunately this amendment was not agreed to and will not be in the final bill.
Sincerely,
Maria Cantwell
United States Senator
---
Fifty years ago today, President Lyndon Johnson—a Democrat—declared an "unconditional war on poverty in America." But now, Congress is willing to pass a Farm Bill that cuts food stamps another $90 per month for another 850,000 poor families.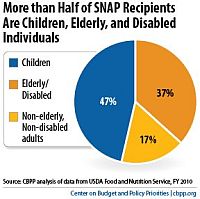 Where could the money come from, I wonder? The defense budget? It costs a million dollars for one Tomahawk missile. Why no, they need those to practice with; as many as possible, war with Iran is imminent. How about...
"Last year over 750,000 Americans were arrested on marijuana charges. Many of them were sentenced to mandatory prison time. Our courts and prisons are clogged with non-violent people whose only offense is smoking, buying or selling marijuana. While our nation is in a serious financial crisis, it spends literally billions of dollars annually chasing down responsible adults who are good, tax-paying citizens in all regards except for the occasional use of marijuana." - Rick Steves
---
Agriculture Reform, Food and Jobs Act of 2013 | United States Senate Committee on Agriculture, Nutrition and Forestry
Agriculture Reform, Food and Jobs Act of 2013 | Bill Text Versions - S.954 | Library of Congress - Thomas
H.R.3102: Nutrition Reform and Work Opportunity Act of 2013 | Library of Congress - Thomas
January 8, 2014
The Congressional Republicans are such insulting degrading bastards. Their cynical comments about americans on unemployment insurance are wholly without justification. Their paycheck comes directly from taxpayers. They don't produce anything, manufacture anything, perform any practical service, yet they have the audacity to characterize those who do as con-artists and bums; people who need to be able to pay their bills and eat regularly, men and women with families, single mothers with children in school. Let them try looking for a gig lightheaded and disoriented from lack of food or severely stressed from a less than stable living situation. When you have little to no income, your confidence and capacity to do is seriously compromised; you lean on friends and family too much and end up losing respect for yourself. And the instability that comes with being jobless eats away at a person's sense of control.
Congressional politicians spend three days a week at their 'worksite.' They make decent money, have homes to live in and full insurance coverage for themselves and their families. And this is not counting the special interest and coroporate contributions and gifts they stuff into their pockets. They are the very epitome and definition of the word bum. They have no idea what a decent day's work means; they never get their hands dirty--in the literal sense--or suffer from overworked muscles. And yet they have the arrogant self-important umitigated gall to attempt to strip away the dignity of their betters.
The proper role of government leaders--and I use that word only as a reference--in trying times is to bolster confidence and inspire success as they seek avenues to aid the distressed. The Republicans do none of that, just the opposite, in fact. They are underminers and saboteurs, behaving as though filled with hatred and contempt for their fellow americans in need of assistance. And yet, mystifying as it is, they continue to be elected into office. Perhaps we americans have truly become a land of guilt-ridden masochists, deserving to suffer submissively at the hands of worthless bums.
Republicans in Congress need to get their asses kicked.
---
Six Myths About Food Stamps | October 8, 2013 - by Dave Johnson | BillMoyers.com
January 6, 2014
The curious case of tax dollars: After the collapse of Wall Street institutions, brought on by self-destructive greed and fraudulent practices, wholly illegal and imoral yet never prosecuted, the american taxpayer came to the rescue with a magnanomous and mindnimbing gift of billions of dollars. Here's the blurb from the documentary "Inside Job": " [the] 2010 Oscar Winner for Best Documentary, 'Inside Job' provides a comprehensive analysis of the global financial crisis of 2008, which at a cost over $20 trillion, caused millions of people to lose their jobs and homes in the worst recession since the Great Depression, and nearly resulted in a global financial collapse."
And yet, they, the arrogant Wall Street perpetrators of this crisis returned to business as usual. Now, here's what I don't get. Congress-- I'm assuming they hold the purse strings and are responsible for allocating funds--had no problem coming up with the bailout bucks. However, they can't find a nickle to save food stamp and unemployment insurance benefits for the working and poor classes. What gives?
I voted twice for President Obama because he was clearly, to my mind, the best man for the job. But I fear he is dropping the ball on helping those of us who need it most while giving away the farm to the rich and powerful. Traditionally, the Democratic Party was on the side of the little guy, the man and woman in the street who have sacrficed their lives in wars and paid the price of citizentry in many other ways. People who, by and large, have played by the rules, wanting only to have a decent life and to trust in the government to come to their aid when they need it. But I've gotten very disillusioned with a Congress that doesn't seem to give a damn about them, and I include myself in the them.
No one is representing the vast majority of the amercian people anymore. We're on our own, apparently. Nobody from the wealthy class volunteers for military service to fight in these extended wars we're mired in, why should they? Senator Ted Cruz wants to cut Social Security and Medicare, and for some reason that baffles me, he has influence. The real war that's going on, one with meaning, is between the government and the people. The gulf between the rich and the vast majority of amercans has widened to the point where we can justifiably talk about two completely different countries. The top five percent don't even identify with being americans, they're part of an international elite, a world unto themselves.
We need help, but where it's going to come from is impossible to imagine.
January 4, 2014
Of the many informative, enlightening, and attitude-altering documentaries you could or may watch all year, include these three, please. They challenge our perceptions and ingrained beliefs about how the world around us, specifically America, works. We are being duped, lied to, manipulated, and treated with contempt, and it needs to stop, before it's too late.

Watch Free Documentary Online - "The War You Don't See" - 1:36
A powerful and timely investigation into the media's role in war, tracing the history of embedded and independent reporting from the carnage of World War One to the destruction of Hiroshima, and from the invasion of Vietnam to the current war in Afghanistan and disaster in Iraq.

"Food, Inc." | 94 minutes - IMDb


Part 1: For most Americans, the ideal meal is fast, cheap, and tasty. Food, Inc. examines the costs of putting value and convenience over nutrition and environmental impact.

Part 1: For most Americans, the ideal meal is fast, cheap, and tasty. Food, Inc. examines the costs of putting value and convenience over nutrition and environmental impact.

Director Robert Kenner explores the subject from all angles, talking to authors, advocates, farmers, and CEOs, like co-producer Eric Schlosser (Fast Food Nation), Michael Pollan (The Omnivore's Dilemma), Gary Hirschberg (Stonyfield Farms), and Barbara Kowalcyk, who's been lobbying for more rigorous standards since E. coli claimed the life of her two-year-old son.

Part 2: The filmmaker takes his camera into slaughterhouses and factory farms where chickens grow too fast to walk properly, cows eat feed pumped with toxic chemicals, and illegal immigrants risk life and limb to bring these products to market at an affordable cost. If eco-docs tends to preach to the converted, Kenner presents his findings in such an engaging fashion that Food, Inc. may well reach the very viewers who could benefit from it the most: harried workers who don't have the time or income to read every book and eat non-genetically modified produce every day.

"Food, Inc." | Amazon
The free full online version is difficult to find--I looked hard, believe me--so this might be your best bet. It's inexpensive and worthwhile and safe. However, if you're a DIRECTV customer, you can find it at: "Food, Inc.".

"Inside Job" (2010) | Youtube - 1:44
2010 Oscar Winner for Best Documentary, 'Inside Job' provides a comprehensive analysis of the global financial crisis of 2008, which at a cost over $20 trillion, caused millions of people to lose their jobs and homes in the worst recession since the Great Depression, and nearly resulted in a global financial collapse. Through exhaustive research and extensive interviews with key financial insiders, politicians, journalists, and academics, the film traces the rise of a rogue industry which has corrupted politics, regulation, and academia. It was made on location in the United States, Iceland, England, France, Singapore, and China.
December 31, 2013
"I think it was absolutely a mistake for President Obama and Harry Reid to force a government shutdown." -- Senator Ted Cruz.
December 4, 2013
A friend recently handed me this comic on Republican Alternatives to Obamacare that I think you might get a kick out of.
November 29, 2013
You need to watch this documentary (listed below) on the deplorable and undeserved mistreatment of teachers, the low-esteem with which they're held, and the practical consequences for individual students and our society. After parents, they play the most crucial role in shaping the minds and character of the future citizens of any functioning society. Teachers are the keystone species in the social ecosystem, and that position and grave responsibility is underappreciated and goes unrewarded. How many people can point to a specific teacher who inspired them to follow their dream, to believe in themselves, and as a result, to experience a fulfilling life with family, friends, and colleagues? And how many can recall a teacher who simply made them feel good about themselves and planted the seed of learning-for-its-own-sake? I know I can look back at a few. Teachers affect, direct, and transform the lives of young people, moreso oftentimes than anyone else, especially if their home lives are not all that wonderful. If nothing else, they make a difference, probably the most significant one, and so, don't we want the best possible candidates instructing our children?
"Directed by Academy Award winner Vanessa Roth and produced by Dave Eggers and Ninive Caligari, "American Teacher: A Documentary" aims to address the difficult questions about the broken public school system through honest dialogue with the people who strive to give our children a proper education. The film is part of the Teacher Salary Project and is based on the book "Teachers Have it Easy: The Big Sacrifices and Small Salaries of America's Teachers." "
From an article (Dec.3, 2013) in the Boston Globe on the recent "Program for International Student Assessment" tests, I excerpt these few paragraphs:
"One of the problem areas was math, where the US score of 481 points was 13 points lower than the international average. In science and reading, US scores of 497 and 498 respectively, were not measurably different from the international average, making it a statistical tie.

"The results also revealed gaps in achievement among students of different racial and ethnic backgrounds, and students from low-income households tended to score lower on the exams than their more prosperous peers.

"US Education Secretary Arne Duncan called the US performance "a picture of educational stagnation."

"'This is a reality at odds with our aspiration to have the best-educated, most-competitive workforce in the world,' Duncan said in a statement."
The single most important resource of any country is its people. For a country to be strong, healthy, and capable of rational informed decisions, its people must be well-educated and encouraged to realize their potential and have the complete spectrum of opportunities open to pursue. Finland, Singapore, and South Korea have the best records when it comes to their educational systems. Their teachers are well-paid and because the profession is held in such high esteem schools can pick and choose, recruit, the best and the brightest in a stiff competitive market. In particular, in Finland a career in teaching is considered more laudable than one in the medical or legal professions. Right now, America lies somewhere in the middle of the pack worldwide with regard to student achievement and learned skills. For the future, which is now, a good solid education is mandatory for the jobs available and for a general ability to function in an increasingly technical world.
Here's a few links you might find interesting; I recommend them. I watched the video on the new TV channel PIVOT.
---
And here's something else not entirely unrelated. Food stamp benefits have just been cut to save money. Did you know that a single Tomahawk missile costs a million dollars? Our priorities are so screwed up right now it's not funny, and the folks in Congress are running around talking about shit that has nothing to do with day to day living, except, in this case, to make matters harder for people who need help the most.
How about this for a cure:
In an Idealized Alternative Reality: Suppose the people who created and are responsible for the financial crisis precipitating mass loss of homes and jobs were to have their fortunes confiscated in order to pay for low-income housing and plenty of food to eat for the poor (working and not) and their children? Is that too far-fetched? Oh wait, isn't that socialism? Badddd!
"These bins are for Wal-Mart employees to donate [food] to other employees. And where can Wal-Mart's low-wage workers find cheap food to donate? Wal-Mart. Anyone can afford food there... except people who work at Wal-Mart." -- Stephen Colbert.
Walmart is the largest employer in the country--possibly the world--and because most of its employees are underpaid, they have to resort to using food stamps to make ends meet. Brilliant labor-expense strategy by Walmart: Have the American taxpayer supplement their employees salaries.
Addendum - January 31: Walmart Stumbles on SNAP: Warns of Lost Profits
November 21, 2013
Yesterday I watched Charles Ferguson's "Inside Job." I think every American should. I can't say I understood the mechanics of the financial doings Mister Ferguson so intricately delineated--my brain doesn't work that way--but the bigger picture and the gist of it I certainly got. Below I include a link where one might watch the film and a link to his book "Predator Nation."
Here are some resources that may help the uninitiated, like myself, understand the film and the economic situation.

---
From the perspective of the eloquently presented film and with no exaggeration, organized crime in the form of the Wall Street-Academia complex makes the mafia (yes, they do exist) look like a bunch of boyscouts knocking over gumball machines. President Eisenhower warned us of the Military-Industrial complex; now we have this. Organized crime has been directing the country for the past 25 years, becoming increasingly entrenched with each administration, and the perpetrators, who are well known, continue to get away with it. Not a single one, of which there are thousands on different levels, has been charged with a crime. They not only caused the global recession we're still going through but ruined the lives of millions of Americans and managed to restructure society from top to bottom.
Surprisingly, President Obama has some of them on his team in strategic positions, positions that allow these people, devoid of morality, ethics, and conscience, to perpetuate their reign. And academia, for its part, has been instrumental in shaping economic and financial policy by advising the administration and consulting for all aspects of government and by teaching their mode of economic theory--deregulation and then do whatever you can get away with--to their students. They fluidly slide from government to Ivory Towers to Wall Street; it's become one world, an elite class who share the same aristocratic vision. It's unfortunate that the membership is so widespread and pervasive that the people most qualified to help the economy, to straighten things out, are also the people who have created the conditions that are in need of reform, conditions that best serve them and their exorbitant lifestyles. What is currently going on in Congress between obstructionist Republicans and ineffectual Democrats is nothing more than a smokescreen, a distraction from the real politics going on behind the scenes.
I came away from the film, which I watched twice and probably will again in order to attempt to absorb all the information so compactly presented, with a sense of total despair as though I'd just been informed an enormous asteroid was about to decimate the Earth or that an uncontrollable and deadly disease was spreading around the planet. The perpetrators appeared to have the aura of an alien invasion or of a group of sociopaths intent on destroying the world. Unfortunately, A James Bond is not going to save the day. And it's not like they didn't and don't know better. They were fully aware, for example, that they were selling bogus unsafe so-called financial derivatives (CDOs) and yet they did so anyway and made fortunes by betting these instruments would prove worthless--financial entities their own firms were selling and touting as good solid investments.
Moreover, these institutions own, one way or the other, rating firms which gave these worthless derivatives triple 'A' ratings. The people involved had to know these ratings were not a true assessment, and by facilitating their sale, they committed open, unadulterated fraud for which they've never been held legally accountable. So they knew, they knew, they're that knowledgeable and smart; they just have no ethics or principles or moral compass by which to live. It's all about greed and self-centeredness and low character.
When the ponzi scheme finally collapsed and these major institutions went bankrupt, the taxpayers bailed them out to the tune of billions of dollars, money that could've gone towards the public good in many forms, and they, in their arrogance, turned around and gave their people, the ones who created the situation in the first place, millions in bonuses, millions of taxpayer dollars, which their employees accepted without conscience or misgivings. How do they justify this behaviour? Why are none of them in prison?
Organized crime--the Wall Street-Academia complex--has been running and continues to run the nation. They've essentialy hijacked our country, and apparently, no one in power has the will or the means to do anything about it.
---
"Inside Job" (2010 | Watch Free Documentary Online
2010 Oscar Winner for Best Documentary, 'Inside Job' provides a comprehensive analysis of the global financial crisis of 2008, which at a cost over $20 trillion, caused millions of people to lose their jobs and homes in the worst recession since the Great Depression, and nearly resulted in a global financial collapse. Through exhaustive research and extensive interviews with key financial insiders, politicians, journalists, and academics, the film traces the rise of a rogue industry which has corrupted politics, regulation, and academia. It was made on location in the United States, Iceland, England, France, Singapore, and China.
Charles H. Ferguson - "Predator Nation" - Corporate Criminals, Political Corruption, and the Hijacking of America | Free Download from FileTurko
Two years after directing the Academy Award-winning documentary, "Inside Job," filmmaker Charles Ferguson returns with a new book, "Predator Nation: Corporate Criminals, Political Corruption, and the Hijacking of America." According to Ferguson, a "predatory elite" has "taken over significant portions of economic policy and of the political system, and also, unfortunately, major portions of the economics discipline."

November 16, 2013

Last year an estimated 46 million americans, including 7.2 million children, were without health insurance. The Affordable Care Act is meant to resolve this situation. Yet the Congressional Republicans are bound and determined to undermine that protection to the point of irrational obsession. Their latest complaint is that people who have insurance my be dropped or have their premiums raised. Well, that actually remains to be seen and, if so, would be one of the problems that needs to be fixed as the program goes forward. But that's not the point of the Act.

All social programs --social security, medicare, medicade--have had glitches at inception and with implementation, but, thanks to the effort of Congress to work out the bugs, in spite of detractors wanting to scuttle them, they were eventually put into action, and we are the better for them. The ACA is brand new and needs to go through the same processs, the same field testing-feedback-fixes-more field testing and so forth until it's running smoothly. The Republicans would better serve the american people if they got onboard with it. If the 46 million people without insurance, whether because they can't afford it or have pre-existing medical conditions, are able to take insurance for themselves and their families off the table, they would then have the time and money to concentrate on other important matters, like housing, food, clothing, transportation, and education. The Republicans, particularly the two drama queens, John Boehner and Teddy Cruz, don't want this to happen, they don't want the middle and working poor classes to get a leg up, to clear away the worry and concern. They are at war with these 46 million americans.

People work sick and injured, I know this for a fact, I've done it and I know others who have when working at jobs that don't supply medical benefits, and if you don't work you don't get paid and risk being fired. Consider Walmart and the Service industry for two prime examples. This prevalent condition lowers productivity and impacts quality of life, and, not to exaggerate, accounts for a significant negative factor affecting individual and family life: excessive drug and alcohol use, physical and emotional abuse, and the absence of proper nurturing of offspring, resulting in the next generation having the same problems. How can the Republicans say they're trying to help people suffering from this major disadvantage and chronic source of anxiety when they expend so much negative energy trying to undermine and nullify a Law intended to correct and normalize their condition and improve quality of life?

They represent corporate interests, in particualar, the financial sector responsible for our present economic crisis and the largest contributor to their coffers, and the wealthy, that one percent who make more than the rest of us combined, and clearly don't give a damn about the 46 million without insurance. And, they have nothing of their own to offer as an alternative health program, one that throws a blanket of protection over the entire population. They should be spending their tax-paid time working on other issues of a more pressing nature, and there certainly are plenty of those, doing something positive for the country. Nothing is getting done, gridlock. It's an embarrassment to the world, to see our leaders bickering instead of working together towards a mutually beneficial goal, an objective that has to do with helping our own people.

I keep repeating that number--46 million--because it seems that we americans need to hear facts stated over and over in order to get them through our head, their significance.

Forty-six million americans, including seven million children, don't have medical insurance.

How can the Republicans say they're trying to help people by attempting to undermine the ACA with the propaganda of failure, saying it's broken before it's even been road tested, and with obvious lies and misleading disinformation as to its consequences? They pronounce that americans don't want it. Christ almighty, americans are not even familiar with it yet, have not had the opportunity in real-time practice to see how it works and how it impacts their lives, what advantage it gives them, how it might alleviate needless stress.

Europe and Canada have had health insurance coverage for their citizens, all their citizens, for decades. At first, no doubt, there had to be problems with implementation; as well they probably had their share of Chicken Littles, yet we, the leader of the Free World, are only now attempting to grow into a society that takes care of ALL its people, especially those on the bottom of the economic ladder. And let's also remember, the ACA is based on the Massachussetts model, a success story that had birthing difficulties. What spellbound hold do congressional Republicans have on the american psyche that allows them to be voted into office again and again when they have so clearly demonstrated contempt for the welfare of the vast majority of the american people?

It's disheartening; they should be ashamed, but they're not. They keep attempting to convince all of us that it's in our best interest to mainatain the status quo--medical coverage for those who can afford it and to hell with the 46 million who can't or who have pre-existing medical conditions. Whose side are they on?

If you're not part of the solution, you're part of the problem.
---
Key Facts about the Uninsured Population | The Henry J. Kaiser Family Foundation
November 12, 2013
Republican Senator Lindsey Graham of South Carolina--the only state in the Union where both dog fighting and bear baiting are legal--has proven again what a complete obstructionist moron he is. He has sworn on news programs that he intends to block all of President Obama's nominees because of the Benghazi attack. The propagandistic irrationality and logical sophistry [newspeak] of the Congressional Republicans continue to amaze. It's mindnumbing. No doubt there are those in this country, particularly among the ignoranti in South Carolina, who believe that somehow blocking qualified persons from being nominated to administrative positions is an adequate and reasonable response to the terrorist attack on the Lybian consulate.
I know a man who believes the great Biblical flood carved out the Grand Canyon and that the Earth is only six thousand years old. And there are millions of other like-minded folks in this country. I can accept idiots like that in the general populace, they usually don't rise to positions that affect us on a broad scope, intruding into our lives and those of our families. But now, it's all too clear, and frightenly so, that they have arrived and are flourishing in the United States Congress.
---
Sen. Lindsey Graham Holds Firm on Threat to Block Obama Nominees | November 10 - Associated Press
Jon Stewart Mocks '60 Minutes,' Lindsey Graham over Benghazi Report - November 12 - VIDEO | TPM
Lindsey Graham Silent About '60 Minutes' Benghazi Report That He Hyped | TPM
Graham's Hold on Government Cracks as Benghazi Story Falls Apart | November 11 - The Cable
November 10, 2013
John Boehner and Ted Cruz were recently spotted at a downtown New York city tattoo parlor. On their left arm they had tattooed in bright red: "Screwing Obama is our Business," and on the right, "Business is Good." Later they were seen at a Greenwich Village bar kicking back shots of tequilla with a gang of gay bikers. Who knew?
---
What we have is a clash of cultures: The rational modernists opposed to the irrational traditionalists, progressives verses ultra-conservative reactionaries. I don't mean tradition in the sense of a nation's cultural values or its collective practices like Thanksgiving Day or July Fourth celebrations, but rather the tendency, perpetuated and enforced by both Bush presidents, to place ourselves above all other countries, an arrogant isolated attitude--'You're either with us or you're against us.' This is a political tradition whose time has passed. Barak Obama sees the need for cooperation, to approach other nations as an equal in spite of, or perhaps because of, our superpower status. The rightwing Congressional Republicans adamantly refuse to surrender the highground, the superiority, the arrogance of President Bush and Vice President Cheney. But, it's time to enter the next age in the evolution of world society, not an easy thing to make happen, transforming the mindset of millions.
When the Soviet Union collapsed, the way adults thought about the world and their place in it was replaced by a completely new order of things. Superseding the old was not possible for those whose minds had been instilled and ingrained with the worldview of the times, the historic currency of social and political media. A new order, a new way of conducting business and the workings of society could not simply be rewired overnight. Fresh minds taught in the new way were the only hope for its actualization. A society and hence the country which houses it exist solely in the minds of the participants, the inhabitants, those who give their hearts and souls and bodies to its fruition. Millions of Russians would love to bring back the glory days of Imperial Russia, some even pine for Stalin's Russia, difficult as that is to believe. It's natural to hold onto an almost romantic illusion of a previous era. But the Soviet Union was sown with seeds of its own destruction from the get-go; hopefully, that won't prove to be the case with America.
The so-called Tea Party represents the last bastion of 'my way or the highway' kind of thinking and needs to end, however that may happen.
November 1, 2013
The other night Piers Morgan and Bill Maher, two people possessed of intelligence, common sense, and maturity, had a conversation on air. It was worth watching, very informative. However, they both agreed, a little too enthusiastically, that Senator Ted Cruz was brilliant, brilliant, referring to an interview with one of his Harvard professors. His brilliance was based on being good at school work. Brilliance without awareness as to the consequences of actions and the moral backbone required to choose the right path no matter how difficult has brought the people of the world more tragedy and trouble than natural disasters. It was unfortunate, I thought, that they neglected to mention that his professor attributed this brilliance to his single-minded focus, that it was so intense as to preclude any consideration of possible doubt, symptomatic of a deeply-rooted certainty bordering on obsession. Paraphrasing the professor, once Cruz had decided on a viewpoint all reasons that undermined it or pointed to the possible validity of an alternative view were discarded. This is a dangerous mind-set.
When a person makes a decision and afterwards reflects on it based on new information or a less emotional appraisal, he oftentimes changes his mind. To me, this is a mark of maturity, responsible intelligence, and, especially in the political arena, considerable moral courage. The Republicans call it "flip-flopping" as though it were a sign of weak character, of someone with no integrity or strength of will. Morgan and Maher agreed that Cruz could very well be the next Republican candidate for president. Self-righteous arrogance and refusal to entertain the possiblity of other choices in a Commander-in-Chief can only bring negative repercussions. A man who religiously and unwaveringly adheres to his course of action regardless of its clear destructive impact on the American people, as we saw with the government shutdown, is not someone who should ever be running the country. God help us if that happens.
---
When Asaad used chemical weapons on his people, the hawks in Congress wanted an immediate military repsonse. But the vast majority of Americans didn't want anything to do with it. President Obama, to his credit, refused to cave in to Congressional pressure and instead complied with the will of the people. Ted Cruz, on the other hand, in spite of the obvious detrimental impact the government shutdown was having on the country, adamantly held onto his position, refusing to relent even though it was pointless and counterproductive to his Party, ignoring the harm inflicted on the people.
Who is the better man? Who is the more conscientious leader? Who better serves the country and the will of the people?
There is a difference between standing on principle and being anal-retentively stubborn. Apparently, Teddy Cruz doesn't know that.
---
Brilliance (mentally quick and bright) and vacuousness (lacking substance or reality) can co-exist in the same person. That was certainly the look I saw on Cruz's face in the news clips. The look of a self-centered child simply enjoying being the center of attention, without the slightest trace of responsibility or obligation towards others. Opportunism for the sake of self-aggrandizement solely, a buoyant look unencumbered by the weight of concern over consequences, unaffected by empathy, a self-absorbed spoiled rich Harvard frat boy playing with power.
I've seen, known, people in my life who were convinced, for whatever reasons, that some significant action they had decided to undertake involving others was the right thing to do, but beneath the surface the strain of awareness of the possible harmful effects such action might have on those others revealed itself, if only in subtle ways. I saw nothing resembling that in Cruz's rapturous countenance as he vehemently worked to continue the shutdown of the government with all its negative impact on the people, just the opposite in fact.
In the face of a person with conscience asking others to endure hardship won't be found carefree joy, rather what will be seen is the stress of concern, the contours of empathy and the burden of responsibility. To feel obligated to none but a few supporters and then try to pretend that one's actions are for the benefit of the many is a betrayal of fundamental trust and a misrepresentation of the truth of what you're about.
I don't know how many times I heard Ted Cruz state that the American people don't like and don't want Obamacare before anyone even had a chance to find out about it in a practical hands-on way. How the hell could he know? It's unknowable. Yet, it never stopped him from saying it. He can look you right in the eyes and lie. But, you say, he's a politician, they all do that. To spout such nonsense without blinking, to claim to speak for the will of the people about something so important, knowing full well no one is going to believe it for the simple reason that it's impossible--how brilliant is that? And yet, no one that I'm aware of, no one in the media, bothered to point that out. According to polls, one-fourth of the population doesn't know that the Affordable Care Act and Obamacare are one and the same. So how smart does he have to be? So much confusion and chaos has been sown by those bastards that most of the country doesn't know up from down. Going on and on with misleading lies and false allegations and the double-speak of calling a refusal to give in to extortion a refusal to compromise has been the mainstay of the Republican leadership in both the House and the Senate. What compromise? Give us what we want and we promise not to shut down the government and default on the debt is not a compromise.
The Affordable Care Act is a law sanctioned by the Supreme Court. Trying to undermine it by refusing to fund it and demanding that the President somehow cancel it is not even procedural let alone sensible. Shouldn't knowledge of the Constitution be a necessary requirement of all congressmen? You would think so.
Fortunately, they pulled the plug at the last second as everyone knew they would, as they knew they would. But why put the American people through all that? For what purpose? How much money did the economy lose? Billions. How much did the inconvenience disrupt households? Can it be measured? How much loss of faith in the government did the whole circus cause? How much instability and anxiety will remain? Children playing games at our expense. It makes you sick, such pettiness and foolishness. It's sad and pathetic, as our young people continue to die in Iraq and Afghanistan, our so-called leaders jerk us around over short-sighted political ambitions and mean-spirited hatred for the President. May they all be thrown out at the next election.
October 29, 2013
Well, what's the latest? The NSA got sloppy and supposedly overreached itself. How about some facts? The United States has come to the aid of Europe to end two world wars and has spanned an umbrella of protection over those countries ever since. What would NATO be without us? There are more terrorist groups plotting and scheming ways to bring harm to the United States living in Europe than anywhere else in the world including the Middle East, most likely. And let us not forget, the plan to attack the World Trade Centers was hatched in Germany. So yes, of course, we're going to be spying on them. On the surface, for the sake of appearances, Europe is protesting vehemently--How could we? What gall? Where's the trust and the love?--but don't imagine they aren't spying on us. Countries have been spying on one another since there's been countries. Now, at this technological time, we have more sophisticated ways of doing it, what with satellites and cell-phones and the internet. It's embarrassing to be caught with our hands in the cookie jar, but why aren't those other countries doing more to ferret out terrorist threats? Would the attack on 911 have happened if they had been? Tiny populations compared to ours and yet they had no knowledge of such activity, of such a horrendous act to come?
Let's get something straight. The world is not the pleasant place it used to be long ago. I have a friend who spent six years traveling the world back in the 60's and 70's. He went through Turkey, Iran, Afghanistan, all the way to Burma where he spent time building a boat which he sailed to Australia. He had a lot of stories to tell of helpful, intersting people he met along the way. Occasionally, he ran into trouble, but nothing life-threatening. Now, of course, such a monumental journey would be suicidal from the get-go, even for Canadians. So yes, the NSA got caught doing what its mission statement mandates--protecting the American people from all foreign threats. I wish the world were as it once was, a much friendlier place, but it's not and we have to accept that and take the necessary precautions.
October 21, 2013
At a recent Texas KKK meeting, Senator Ted Cruz was overheard to apologize to the Grand Wizard or Dragon or whatever fairytale character he's calling himself these days for his failure to bring down the "black devil's government." The wizard was not happy; nonetheless, he patted Cruz on the head and bade him "better luck next time, son." Feeling deservedly chastised but nonetheless inspired by the pat, Cruz and his anally retentive co-conspirators have decided to put the business of running the government--the reason they were elected and sent to Washington, DC--on hold while single-mindedly pursuing the vacuous course of trying to lynch Obamacare, as they call it, a vendetta pandering to the neurotically narcissistic fascist faction of the Republican Party.
With the zeal of your average self-righteous and inflexible practitioners of religious fanaticism--NASCAR Evangelists, e.g.--Cruz's cult has completely committed itself to the aforementioned obsession, abandoning corporate benefactors and special interest groups as though they didn't matter. At a secret location in the woods outside city limits their unwavering campaign to repeal Obamacare was sanctified by blood ritual involving chickens and possibly even a goat. Rumors state a human was sacrificed, but that's too absurd, really. However, the on-scene undercover investigative reporter stated she was bedazzled by Cruz's otherworldy charisma and transcendental oratory, its mesmerizing Baptist intonation blurring her perception of reality and nullifying her rationality. Emotions welled up to the point where she forgot why she was there. The available drugs may also have had something to do with it.
October 11, 2013
Let's step back for a second, folks. Take a deep breath. What is going on with our government? Speaker John Capone Boehner and Ted Nitti Cruz are trying to extort the President of the United States. This is unprecedented. There is no constitutional law designed to deal with this. Consequently, we all stand helplessly by, unable to do anything about it. Our representatives are non-responsive; they're living in their own private oblivious world, as anal retentive as any ultra-conservative, rigid-minded, self-righteous evangelist would be when being force-fed evolution. We're not just talking about a right wing faction of the Republican party intimidating, somehow, the rest of its members, it's an attempt to alter the way our government runs. It's a corruption of the responsibility each member of Congress has sworn towards the American people. If the president caves, America will never be the same. Business as usual will take on a whole new meaning.
Government employees on furlough will be paid retroactively. So what does this mean? It means that we the people, especially, we the taxpayers, are being denied government services--everything from Alaska crab fishing permits to state parks to 'head-start' programs to websites--while still paying for them. How does this help the budget? The House Republicans have cut off services to the American people and will turn them back on again only if the president, somehow, cancels, neutralizes, rescinds a law that the Supreme Court has already validated. A small fanatical racist faction is trying to dismantle the country from within. Why is this insanity legally allowed to continue?
September 29, 2013
As our government disintegrates and fragments into an impotent, ineffectual memory of its former self, we the people sit helplessly by wondering in utter amazement at the stupidity of our elected officials. The way it's set up, the Affordable Care Act is going to be funded NO MATTER WHAT. Boehner and his comrades are trying to appease, or ingratiate themselves to, the far right of their party. Why? What the hell is really going on in front of our eyes? Terrorism? An extreme self-destructive act by people whose racist hatred for our president has become psychopathic?
Robert Reich
Press Releases: U.S. Congress Newsroom
Republican John Boehner's scheduled colonoscopy had to be postponed when it was discovered that his head was in the way. No one who knows him was surprised; it explains his muffled tone of voice.
---
At a recent gathering in the Hamptons of the Have You Kicked A Puppy Today? club, co-founder John Boehner, Grand Wizard of the House of Representatives, let it slip that his fondest wish is for a 30-foot-high bronze statue of his butt to be placed in the foyer of the United Nations' building. A congressional committee has been convened to discuss it; they have nothing better to do with their time, apparently. It was suggested by the Chairman of the Tax Loophole for the Top One-Percent committee that monies be diverted from less important matters like food stamps and medicaid to pay for its construction. The motivation, though not explicitly stated, seems to be that foreign dignitaries and representatives will know at a single glance just where America is coming from. Boehner is America and America is Boehner. Kiss that, world.
---
September 21, 2013
For the 42nd time the Republicans in Wonderland have attempted to dissolve the Affordable Health Care Act. If only they got paid by the job, they'd all be living on food stamps and sharing studio apartments. They're hanging the whole country up in the air--as though there wasn't enough to stress about already (Colorado?)--and they just don't give a shit. Surely, they must be breaking some terrorism law; isn't it one of the aims of terrorists to spread anxiety, insecurity, and loss of confidence in the government? Boehner claims to be "protecting the American people from Obamacare." Protecting. Protecting people who have pre-existing medical conditions from getting health insurance, very admirable. Making it almost impossible, Republican state by Republican state (most notably, Florida), for health care Navigators to help people understand how the program works and what their options are, how considerate. Undermining, sabotaging the quality of life for all Americans is their objective, and at that they are most passionate. These are our representatives. We voted them in to look out for our best interests. And here they are, the Republicans under John Boehner, doing whatever the hell they can get away with to make life more difficult than it already is. May God have mercy on their souls; I sure don't believe they deserve any.
September 16, 2013
Okay. Syria is using chemical weapons on its people, indiscriminately killing hundreds including children. Stockpiles are most likely hidden underground throughout the more desolate regions, never to be found. Russia has been sending and continues to send Asaad weapons, on the one hand, and on the other, appearing to act responsibly, although everyone--you can feel it creeping up the back of your neck--involved in discussions between the United States, Great Britain, France and Russia is just wating for Putin to pull some shit. Threats to attack if Asaad doesn't comply can't be taken off the table in spite of Russian demands, so we have a standoff on that point, a very large point. Colorado has been experiencing Biblical floods; it's like the Apocalypse. People died, many are missing and unaccounted for. Homes are gone, knocked off their footings, washed away and destroyed; at the least, water and mud damaged beyond repair. At the Washington D.C. Navy yard, a man goes berserk and kills several. Why? Nobody knows and probably never will.
Meanwhile, the Republican Congress is spending its time--the government will default in two weeks because the budget is not yet resolved--on yet another attempt--I think this is the fortieth--to undermine and repeal the Affordable Care Act as well as hold more committee hearings on the Lybian Consulate attack, trying to find someone--hopefully, the President, from their perspective--to blame for the four American deaths. The social chaos in Lybia at the time, within which the attack played out invisibly, masked by the mayhem, can't be discounted. No one could have seen it coming. We, our intelligence apparatus and military experts, were outsmarted, plain and simple. But instead of accepting that, the Republicans in Congress, in their arrogance and neverending obsessive need to throw dirt and accusations of incompetence on our president, insist that it could've been prevented, and so they must find fault.
During the Reagan administration, 299 American and French servicemen [220 marines, 18 sailors and three soldiers] were killed by two truck bombs in Beirut. According to Wikipedia: "Shortly after the barracks bombing, President Ronald Reagan appointed a military fact-finding committee headed by retired Admiral Robert L. J. Long to investigate the bombing. The commission's report found senior military officials responsible for security lapses and blamed the military chain of command for the disaster." No one accused Reagan of administrative failure.
But the Republicans of today are attempting to use the Lybian incident to discredit Obama himself, as though he was personally responsible. What planet are the Republicans living on? How do they manage to get through the day on their own? Obviously, they need watchers, managers, people who assist them in everyday chores. Perhaps we can trust they have no problem going to the bathroom, but is that true?
A Boy's Prayer
Let us pray that some day soon the Republicans in Congress will wake up and realize that the country is going down the toilet and all the people--even the filthy rich ones--are in jeopardy. And with this sudden epiphany, they become instilled as though from God with common sense. Let us pray that the Far Right loses its stranglehold on them, and like a rubberband, they snap back into the mainstream where most of the rest of us live, struggle, cry, and wonder how people whose health insurance for themselves and their families is fully paid for by we, the taxpayers, could act so irresponsibly and selfishly.
---
Hot Off The Press - July 26, 2013
"Paul Ryan just popped out of hiding and backed another round of crippling and indiscriminate cuts. This isn't just some budget plan -- a growing gang of Republicans are calling for a government shutdown unless they can get major cuts to Medicare and a complete defunding of Obamacare. If Ryan and the Republicans get their way, almost nothing is safe. Not education or the EPA; Medicare or Social Security. There is one thing sacred to Ryan -- the yachts his billionaire buddies can buy with their cushy tax breaks." [Democrats 2014]
The right-wing Republican Party in the House has become the enemy of the people.
---
John Boehner, you remember him, neo-conservative reactionary presently acting as the Speaker of The House by default, has recently proclaimed the mission of his Republican bretheren: "We are not here to pass laws, we are here to repeal laws."
---
July 25, 2013
Senator McCain's knee-jerk and predictable advice as to Syria is completely wrong-headed. He wants to supply the rebels, the opposition, with weapons and moral support. Well, right now there are different rebel gangs, ad hoc self-organizing factions, fighting amongst themselves, competing for PR-space on the media, so who do you choose as the one and only representative of the anti-government forces? You don't just hand out guns to whoever speaks the loudest or can come up with someone fairly articulate to act as leader. Besides which, I'm guessing they probably have enough guns available in the first place. After all, it is the Middle East. I say we stay far far away from the whole scene.
The Arab League consists of 22 countries, a union that seems to be rather ineffectual. Although Syria was suspended from the League for its repressions of protestors, the League's monitoring mission fell apart in spite of good intentions. However, it's their responsibility; it's their family of people. If they don't care about the Syrian-caused instability in their own neighborhood, the tragic deaths of tens of thousands and the displacement of millions of fellow Arabs, then why the hell should we?
---
The right-wing of Congress, aka the Republican Party, has decided it would be in America's best interest to gut the Environmental Protection Agency, already severely limited in scope and undermined by loopholes and injunctions. Enforcement powers have been rendered ineffectual and agents needed to investigate possible infractions are in short supply. As usual, however, their motives are transparent. They represent wealth, coroporations, mining companies, all the industries whose excrement after production of whatever would definitely harm the environment, air, water, forests, and all the animals who live therein. It costs them money to have to comply with EPA regulations.
Why not let unfiltered soot and particulates belch out of coal plant chimneys, like in China? Why not let nuclear power plants manage their own radioactive waste? Why not let fertilizer and toxic pesticides be washed off the fields and down into the streams and water table? Why not let mining companies and smelters soak the earth with heavy metals and acidic solvents left over from processing? The slag, it's called; sounds like what it is. Why not just shit on everything for the good of business, and to hell with the country and the people living downstream of it all. There's no soot or slag mills in the Hamptons, so who cares? Live for now, and let future Americans figure out how to clean up the mess, to counter its effects, and save what's left of America.
The Republican Party, in particular, the House, used to be, or can be, a voice offering a different direction to choose. And when the situation demanded a non-partisan approach, they would usually act sensibly. But now, they are nothing more than obstructionists and saboteurs. Their role is to undermine the president, no matter what. The hollow, meaningless yet symbolic vote against Obamacare--38 times to date--is the most outrageous testament to their sick and twisted hatred of Mister Obama. They offer nothing positive of their own, they serve only to block any agenda put forth by the current administration, even when it serves the good of the majority of the middle class, or especially then.
Why 50% of the voting population supports the Republican Party is a genuine mystery to me.
May 30, 2013
Former President George W. Bush recently donated his complete collection of Doctor Seus books to his library. He insists that their importance lies not in his confessed affection for the fond memories they evoke, but as a botttomless source of wisdom influencing his major decisions during his terms in office. God bless America.
---
April 18, 2013
Republican senators voted against the gun control bill that would require universal background checks for gun purchases. What unprincipled cowards. Going against the will of 90% of Americans, to boot. Scumbags. I guess what has to happen is something tragic and gun-related to one of theirs, as usual. It has to hit home for them to stand up for what's right.
April 9, 2013
Once again the Republicans in Congress, in particular the fourteen senators who've promised to filibuster any debate on gun control legislation--in spite of the fact that 90% of Americans want such--have blatantly demonstrated their racist attitude and personal hatred of Barak Obama. Their controlling base, as they allude to it, consists of waspish, arrogant, aristocratic old money, people who trace their roots back to the Plymouth Rock invaders. The very idea of a black man as president sticks in their crawl. These senators have stalwartly (anal-retentively) decided, out of loyalty to an inflexible belief in white superiority, that all politics, all fairness, and all questions of right and wrong can be dismissed as irrelevant. What matters, for better or worse and in complete denial of what the people want, is that any domestic program or legislation sponsored and put forth by the president should be crushed out of hand and thrown on the scrap heap. They don't even bother, in their own arrogance, to hide their contempt anymore. Their mission is to undermine and discredit his presidency by their adamant obstructionism, so that, after this last term, they can point to his record and say at their exclusive get-togethers, "See what little he accomplished? What a poor performance he turned in, he couldn't get anything done; never again should we elect a non-white person to that office, they're just too lazy."
It's a sorry time for America when a lofty and honorable government body, the U.S. Senate, should be held hostage by such despicable and unworthy men, men of low character and base values. They need to be booted out, for the good of America.
Here are the 14 Republican Senators
And here are the Complete Email Addresses for all Members of Congress, the House, the Senate, Governors, and State Legislators
March 14, 2013
Lately, the Republicans have been trying to change--talking about it, anyway--their identity from defenders of the monied class--200,000 new millionaires came onboard here in America in 2011--and screwers of the middle and poor to... what exactly? They are at least aware that their right-wing, anti-abortion, ultra-conservative, evangelical base isn't going to be enough to win the White House.
I envision those people--the mysterious and invisible base--as being older than the hills, possibly immortal, having consumed copious amounts of an elixir of longevity discovered by captive scientists working in a warren of underground laboratories somewhere deep in the Alps. These are shadowy, decrepit, scary vessels of their former selves. Creepy, but powerful, in control of the leadership of the Republican Party. Our base, they refer to them as, without actually naming them -- these obscure unknowable phantasms of petty hatreds and narrow-minded, narcissistic, mean-spirited ambitions, braking progression at every turn. May they wither away some day; at least, may their power to dictate the course of America fade to oblivion. They are old-school, old-politics; what we need are new approaches and perceptions of reality. Now, not decades from now, after we've beome a second-class economic country.
In the article about the new millionaires:
"George Walper, president of Spectrem Group, said the results show that weak financial markets
and the slow recovery in real-estate (especially investment real-estate for the wealthy) held back growth.

"'We're still not back to pre-crisis levels,' he said.
He added that while the optimism of millionaires is increasing, 'these folks are still worried.'"
My, my, those poor fretting millionaires. I feel sorry for them, truly. They might have to let go a staff member or two. Maybe a pastry chef will have to be laid-off; assuming, of course, he's documented in the first place. Next stop, the local Hamptons food bank, I suppose.
---
A new story about millionaire growth, March 15: 300,000 New Millionaires in 2012. The number of millionaires in the country is nine million, almost at the level before the recession, while the working class continues to lose jobs and opportunities. What gives? If you're a stock holder or real estate investor, you win. So, over the past two years, the number of millionaires has increased by 500,000. The gap doth widen. The middle class doesn't exist, hasn't really since the late eighties, as far as I saw. Used to be a ladder going from poor to rich in this country; that ladder is now gone. The Republicans, and others, speak about the middle class, but they're talking to an empty house, aspirers only.
I looked at over a dozen web-news sites for this story about the increase in millionaires, and almost all defer to Robert Frank, an economics reporter for CNBC. And also they refer to the Spectrem Group. In fact, most of them simply copied the story from CNBC. In other words, the news we hear about the current financial situation comes from only one or two sources. Who is the Spectrem Group and why does Robert Frank have so much influence?
Misleading information: 53% of Americans invest in the stock market
Fact: 10% of Americans own 80% of the stock, and also, it can be presumed, are the major investors in real estate.
Robert Frank paints a rosy picture about the economy. Despite the working-poor getting poorer, because the stock market continues to grow--an illusion based on inflated values, I think--the economy is growing. For whom? His assessment is based on how the rich are doing. The rich don't take their earnings and invest in small business or anything else that might help the vast majority of Americans, they invest in transnational corporations and money-making schemes: stocks, bonds, commodities, instruments, derivatives, real estate, and other things about all of which I know next to nothing. It's a global stock market affair, individual countries have little meaning, except as places to stash large amounts of cash unreachable by the IRS and the SEC. They invest around the world, they live in that economy and identity as world citizens. They don't identify with being Americans, why should they?
Inside Wealth | Edited by Robert Frank
Ryan Plan Could Give $400,000 Tax Cut to Top Earners
"The top one percent of earners – those households making more than $575,000 – would see their taxes fall by an average of $225,000. Those making $1 million or more a year would see an average tax cut of $408,000 a year."

"'The changes specified in the budget would reduce revenues by nearly $6 trillion over 10 years," said Roberton Williams of The Tax Policy Center. "That's a big revenue hole that has to be picked up somewhere else.'"
---
March 3, 2013
According to the dictionary, sequester means: to take over; confiscate; seize, especially by authority. An enigmatic term for what is presently happening in the country, orchestrated by the Republican Congress. What exactly are they confiscating? Taxpayer dollars? Millions of Americans will be affected by forced budget cuts, from people losing government-based jobs to children in Head Start programs and on and on. It's a ripple effect. If workers at a ship-building facility are laid off, for example, local businesses will suffer. A restaurant where they used to frequent will probably have to lay people off. A waitress with children won't be able to care for them as well as before. Hardware stores, grocery stores, clothing stores, suppliers, trucking outfits, warehouse personnel, the same deal. All businesses in the affected area will feel the pinch, all across the country. It's a mess, and in the midst of it, on deeper levels the real problem is not being addressed.
News programs like CNN and MSNBC and local news outlets are not talking about it; they seem to be distracted and obsessed with the political partisanship angle, the White House versus the Republican Party, their anal retention and purposeful obstruction designed to undermine. Representatives, who no one outside their respective districts has ever heard of, are making television appearances, spouting tidbits of explantions as to how it can all be rectified, if only their side, their point-of-view was understood and accepted by the people. They smile and say it's not their fault, it's the President, he just doesn't get it. It's mass obfuscation. I can't help feeling, listening to these nobodies, that their trying to sell me snake oil. Smarmy doesn't begin to describe the creepy feeling I get crawling up my spine. What is going on behind this phony window dressing?
Practically every congressman and woman in the House has managed to successfuly put forth pork-barrel agendas designed to help them get elected, catering all the while to special-interest groups. The spending that needs to be cut is precisely that, unnecessary programs and bogus infrastructure projects, bridges to nowhere. Even the Pentagon has no use for many of the so-called defense programs currently under way, pet congressional projects that satisfy egos in the name of national security; that's where the defense budget could use some shaving, but there's no danger of that, they're not even on the table. The military's budget is inflated with extraneous and, for the most part, operationally unrealistic propositions forever in the testing phase. Current congressional business is a cesspool of deception and sleazy underhanded dealings masquerading as functioning government.
I stare at it as one whole mishmash as it churns and slithers like a snake pit. The House Republicans are bound and determined to break the confidence of the people in the President by holding our lifestyles and our capacity to realize what should be reasonable expectations hostage. The effects of this sequester on necessary services, on programs designed mostly for the poor and working class, and on government-related jobs will--has to--ripple through the entire country. It's ridiculous for them to attempt to convince anyone that their intention by so doing is to save the economy. How does that do that?
They refuse, anally, to close tax loopholes and raise taxes on the superwealthy and corporations that register profits in the billions. Refuse. Sequestration, witholding budgetary appropriations, allowing the government to default, will inevitably impact millions of people, while protecting private pork-barrel programs and projects, most of which are extremely costly and irrelevant, and shows them--members of Congress--to be the hypocrites they are.
Congress is dysfunctional, to put it mildly, and, as a group, doesn't seem to be interested in working towards the good of the country. Who are they working for? They're a mess, and the whole lot of them, Democrats included, need to be booted out and a whole new regime put in place. Matters simply can't go on like this; the status quo of business as usual is leading us down the spiraling path to implosion and a serious depression. Congress is blind and childish and out of touch with reality. Self-centered, obsessed with their own petty myopic agenda, the Republican Congress is hell-bent on sinking the country just to prove who holds the upper hand.
Well, the fact is, we the people hold the upper hand, and, if there's any justice in this world, they'll find that out at next election time.
---
Inside The Republican Party
---
[Disclaimer: Indirect intermediaries speculating on hearsay reported by third-party sources electronically eavesdropping on random cellphone conversations have conclusively ascertained that the following can only be untrue if the evidence supporting the purported facts can be surmised as based on misrepresentations of motive and intent by the subjects concerned; misconstrued extraneous or artificially fabricated information is solely the responsibility of the perpetrators; otherwise, we may assume reasonable and undeniable plausibility.]
---
OBSTRUCTIONISM, the main strategy and basic tenet of the Republican Congressional manifesto, has enjoyed considerable success; the spineless, floundering incompetence of the Democrats notwithstanding. The concept of a manifesto above and apart from the U.S. Constitution was originally inspired by a secret committee within the Party Central, an off-shoot of the Illuminati, who, over the years, have met periodically at undisclosed locations arbitrarily chosen so as to avoid media attention. Their existence was suspected only after the Reagan administration's trickle down economic theory, clearly intended to favor the wealthiest Americans, proved too impractical and stupid for words. It could only have been the product of minds whose inbreeding over many generations had turned them to mush.
Due to the classified nature of the material, the recent FBI leak that the current group are children of former members of Hitler's Inner Circle has not been substantiated; however, it is true that prior to actual meetings, videos of small animals being tortured to death are part of the bonding ritual. Afterwards, snacks are served along with warm beer to wash down the human remains, one of a host of acceptable solutions for the illegal immigration problem, although not to everyone's taste, it must be said. At meeting's end a video is played of activities ongoing at one of several clandestine Southwest mining operations where homeless people are bused daily. They need the exercise and it keeps them out of trouble.
Coercion by threat of scandal or worse was the chief motivator two hundred years ago when the country was just getting underway; although, threats proved unnecessary as greed was more than sufficient to keep everyone concerned in line. Nowadays, with the advent of modern technology, and as a mandatory part of the initiation ceremony, each member has a tiny semiconducting nano-processor surgically implanted in his brain. As a result, when certain keywords or phrasing is heard having to do with government programs and initiatives formulated to help the majority of Americans, a brief but intense jolt of micro-electricity courses through what is left of their cerebellums, generating a cascade of neuronal activity which eventually finds its way to their mouths in the form of self-serving, disparaging words.
Subsequently, an encrypted minute book is sent to each and every Republican congressperson by courier. After assimilation of what are considered correct thoughts, the Republican Congress is deemed ready for its next session.
As a consequence, they have become masters of double-speak. To wit: they insist they are helping America return to its former greatness and prosperity by pretending that all those who earn less than 250,000 dollars a year don't exist. It makes the math simpler. Every proposal the Democrats put forth is accused of being irresponsible, short-sighted and un-american. The Republicans, for their part, have nothing reasonable to offer as counter proposals, at least nothing that makes any sense. Spending budgetary funds repairing and renovating old Veterans hospitals is their favorite example of Democratic waste. All that's necessary, they contend, is to string veterans out on drugs and send them home.
When asked by an interviewer why the extremely wealthy continue to enjoy Bush tax breaks, they reply that it would hurt the poor and working classes if said taxes were rescinded. You see, the wealthy need to have as much money as possible, they insist, in order to invest in various stocks, bonds, commodities and other so-called financial instruments. If not, the working poor would suffer because small business owners wouldn't be able to hire them. What! Like that's been happening. What the hell do small business owners have to do with the superwealthy? Where's the connection?
Manchurian candidates all. Anyone watching one of these absurd demonstrations has to wonder if they are truly insane or just out of touch with reality. They believe the viewer, the taxpayer, the American citizen is just too ignorant and gullible to see past the bullshit. After all, they reason, and rightfully so -- what do poor people and the working class know about Wall Street?
Oil companies realize record earnings, as do most Republican-protected corporations, plus receive substantial subsidies while the price of fuel goes up. When questioned about this, the CEOs respond that they need the extra cash for research, or say that most of their operations are in some other country. Duh? Isn't that the purpose of the tax-paid subsidies -- research? And what difference does it make where they happen to be extracting oil, the point is how much revenue they're making.
They deliberately obfuscate and mislead, imagining their ivy-league cleverness far too polished to be perceived for the nonsense it is, but your average street person has no problem seeing through the deceptions and outright lies, the mis-quotes and selected facts, the bogus-based arguments . Unfortunately, seldom does anyone with serious influence ever call them on it. It's a sham, a vaudeville show, intended to convince America that their representatives are working diligently on their behalf, protecting them and going after those who, through sheer arrogance, are ripping them off.
The Republican Congress chooses not to lead, but to manipulate by pressing buttons they don't really believe in. Like the spoiled frat boys they are, they not only undermine true leadership but also snicker at the discomfort and pain their self-centered irresponsibility and reckless indifference are causing the majority of Americans. They block any leadership and, in their twisted way, claim they do so for the good of America.
Whose America?
---
** Number of Millionaires Soars to New High -- CBS Money Watch
* According to which economist is handing out stats, if the Bush/Cheney tax cuts for the rich and super-rich were revoked, repealed, rescinded, it would put between 850 billion and one trillion dollars in the nation's treasury box. That would go a long way towards paying back the money we've borrowed from China for the wars. Let the rich pay for most of it. After all, it's the middle classes and poor people who are doing the fighting and dying while they continue to prosper in spite of the serious worldwide recession.
It would be far-fetched and ludicrous to equate the Republican Congress with the military junta ruling Myanmar/Burma; nonetheless, with only slight exaggeration, there are similar patterns having only superficial political differences. It's a question of degrees. Because there is no rule of law in despotic Burma -- the people have no real legal recourse or ownership rights -- the thugs in charge collude with the wealthy tycoons for their own benefit. Similarly, the Republican Congress conspires with the wealthiest segments of our society, openly and arrogantly.
It's easy to continue with this comparison. What the tycoons in Burma and major Chinese, Thai and Korean investors, wealthy corporations and international capital [especially with respect to mining operations], are doing in the name of development results in devastating environmental impacts: Dam construction; deforestation; threats to endangered species, either directly or by loss of habitat; and water, soil and air polution. Additionally, these destructive pursuits further result in livelihood elimination and community/culture dissolution. The Republican Congress would similarly like to gut, if not completely eliminate, the EPA and reduce pollution standards across the board. It's a matter of record that they've been actively attempting to curtail, if not outright revoke, both the Clean Air Act and the Clean Water Act in the name of economic growth. They would also like to open protected federally-owned land to logging and mining, and to hell with the rivers, the fish and all the creatures who dwell therein, endangered or not.
Without any reasonable doubt, the current Republican Congress is not only the most corrupt, but also the most morally and ethically bankrupt on record.
Thomas Adrian Dorn
** Irrawaddy Myitsone Dam International Rivers
---
---
CNN Interview with President of the National Rifle Assocaition, David Keene
During an interview with CNN, the leader of the NRA explained that the thousands of urban dwellers who own assault weapons need them to hunt "coyotes and other varmits." The interviewers let that pass without questioning its likelihood, nodding knowingly. Apparently, encounters with packs of coyotes in New York city are more of a problem than I thought. The interview ended on a jovial note; could be CNN is as much in the pocket of the NRA as is the Republican Congress. Although, it's sad to say, many Democrats have received substantial contributions from the second-amendment group as well.
It was the schoolyard all over again. For all the intelligence and interviewing skills Wulf Blitzer brings to the table, he's still a nerdy punk confronted by the Grand Wizard of the NRA, David Keene, an arrogant bully. If, instead of Mister Blitzer, the interview had been conducted by a BBC reporter, I think Keene would have been shown for the pompous, pretentious, petty, ignorant jerk-off that he is.
I grew up in Philly, but I've spent more than half my life living in the country, rural Alaska for 13 years and most of the rest in Western Washington. And, I've known hunters, especially in Cordova. They hunted, not for sport but for subsistence, for them and their families, to help get through the long winters. None of them would even think to go hunting with an assault rifle. I remember, many years ago, hearing about some cheechako killing a deer with an automatic, banana-clip 22. He completely destroyed the meat, not much was left to eat. Moreover, I've never known or heard of anyone who hunted for "coyotes and other varmits" with any kind of rifle.
Now, ranchers hunt animals they consider 'varmits,' like wolves, who prey on their livestock, or might prey on their livestock. Preemptive eradication of species is a time-honored tradition amongst us humans. Such people don't have the time or inclination to care about things like species extinction, the bottomline is everything. But how often do they go after "varmits," really? Once the local pack of wolves or coyotes is either wiped out or run off, the hunters can hang it up. And do they need to have assault rifles for the job?
Assault rifles have one purpose and one purpose only: To kill as many people in as short a period of time as possible.
P.S. -- If you live some place in America where you feel the need to have an assault rifle (basically, a machinegun) for personal protection, then you should move, maybe to Iraq or Afghanistan.
---
[Doctor Archibald Fleming, Curator of the Political and Historical Archives at Mount Olympus University in Hasbro, West Virginia, observed the following at a recent alumni colloquium and luncheon:]
"During the period immediately after the Revolutionary War and that of 1812, single-shot muskets and canon balls were state-of-the-art in weaponry. With the memories of the Wars fresh in the minds of the new United States of America, the concept of a "Citizen Army," to thwart any tyrannical ambitions the fledgling government may have, made sense and, I believe, actually acted as a deterrent to any such evil inclinations. However, in our modern era, it is not the case; that is to say, it has no deterrent value and is, in fact, ludicrous.

"If all the militias in the country along with all well-armed and patriotic individual citizens were to gather together to form an ad-hoc citizen army in order to combat a tyrannical-leaning government, for whatever reasons it may have become such, controlling the now existing military, which, for the most part, accepted the rationalizations of the government for imposing martial law over the nation, a single battalion of Marines or Army, supported by attack helicopters and fighter jets, could easily decimate the aforementioned citizen army in less than a day."

He paused to refresh himself with a drink of water, then continued, "So, to my mind, and I believe to that of any thinking and sensible individual, the current argument for allowing people to obtain assault rifles and any other weaponry designed to kill mass numbers of people is completely and utterly without intelligent base. No modern citizens army could possibly stand against a government, with the support of the military, at least in part, turned against it. The argument is moot on every level, and for the powers that be to acknowledge it as substantive and convincing is a transparent attempt to confound the gullible, fuel the paranoid and ignorant, and a testament to how far politicians are willing to go in order to continue receiving the financial support of organizations purporting to stand for the Constitution and prepared to defend it.

"Clearly, those members of Congress whose constituents, in majority numbers, belong to the NRA, and who therefore owe their political careers to the NRA's influence over their respective citizens, have a personal and self-serving agenda. In their defense, it needs be said that they're between a rock and a hard place because of the way our government works. As duly elected representatives, they must speak for the majority of the people from their states. And in those states where a majority of citizens--those same people who voted them in and sent them to Washington DC--belong to the NRA, they are necessarily constrained to abide by their will, regardless of how they themselves might feel personally, what their conscience tells them, or what they believe is the right direction for the country, what the proper and timely thing is to do. That is, the right thing to do is not always available, if only because of sheer ignorance and irrational fear.

"Nonetheless, such pettiness, cowardice, and backward application of power, in the face of sporadic tragedies where innocent people, especially children, are killed by weapons of mass destruction is nothing less than reprehensible and beneath contempt."

Doctor Fleming opened a book before him and said, "Francis DiRagio wrote in his critique of modern american society, The Edge of Madness:

'All people need in order to pursue madness is the moral support--resonating with and amplifying the perceived moral imperative--and justification by respectable people in power and influence, be they political, religious, or militaristic. Patriotic fervor is easily fanned to the point of religious zeal; heroism transcendent, the true believer's ultimate cause is the continuation of his nation for which he stands and which gives him identity. The Constitution is held with more reverence in the lives of men and women than is the bible or any analogous text. And all that's needed for the people in power to create that social context, that milieu of potential, is the support of and collaboration with a quasi-religious organization like the National Rifle Association.'"
---
Excerpted from a Washington, DC press conference with Speaker of the House, John Boehner:
Reporter: "Mister Speaker, what's it like to have lived your entire life without the benefit of a human brain?"

Boehner: "I don't miss it. I don't believe I'd be any other way than how I am had I had a human brain. In fact, from what I've experienced first hand here on the Hill over the years, it really isn't all that important."

Reporter: "Would you say that your fellow Republicans and you are on a mission?"

Boehner: "Mission? No, I wouldn't. It's more like,..., a calling. Yes. Our calling is to block any and all legislative action and to derail confirmations coming out of the White House. We meet at regular intervals--the location is undisclosed to outsiders--where we design our programme for Obstructionism. The main treatise is rather lenghty, but it acts as the base from which we plan strategy and tactics."

Senate Republicans Block Hagel Nomination | February 15, '13

Reporter: "Why does it seem that all your efforts are intended to curtail government programs and assistance to the middle, working and poor classes?"

Boehner: "Isn't it obvious?" he chuckled. "Our mandate is to protect the rich and large, international corporations. We have no truck with the middle class and especially have no time for poor people. Their money, what they have of it, goes towards survival; they don't contribute any to reelection campaigns, so, who cares?"

Reporter: "The cost of higher education has skyrocketed in the last two decades, particularly the last several years. And yet, both House and Senate Republicans have made it more difficult for those who can't afford a university education by cutting budgets for government assistance programs, grants and loans. Why is that?"

Boehner: "Listen, our think tanks have aided us greatly. For example, they've discovered that in India, poor people are not allowed to have dreams. There's a lesson in that. We need a permanent labor pool; there's lots of menial work to be done. Putting univeristy education out of the reach of the poor and cutting government funding and grants for the middle and working classes ensures that only children of the well-to-do will be among the educated class, as God intended."

Reporter: "Why are you and your fellow Republicans so opposed to universal health care? The citizens of the European Union, as well as Canada, have full medical coverage. It seems to work well for them. Why not here?"

Boehner: "Well, c'mon. Those countries don't have anywhere near the defense budget we have. Our military spending far exceeds the entire European Union's, for Christ sake. If we were to cut into some very necessary military programs in order to cover the medical needs of those unable, or unwilling, to buy insurance, we'd open ourselves to attack, we'd be endangering those very same people who can't take care of themselves. Besides, it's socialism, and that's not what we're about here in America. Independence, self-reliance, competition, making your own way on the backs of others. We're not commies, never will be."

Reporter: "But sir, what country would dare attack us?"

Boehner: "Hah! You are naive, young lady. North Korea and Iran, for two. And what about all those countries in Africa, huh? And don't forget China, an up and coming heavyweight militarily. How would you like it if your children or grandchildren had to learn Mandarin? And I wouldn't completely rule out Canada either. They are, after all, just across the border, and they all smoke pot, so you never know what they're up to."

Reporter: "For North Korea or Iran to attack us would be like Bangladesh attacking India. North Korea can't even feed its own people, they're starving, how could it afford to wage war agains the United States? And as far as China goes, if they attacked us, who would pay back our enormous debt? And who would do the attacking? Seven hundred million of them are farmers."

Boehner: "Well, listen, you obviously are not privy to the classified material that I am so you just don't know what's going on behind the scenes. Bottomline, if poor people want health coverage, let them join the military."

Reporter: "Are you aware, sir, that the latest Pew survey puts the approval rating of Congress at nine percent?"

Boehner: "Really? Well, that's unfortunate; however, I'm not surprised. The American people need to realize they have only Obama and his administration to blame. If the White House would send us what we ask for, cooperate with our agenda, we'd do something besides what it is that we do. It's his fault."

Reporter: "What it is that we do? What exactly is that? Republicans in both legislative branches don't submit anything for consideration, they have no counterproposals, they spend all their time and energy undermining the President."

Boehner: "Undermining? No, that's a misperception. We seek compliance, short of that, we have no choice, that is, we are forced to adopt an adversarial position. It's unfortunate, truly, but that's the way it has to be. Now, we'll have to cut this short; I'm very busy."

Reporter: "One more question, please, Mister Speaker. You and your fellow Republicans, both in the House and Senate, are only doing the American People a disservice by refusing to act on anything put forth by the President. You've become the Do-Nothing Congress. Doesn't that bother you?"

Boehner: "What bothers me is the deplorable condition this country presently finds itself. Anxiety and insecurity are running rampant. If Mister Obama would only wake up, confront reality, recognize that we have no intention of looking beyond our own partisan self-interests, and concede the rule of government to us, life in these United States would improve remarkably and almost overnight. We steady ourselves on our principles as they shift with the wind, and for the good of America, we will never unclench our assholes."

Reporter: "Say what?"

Boehner: "Say what, indeed."
---
September 7, 2013

Dear Senator Murray,

I voted for you, support you, and now I have something to say. I've never written to a senator or representative, this is the first time because I think it's important enough to add my voice to those with whom I agree. I am totally, 100 percent OPPOSED to intervening in Syria in any military capacity whatsoever.

I think it's time the Arab League stepped up to the plate and took responsibility for the actions of one of its members. Even though Saddam Hussein was no threat to us, trigger-happy Bush got us into Iraq with a lie about weapons of mass destruction, he played on the fears of Americans. As a result, many american lives have been lost, children growing up without their fathers or mothers because of his overzealous war-mongering. And are the Iraquis any better off? He took advantage of the momentum generated by invading Afghanistan. Besides the lives of both Americans and Iraquis, many billions of dollars have been wasted on the expedition. Now, Congress, in particular the House Republicans, have cut the budgets for needed programs and regulatory agencies like the FDA and the EPA. They want to dismantle Social Security, Medicare and SNAP, the food stamp program. Our infrastructure is in a shambles, our country is hurting, and yet, the President, who I voted for twice and support completely otherwise, is being pressured by not only the nutjobs in Congress like McCain and others, but the world at large to intervene in Syria. Who cares what Israel thinks, we don't work for them. If they're outraged or worried, let them do something about it.

I heard this congressional Republican named Messer on CNN the other night spouting the usual rhetoric "Syria is the enemy of America." Trying to play on the emotions and fears of americans is what Bush and the Congressional Republicans did to garner support for invading Iraq. Treating 'we the people' as though we were easily manipulated morons. Don't they know they live in a fishbowl and everybody can see what they're up to?

Sadaam Hussein was no threat to us. I did not expect to see his republican guard landing on the beaches of New Jersey or his 'air-force' bombing our cities. Likewise, I don't expect the president of Syria to launch an invasion anytime soon. I believe, as I did for Iraq, that Syria is no threat to us which is the only reason to justify invading another country. Sadaam used gas on his people, the Kurds, and no one did anything about it. He used gas on the Iranians and no one did anything about it. I am deeply sorry for the Syrian people, especially the children; so much hatred in the air, but I don't believe we should get involved militarily. We've had enough war for the past twelve years, we are not the world's policeman. The world is trying to use us as a patsy, we shouldn't let them.

Sincerely,

Thomas Adrian Dorn
---
Say What?
Asked about the American public's uneasiness about getting involved in another conflict, Kerry reiterated his view that the use of chemical weapons in the Syrian conflict was a threat to the U.S.
---

---