---

---
Arts, Crafts, Museums
---
---
---
---
---
The Cave of Chauvet
---
If you wish to see them without context, perform a Google Image search for chauvet cave paintings.
---
---
If you wish to see them without context, perform a Google Image search for lascaux cave paintings.
---
Natural History Museums

---

---

Sculptures and Sculptors

---

Museum of Broadcast Communications
Welcome to the Museum of Broadcast Communications. One of only two broadcast museums in America, the MBC examines popular culture and contemporary American history through the sights and sounds of television and radio.
Art & Architecture

Art History Worlds
This is a course in the history of art and architecture around the world. It is divided into time lines so that one can see what was happening simultaneously in various cultures during any given era.
ArtSource - Table of Contents
Welcome to ArtSource, a gathering point for networked resources on Art and Architecture.
Wikipedia

ArtServe at the Australian National University
Art & Architecture - mainly from the Mediterranean Basin, Japan, India & Cambodia

Public Works of Art

The Mysterious Lives Of Cats Captured In Black And White Photography | Bored Panda

Pictures of Butterflies


---

Web Gallery of Art
The Web Gallery of Art is a virtual museum and searchable database of European fine arts from 11th to 19th centuries. It is intended to be a free resource of art history primarily for students and teachers.

---

Peabody Essex Museum

Collections
To engage the mind and spirit, the PEM collection offers outstanding works primarily from the 1700s to today: paintings, sculptures, photographs, drawings, textiles, architecture and decorative objects.

Leonardo da Vinci

Élisabeth Vigée-Lebrun

---

The Official M.C. Escher Website

Gallery - All Mediums
Lithograph - Woodcut - Mezzotint - Linoleum Cut - Wood Engraving - Watercolor - Etching - Pencil - Ink - Paint - Chalk

Lithography

Woodblock Carving

Engraving

Stained Glass
---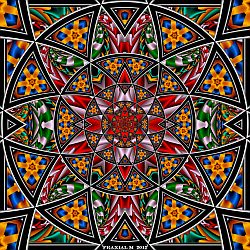 Click image above for larger version.
---
Performing a Google Imgage search on stained glass windows will return a multitude of images,
each associated with a web page or site. Additionally, you're given a selection of periods.
---
E-Mail Suggestions, Comments -- Add a Link, a Resource

---